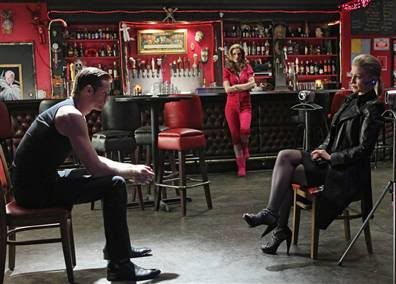 HBO's True Blood site, from Labor Day.
Andra knows what fans need, this one would make a grade A promo. Go to youtube and likielikelike this.
Denis O'Hare long ago wrapped his American Horror Story: Coven role as loyal manservant Spaulding, but he took home a notable memento. "I loved Spaulding ... and his dolls," he told Vulture at last night's opening of Of Mice and Men on Broadway. "I kept one. A little one. I can't talk about it. I think Ryan [Murphy] would let me go, for that." Murphy also wouldn't appreciate O'Hare doling out spoilers for the upcoming American Horror Story: Freak Show, but the actor was willing to oblige just a bit: While he spent last season gazing at Jessica Lange oh-so-lovingly, next season will find the pair at odds. "I'm going to be working at cross-purposes with her. We're going to be like this," he said, crossing his fingers. "We'll have lots of scenes with each other, but we'll be battling." O'Hare said that the new character will be featured in all ten episodes (unlike the oft-missing Spaulding), and while he wouldn't give away spoilers, he also let loose this one little tidbit about his character's place in the season: Instead of playing a freak himself, the character will be "a collector of freaks." A man after Ryan Murphy's own heart.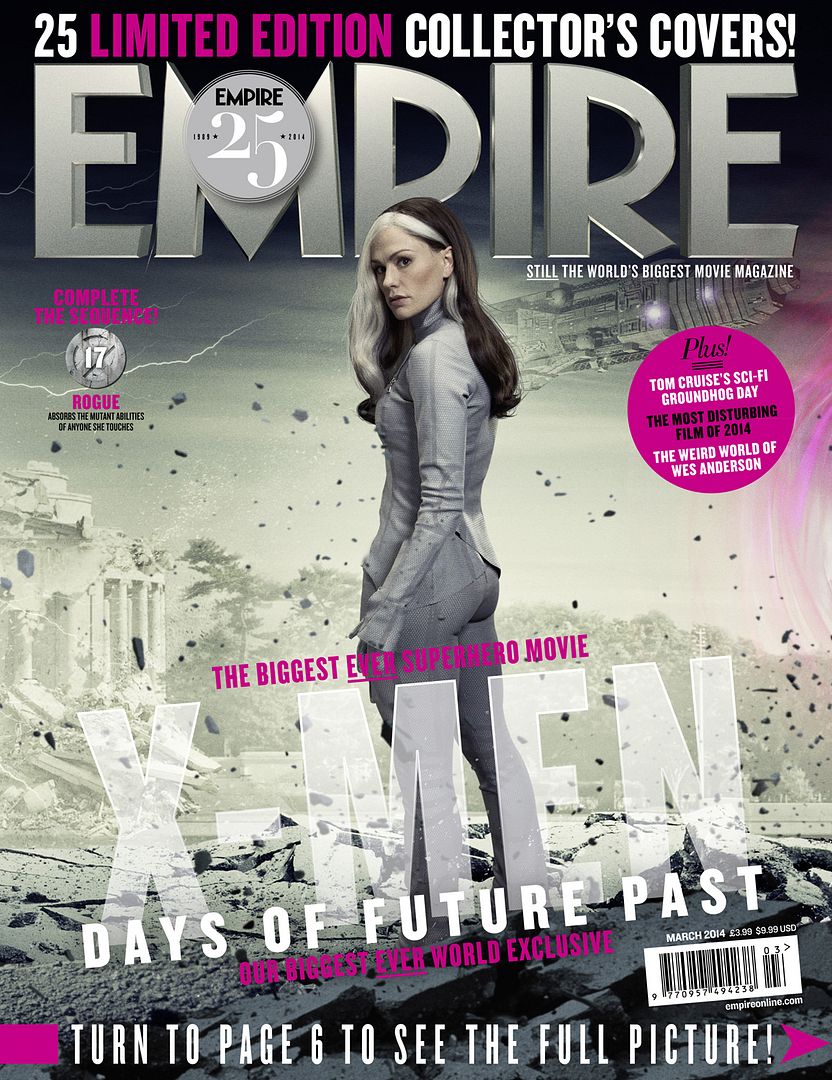 Anna's role in the new X-Men movie is now a cameo, at least she isnt cut out altogether as previously reported. From Variety-
Although director Bryan Singer said back in December that Anna Paquin wouldn't appear in the upcoming "X-Men: Days Of Future Past," it looks like her character Rogue will be in the movie, after all.
A Fox rep told BuzzFeed that Paquin will return to the the film. "Essentially, [it's] a cameo," the rep said.
Paquin's name can be seen in the credits of the latest "Days of Future Past" trailer. She appeared in the first three movies of the growing franchise.
Because the movie combines the casts of the original "X-Men" trilogy (including Hugh Jackman, Ian McKellen and Patrick Stewart) with those of 2011′s "First Class" (Jennifer Lawrence, Michael Fassbender and James McAvoy), Singer said late last year that he had a lot of content and characters to tackle in the editing process.
He therefore cut Paquin's only scene, a rescue sequence shot early in production with McKellen, Stewart and Shawn Ashmore (Iceman), when it proved to be "extraneous."
The movie hits theaters on May 23.
The movie looks like the best one yet, all of the previous movie's stars in one. The Sentinals always were the scariest creatures to me, I admit they gave me FRIGHTS!
Alex with Bill Skarsgard and friends at Coachella, you have to be 6' 4" to be in this club. Bill is still growing it seems.
Bloodshot eyes are a sign he is having a good time. more pics at JJ. tons of pics with fans @instagram. The one below is from Popsugar, lots of reality show icks to go thru to find anyone that is actually worthy to post here.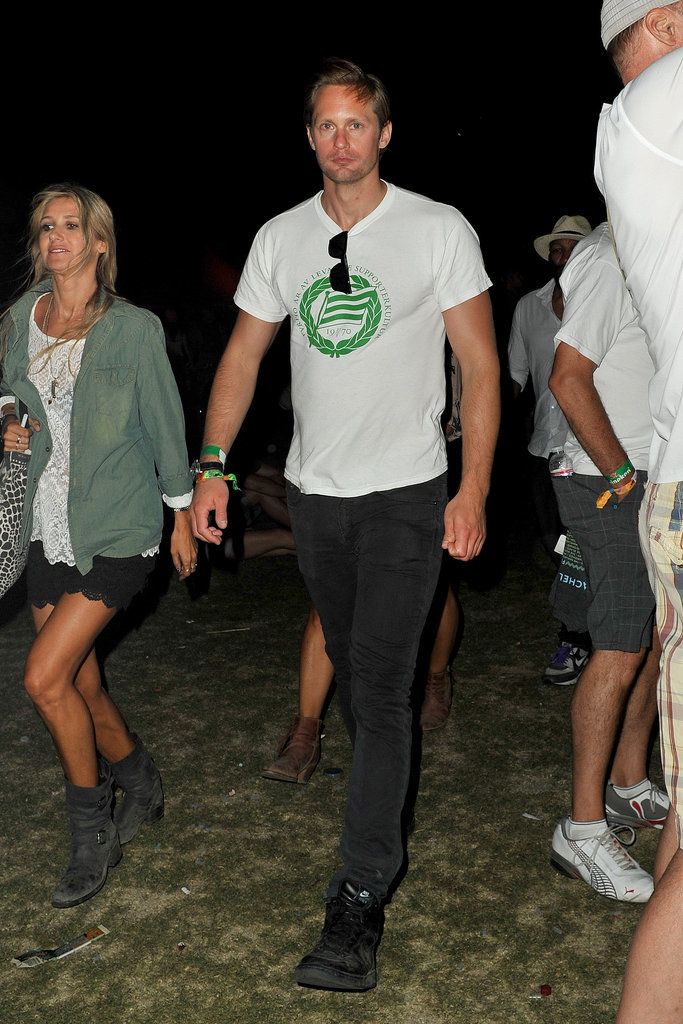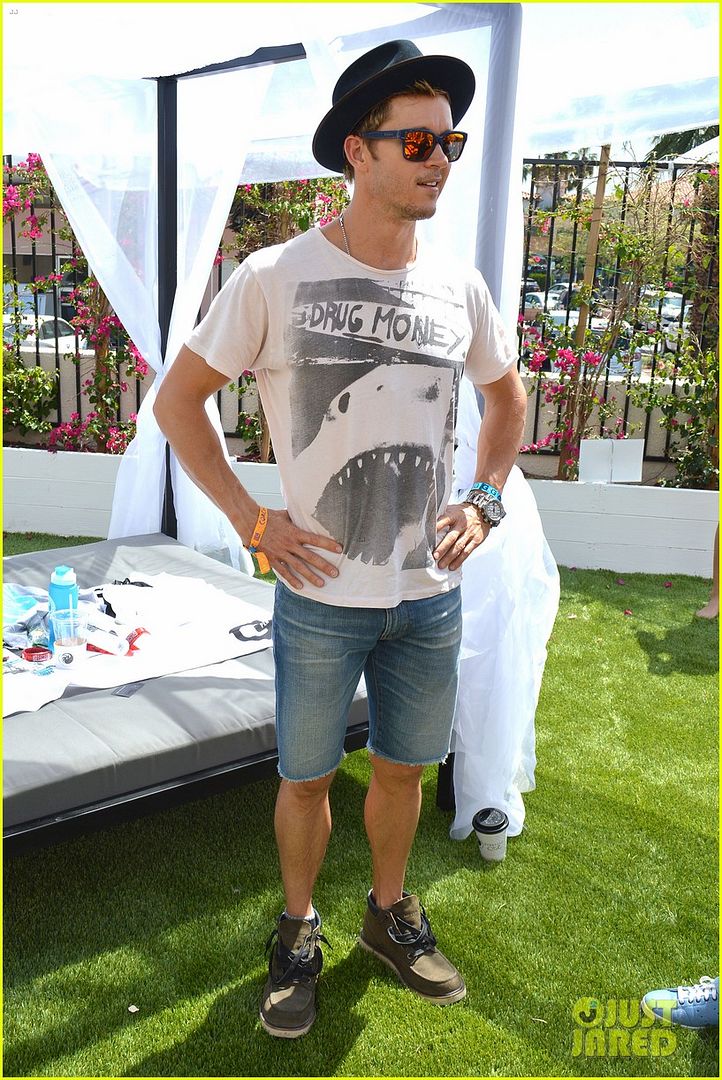 A couple more from JJ of Legs Kwanten at the Hard Rock Lounge.
Joe Manganiello attends the John Varvatos 11th Annual Stuart House Benefit at John Varvatos Boutique - Source: Rachel Murray/Getty Images North America via Zimbio.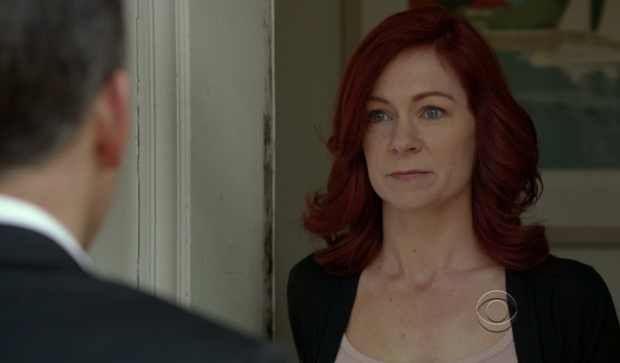 Ok, let's get some estrogen up in here! From MegaBuzz-
Got any Person of Interest spoilers? — Brent
Carrie Preston will return in the April 29 episode as Finch's former flame Grace, but don't expect a romantic reunion. In fact, given the war between Decima and Team Machine, Grace's return is probably the last thing Finch wants. "Finch created [the Machine] as a black box... to avoid a situation where someone with absolute power could corrupt absolutely," executive producer Jonathan Nolan says. "Samaritan doesn't have any of those checks in place, so Greer and Decima are free to use it to give them as much leverage as possible over their enemies. Harold Finch has precisely one point of leverage — and that's Grace."