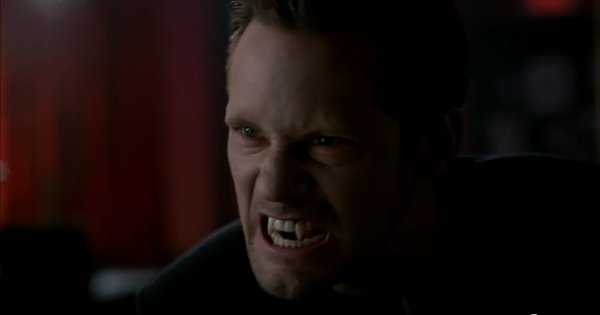 Photo HBO

The first casting call from

Shari Alpert, actress and funny lady and my friend

, we're updating but mostly minor parts. I'm through being generous, bwahahaha. Just confirmed by Anna Paquin in a tweet that

Rutger Hauer's Niall

is back! Episode 7.1 "Jesus Gonna Be Here" Writer: Angela Robinson; Director: Stephen Moyer

A band of rogue H-vamps crashes the vampire-human mixer at Bellefleur's, with

shocking results. As Sookie seeks refuge from accusations that she's

somehow to blame for the chaos in Bon Temps, the "one vampire for every human" plan

moves forward. In the face of a vigilante insurrection led by redneck Vince

, Bill receives aid from an unexpected source. HBO press release

[VINCE] 40s, Male, burly is a rabid anti-vampire vigilante. Member of the tea party with political visions...GUEST STAR/RECURRING. Brett Rickaby has been cast.
[LOU] Early 20s, Male,

blue collar. He is a member of Vince's vigilante group who goes on patrol with him and several others; he's aggressive but not dangerous.RECURRING

Lucas Adams

is cast as Lou for E1, 2 and 3.

[MACK] Early 30s, Male, This motley human is an angry vigilante who joins Vince's group and goes on patrol with him...RECURRING. This actor is good, we'll hate on him big time, Justified's Robert Baker cast as Mack for at least 3 episodes.
[NIZOR] Male, Persian, late 30s to 50s. This burly vampire involved in a game of Russian roulette in a Moroccan bar derives courage and comfort from his faith in Allah...GUEST STAR Massimo Furlan cast as Nizor

[

PROPRIETOR] Male,Persian,late 40s to 50s. The proprietor of a Moroccan bar, with a thick accent, he orchestrates a game of Russian roulette for his patrons' amusement. Maz Jobrani. [MORROCAN CITIZENS]

Essam Morsi

,

Will Leon

are cast.

[WADE CLEARY] Noah Matthews

returns

[NAYAT] Arthur Darbinyan, might be in E3 as well. [BURLEY VAMP] think he's the HepV vamp who carries off Nicole. Derek Mears [KAREN] Paula Jai Parker, was anurse last. season.TVGuide has her in E1 S7, so ??? [ROSIE] was on last season too again according to TVGuide , Tess Parker

[YOUNG TARA] Tara (Rutina Wesley) at age 10, African American, she's seen in flashback having a nice moment with her friend, Young Sookie...CO-STAR
[YOUNG SOOKIE] Sookie (Anna Paquin) at age 10, Caucasian, she's seen in flashback having a nice moment with her friend Tara...CO-STAR
[JEROME] 30s to 40s, Male. This strong, aggressive Trucker H-vamp ( a vampire infected with Hep-V, rabid-looking and marbled with blue veins) lifts a woman into the air and takes off....CO-STAR. [THE FIGURE] He's described as "scary, hulking, ugly, mean and crafty… like Leatherface or Jason Voorhees, but this guy talks."

Paul Rae

i

s cast as the mystery villain and he was in Texas Chainsaw Massacre 3D. UPDATE: saw a pic from a fan at filming, the dude is a vamp with HepV, not a mystery, and he looks like John Goodman, hee.The more interesting part is he seems to have been at the filming that took place at the Bellefleur mansion.

[WOUNDED WOMAN] 20s. This young, scared, wounded woman is terrified after an H-vamp attack; we hear her thoughts.Brittany Slattery cast [CHURCH WOMAN] Milli Moto cast
[ANGUISHED WOMAN] 30s to 40s. This anguished woman grieves over her dead husband; we hear her thoughts...CO-STAR Holly Hawkins cast as "uppity (ha) [CHURCH GOING WOMAN] could be the "Anguished Woman" role, maybe.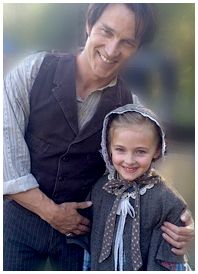 [
SARA COMPTON
] FEMALE, 5 YEARS OLD. CAUCASIAN. She is Bill Compton (Stephen Moyer) and Caroline Compton's (Shannon Lucio) young daughter seen in a flashback circa 1862. RECURRING CO-STAR. NO Lines in this episode.
The lovely Isabella Rice is cast according to Alex.Kruk Photography and IMDB
[MINUS] seems the slave Minus, mentioned in season one, will be part of Bill Compton's flashback as well as Sara. Gilbert Owuor is cast but they have him for E5, so we'll see.
[WILLIAM COMPTON Sr]
[MARGARET COMPTON] Rebecca Klingler cast
[CAROLINE COMPTON] Shannon Lucio
returns as Bill's wife in a birthing scene for a flashback, possibly E5,
Eonline
We're going back in time to meet Bill's parents, [William Compton Sr.] and [Margaret Compton] in 1855. We'll also see [Caroline Compton] (Shannon Lucio) give birth to one of Bill's kids in the 1850s. And in the present, get ready to meet:
[BRIGETTE] a smokin' hot…microbiologist. Maybe this is who Jamie Luner is playing.

[RONNIE] MALE, 20s. He is a tall dangerous vampire who devours humans. RECURRING CO-STAR. No Lines in this episode.Dustin Ingram has been cast as Ronnie for the first 3 episodes (so far).
[SCREAMING MAN] Late 20s. Screaming for his life as he is attacked and feasted upon by Hep-V vampires. No lines just screaming for his life. CO-STAR. Cameron Barsanti is cast.
Brianne Davis, who had a bit as Belinda last season "In Life Matters" ,re:
[BELINDA]
a flirtatious trouble-making new waitress at Merlotte's.)
is also in this first episode.
BEN ZELEVANSKY
will be in True Blood E701 and E702 as a townsperson via Kabookit and thanks to J.
Rev. Skinner will return this season, David Bickford is reprising the role.
Brian Poth will be back as Matt, the sweet vamp who glamored Terry into forgetting the whole Ifrit crap storyline, if only we could. IMDB is the source again this year.
Jane Bodehouse will return as our beloved Merlotte's drunkie, Patricia Bethune reprises her role, maybe she is still talking to Maxine at the memorial.
[GIRLFRIEND] Just saw this added to cast list, Melorine Adler is cast for 2 episodes.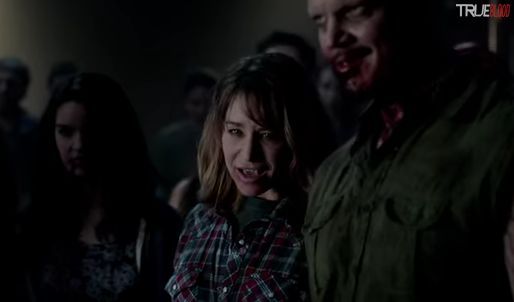 Also Jamie Luner from THE original Melrose Place is listed as appearing! No character info as yet, she is in 3 episodes.
UPDATE:She's a Hep V vamp in Fangtasia's basement, BUT she might also be the top dog who called off the attack in E1, with a whistle. Never found out who had the whistle.
Episode 7.2 "
I Found You"
writer: Kate Barnow, director: Howard Deutch
A trio of hostages taken in the Bellefleur's attack looks to a familiar face as a
possible liberator from the H-vamps. Sookie and Jason visit the
neighboring town of Saint Alice, where a young woman's diary offers clues to the potential fate of Bon Temps. Spurned by Lafayette a desperate Lettie Mae turns to Willa to channel her family past. Vince whips his fellow vigilantes into a dangerous frenzy. Pam's search for her maker leads her to a very familiar place.HBO
[SYLVIE]: 20s, beautiful, French. Must be French and speak French fluently. Love interest to Eric (Alexander Skarsgard)... Episode 2 Arc, on the final season of True Blood.
This role requires full frontal nudity excluding genitalia.
Gabriella Wright is cast as Eric's next booty call, she is his human lover. Photo by
Pascal Le Segretain/Getty Images
[COLLIN] is cast for E2 with Connor Barrett
[JULIAN FORTENBERRY] I have no idea who he is because Hoyt was always an only child but Drew Rausch is cast (he was in Battleship)
[TROY]
BRETT LORENZINI
TRUE BLOOD
Episode #701 will play the role of
Troy,
he's aHep V.
.
Kabookit
.
He is listed for several episodes.
[MADELINE KAPNEK] K
athleen York
has been
tweeting
about working on True Blood, that Bill was her vampire.
[LUCINDA] Chelsea Ricketts is cast.
From
Ausiello
-
Lafayette's getting a new boyfriend — and a serious one at that
. After spending much of Season 6 in the shadows, Nelsan Ellis will sashay back to the forefront in True Blood's final season — with a little help from Drake. Described as a cross between Jim Morrison and James Dean, this brooding and insanely good-looking vamp is a compassionate protector with a poet's edge. The series-regular role calls for a twentysomething actor who is comfortable performing in simulated (and near-naked) sex scenes with another man.
Seems the description of this new BF for Lala is the same as the casting call for James/Wes from last season, then we see this at
TVLine's news
-
True Blood
's upcoming seventh and final season has already claimed its first victim.
Luke Grimes
, who joined the HBO hit in Season 6 as Jessica's (Deborah Ann Woll)
brooding, soulful vamp-camp lover James
, has unexpectedly left the series.
TVLine
has learned exclusively that Bunheads barkeep
Nathan Parsons
will step into the series-regular role previously played b
y Luke Grimes when the HBO hit returns with its seventh and final season this summer.
As we reported last month, Grimes asked to be released from his True Blood contract due to the creative direction of his brooding, soulful, vampire character.
"He initially joined the show because he wanted to work with [his Forever co-star] Deborah Ann Woll," explained a source close to the actor. "But when he started reading the scripts for Season 7, he was disappointed to learn that they were going in a completely different direction with James."
According to a True Blood insider, James will find himself at the center of a surprising love triangle in Season 7.
EDIT: as I posted previously Jamsie sounds like Lala's new man, I don't think Jess will go for that and drama will follow or maybe she will be happy for them.
Ausiello has some casting news-
[KEITH]
, a romantic vampire who moonlights (get it?) as a drummer in James' (Luke Grimes/Nathan Parsons) band and who takes an instant liking to a certain grieving waitress. Riley Smith has been cast as Keith, he is a musician as well as actor so it makes sense.
E3:
"Fire in the Hole"
July 6th,
Written by Brian Buckner,
Lee Rose is directing.
Sookie (Anna Paquin) hatches a dangerous plan to take down the H-Vamps, even as Vince (Brett Rickaby) and his armed vigilantes pose an equally serious threat. Lafayette (Nelsan Ellis) gets high with James (Nathan Parsons); Jason (Ryan Kwanten) eyes a family future with Violet (Karolina Wydra); Willa (Amelia Rose Blaire) is forced to find a new place to stay; Sarah Newlin (Anna Camp) sheds her past. Pam (Kristin Bauer van Straten) offers Eric (Alexander Skarsgård) a compelling reason to return to Louisiana – and be the vampire he used to be." I guess this is where Dr Ludwig fits in.
[PAM'S TREAT] -
Ashley Barron
cast.
[PAM'S MALE TREAT] she gets a male treat as well, Paul Black is cast.
[VAMP] Lucas Di Medio cast.
[NAYAT] Arthur Darbinyn
is cast.
[YAKUZA]There will be lotsa Yakuza
, Mike Moh,
Jon Komp Shin
so far (they put out a few casting calls)
[HIROKI] Louis Ozawa Changchien is cast for E3 and E5.
E4:
"Death is not the End," July 13. Directed by Gregg Feinberg, written by Daniel Kenneth
"In the aftermath of yet another bloodbath, Sam (Sam Trammell), Sookie and Jason find themselves the bearers of bad news in Bon Temps and beyond. Pam recalls the events that led her and Eric to Shreveport and Fangtasia. Bill (Stephen Moyer) and Jessica (Deborah Ann Woll) get nourishment from unexpected sources. Following a new lead, Sookie enlists a band of vampires and humans to track down the H-Vamps."
[V
ICTORIA] Christian Pitre
is cast as a vamper.
[MRS GOODWIN] Stacie Greenwell cast
[DAVE] Bryan Dechart cast.
E5: "Return to Oz," "Lost Cause"
July 20. Director Howard Deutch, written by Craig Chester
"Exhausted from her recent travails, Sookie finds herself the unwilling host of a festive mainstreaming party in Bon Temps. In search of an elusive adversary, Eric and Pam head to Dallas and attend a gala fundraiser. Andy (Chris Bauer) makes a life-changing decision; Jessica and James reach a crossroads; Bill loses himself in remembrance of human days
Sookie hosts a mainstreaming party; Eric and Pam head to Dallas for a fundraiser. (wheee!)
[YOUNG REPUBLICAN HOSTESS] Kelly Aiken
is cast.
[REPUBLICAN PARTY-GOER] Robert Artz cast.
[AMBER CRABTREE]
Sarah Newlin's Vamp sis Amber and parents make an appearance, the Crabtrees. Natalie Hall is cast
[SCIENTIST LOUIS BODEHOUSE] Brian Patrick Mulligan
will return in E5, the scientist character was in "Dead Meat" last season at the VampCamp, d
idnt know he had our drunkie Jane's last name,hmmm.
[MR GUS]
Mr. Gus--he's a Japanese man who has fully embraced the "everything's bigger in Texas" way of living. The only thing bigger than his lavish, southern lifestyle? His quest for revenge, and trust us when we tell you, you do not want to cross him. (
He might be involved in the making of True Blood, factory owner?) Eonline. Tvline's Mr. Gus info-
I can tell you that we're getting what sounds like a new Big Bad in Mr. Gus. Though he's a Japanese businessman, he's apparently been so Americanized that he'd make J.R. Ewing seem Asian. (By which we mean he rocks a 10-gallon hat and speaks with a drawl.) Oh, and thanks to a business back-stab, he's got a thirst for vengeance that's described as "infinite." So, while he'll appear to be middle-aged, I have a hunch he's immortal.
UPDATE: Will Yun Lee is Mr. Gus, via Deadline
The casting call below seems to fit in with Mr Gus's storyline (UPDATE) some many yakuza are being cast now, as well as the young Republicans)-
Jon Komp Shin ...Yakuza vs. Vampires ...shootin' the rest of the wk. — at The Lot Studios.
Background / Male / Asian / 20 - 45 / -
Seeking Union/Non Union Japanese Yakuza with REAL military experience. Must be available April 10th and 11th. Must be fit.
[CHARLES DUPONT] Matthew Holmes is cast a Confederate rebel rouser.
This fifth episode seems more likely to be another Flashback for Billy boy, castings are up top for his family, will be updated as more roles are filled.
[BRIGETTE] hot biologist.
E6:
"Karma"
July 27.
Written by Angela Robinson; directed by Angela Robinson.
A shocking discovery forces Sookie to reassess her recent involvement with Bill . In Dallas, Eric and Pam forge an unlikely alliance in their hunt for a shared nemesis. Andy bickers with Holly about their children's behavior; Lafayette shares a vision with Lettie Mae; Jason owns up to his true feelings about Violet ; Sam finds himself in a quandary regarding Nicole.
[MADELINE KAPNECK] Kathleen York.
[MAILMAN VAMPIRE] formerly from S1 when he was just a mailman at Merlotte's, Gary Krause is back as a vamper/mailman.
[MALE RECEPTIONIST] Gary Holland is cast.
[NURSE] Mandy Levin
cast. Is she assisting Dr Ludwig, wishful thinking again?
[TEENAGE VAMPIRE] William Leon is cast.
E7 "One Last Time" May Be the Last Time Director Simon Jayes, Writer Craig Chester
Sookie looks for a miracle; Eric and Pam close in on Sarah; Adilyn and Wade find refuge with Violet
.
UPDATE
Eric, Pam and Mr. Gus close in on Sarah in Dallas. Adilyn and Wade find a temporary haven, and unexpected hospitality. Refusing to accept the inevitable, a desperate Sookie turns to unexpected resources (Niall?) in search of a miracle. Bill recalls the inexorable forces that led him to his marriage 170 years earlier. A familiar face (Dr Ludwig) resurfaces in Bon Temps. Sam faces a quandary.
[MARGARET COMPTON] Rebecca Klingler
[Dr Ludwig] I told y'all months ago! Marcia Da Rousse!!!!!!! I'm too excited for this, huh?
E8 Getting Closer...to the Ground Almost Home
Director Jesse Warn,
Written by Kate Barnow
Sookie risks her life for Bill; Eric reconsiders his options; Lettie Mae gets closure.
UPDATE:
Debut: SUNDAY, AUG. 10
With his prey in sight, Eric reconsiders his end-game strategies against Sarah. Sookie puts her life at risk in hopes of saving Bill. Lettie Mae and Lafayette urge Reverend Daniels to join them in their V-fueled search for Tara. Violet eyes payback against those who betrayed her, while an old love is reborn for others (Jess and Hoyt? Sookie and Eric, Sookie and Bill, Sookie and the gas meter reader?)
,
E9 Love is to Die Director, Howard Deutch,
Written by Brian Buckner
Debut: SUNDAY, AUG. 17
Bill alienates Sookie; Hoyt remembers the past; Eric faces a dilemma
. Update:
Sookie retreats in confusion. Sam makes a choice. Jason exercises uncharacteristic restraint, while Eric faces a dilemma after being caught in a lie.
E10 Thank You series finale
Director, Scott Winant Writer, Brian Buckner.
Debut: SUNDAY, AUG. 24 (9:00-10:00 p.m. ET/PT)
Sookie and the people of Bon Temps close one chapter while opening several new ones.Updated synopsis-
Sookie weighs a future with and without Bill. Eric and Pam struggle with their uncomfortable partnership with Mr. Gus. Sam makes a choice, while Andy comes upon an unexpected inheritance.
[YOUNG MOTHER]
Yana Trofimova
More minor castings at IMDB.
Thanks to Lisa from Oz for these casting calls for extras-
[JOE]
Tara's scary, abusive drunk of a father, to show up in a flash back according to E
4'5 Female Stand In, Stand-in / Female / Caucasian / 60 - 90
Looking for a female stand in to meet these sizes: Height: 4'5 Weight: around 85 lbs. Work date is to be determined. Is this possibly a Dr Ludwig return or am I just getting excited over nothing? The more I think of it the more it seems plausible that she'd make a return doctor visit. With all the burnt up vamps, maybe even Eric calls her for healing. is it just wishfull thinking on my part?
DING DING DING! yippee we was on the money this time! Back in early April I asked Marcia DeRousse on FB if she'd be back, thinking about Eric, she said I'd have to watch to find out, love her. Here she comes to save the day! They removed the photo of Marcia in Dr Ludwig scrubs onset.
Earlier calls-
Background / Male / Caucasian / 30 - 48.Good Looking guy to play a husband to the Actress on True Blood. Same looks as Jason, Sam, Eric and the rest of the cast. Caucasian, 30 to 45 years. good build. Not sure of the date it works yet, but within the next couple weeks .
Photo double / Female / AfricanAm / 18 - 39 .
Looking for the smallest Afr-Am girl I can find - this is to be for a photo double for a child. I am not expecting the exact sizes but close as possible, The actress is 4'7" 67lbs (the Sookie/Tara flashback I'd guess) Also they are looking for a child-
Background / Female / AfricanAm / 8 - 11.
Little girl who is 8 to 11 yrs. Afr-Am with all current work permits. Must be out of school please post if you are able to do this.
Photo double / Female / Caucasian, Mixed / 18 - 39
Looking for a photo double that is ok with make up and prosthetics on face. Height: 5'9 Dark hair at/barely past shoulders. Should be a very fun day, but if you are not ok with fake blood, please don't submit.
Photo double / Female / Caucasian / 38 - 58. Looking for a photo double to work on Monday 5/12 - Red shoulder length hair, 160 to 170lbls, 12 to 14 dress. (Maybe Jane Bodehouse?)
Background / Male or Female / Caucasian / 25 - 70 . Seeking caucasian Texas Republican types to play upscale patrons at a Republican fundraiser. NON UNION. Upscale clothing: suits and cocktail dresses. MUST HAVE NEVER WORKED TRUE BLOOD BEFORE. Late 20's to late 60's. Films in West Los Angeles on April
11th.
Texas Young Republicans working at a fundraiser TRUE BLOOD 4/14/2014 Theatrical
SAG 4/1/2014. Background / Male or Female / Caucasian / 21 - 36 , Young Republicans working at a fundraiser in Texas. Clean cut, fresh faced looks Works the 14th of April.

More castings for Bill flashbacks- Confederate Soldiers (male - thin) Background / Male / Caucasian / 20 - 38 /
Fitting to take place on April 1st and will work in the Newhall area on April 8th. Thinner side - no bigger than a 42 jacket. Mustaches are great. Small beard is ok. Never having worked on True Blood before.
1800's African American Slaves. Flashback scene -
Background / Male or Female / AfricanAm / 18 - 50 . We are doing a flashback on True Blood to the 1800's. Confederates and Slaves. Must be okay working as slaves. Fitting will be on March 31st to work on April 1st in Newhall area. Should have natural hair or short, on the thinner side.
More Republicans for "Dallas" scenes.
White Male Republican 25 to 38 yrs 4/11/2014 THRU 4/12/2014 Theatrical
Union/Non-Union Background / Male / Caucasian / 25 - 38 / To work tonight in Westwood area. All night. White guy 25 to 38 years old, to be a Republican. Clean, shinny and fresh faced.
Security Guards 4/25/2014 Theatrical
SAG 4/10/2014. Background Looking for African American and Caucasian Security Guard types to work on Friday, April 25th
.
Uptight Businesswoman TRUE BLOOD Looking for an "uptight" Businesswoman type to work on April 22.
Now's your chance to be a vamp on the show-
Non Union Interesting/Wild Character Types to Play Vampires TRUE BLOOD. Background / Male or Female / All Ethnicities / 20 - 60. Seeking NON UNION Interesting/Wild character types to play vampires. Male and Female. Must have unique and atypical look/style. NO TATTOOS. MUST HAVE NEVER WORKED TRUE BLOOD, to work on Wednesday 4/23.