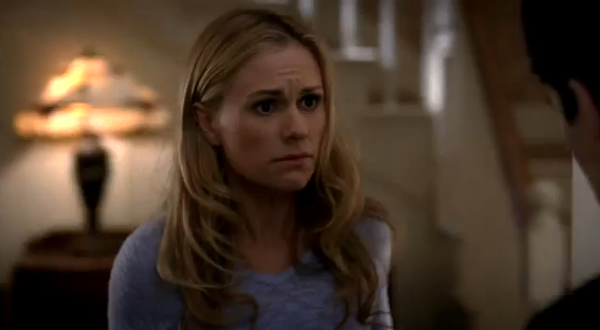 One thing that stuck in my mind was a TV critic saying we will be made to think a few different people are Warlow before we actually see him. So I am thinking about Ben with that idea in mind. Bill went out in daylight, imagine what Warlow could do?
Posting this again, from spoilers part 4-
The last we see of Sam by Ep 3, he's got Emma but he sees Nicole limping away and tells Emma they have to help her.
More
Nora is caught spying around Sookies house and says she's looking for Warlow.
The fairies in the club are killed by Warlow, and Niall stays with Sookie and Jason to protect her from Warlow. He reveals that they're royalty, which is why Warlow wants Sookie's blood. Claudine blasted Warlow into a nasty dimension when he killed Sookie's parents, but the magic Sookie and Claude did last season released him. He's after her now. Source/More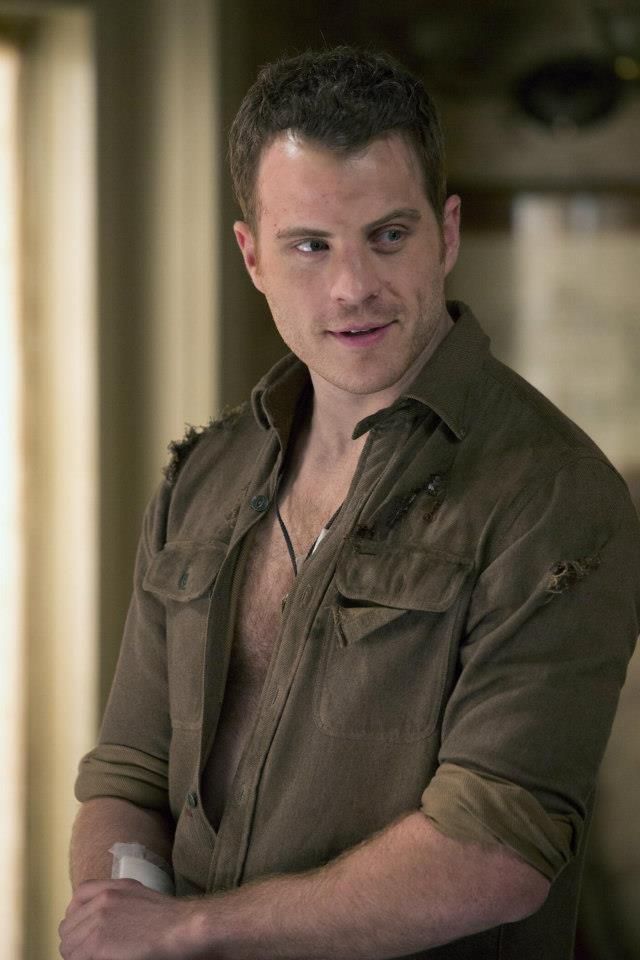 Spoilers continued, from EW with Rob Kazinsky- Sookie Stackhouse met fellow halfling Ben Flynn. In episodes to come, Ben will help Sookie investigate Warlow, the ancient vampire who murdered Sookie's parents, which means the two fairies are sure to grow closer. And judging from the steamy season 6 promo, the relationship is bound to ruffle some shippers' feathers (shippers could fuck up a wet dream). Rob Kazinsky, who plays Ben, talked to EW about his many nude scenes in store, why Ben's a better match for Sookie than her supenatural exes, and how he expects fans to react. Kazinsky admits he wasn't previously familiar with True Blood. Cue the binge-watch: "I did sit down for 60 hours over three days and actually watch every single episode before my audition," Then he laughs, "I realized as soon as I watched it that I better get down to the gym. It's an intimidating proposition to be that naked."
Happily Kazinsky has found himself in the fae world, where he can inject a bit of testerone. "I'm a hairy fairy," he jokes. "They wanted somebody that wasn't particularly fairy-like.If you see me, I'm not particularly lithe or delicate. I certainly seem more human than most of the other fairies on the show, so I think that, perhaps, [it grounds] the fairy fantastical element [viewers are used to seeing]."
Though Sookie resisted Ben's advances in E2, Kazinsky promises they'll develop a deeper connection throughout the season. "One thing that Sookie has never had is a similar person to herself. She's been with vampires, she's been werewolves, she's been with the darker side of the supernatural, but she's never found somebody that is in the same shoes as she is," he notes. "[Their relationship] should feel like this is almost the home where she belongs. … After she's been struggling with the darkness in previous seasons, this is the first time she's had some kind of a 'light' guy in her life. That's the main attraction for her."
Although Ben proves soothing for Sookie, when it comes to her exes Bill, Eric, Alcide not to mention her brother Jason — his arrival on the scene won't be without some tension: "When a new man comes into Sookie's life, all the old men have to come out," he teases, then adds, "but mainly it's about Ben and Sookie — how Sookie's always been on the precipice of cataclysm
with these guys, and here's the one guy that gives her a shot at a happy life."
Now well-versed in True Blood culture, Kazinsky is bracing for when that tension moves beyond the small screen and into the fan communities. "I'm expecting people to hate me and hate the character simply because I'm not Eric or Bill. There's the pro-Eric camp and the pro-Bill camp, and everyone's going to be like, 'Who's this douchebag? Who's this fairy? He's not scary!'" Still, Kazinsky has confidence that Ben will win over shippers just as he wins over Sookie: "I can promise, over the course of the season, Anna and I will earn our own little fan group — I hope!"
A little speculation on Big Ben, maybe he is there because of Warlow (or is Warlow! see below in red).
He might have also been "sold" contractually to Warlow (like Johnny Stackhouse did to his own kin) for mating purposes to have blood to day walk, or some dark shit. Ben might originally be there to do a job but turns into a good guy who really likes Sookie (A Vampire Bill story retread) maybe he dies trying to protect her (if it isnt Bill) and goes against Warlow. I'd rather it be Bill just so I can see Puffy Chest at his puffiest but Ben would have a good end that way.
UPDATE either someone on IMDB is screwing with us or this is a slip but the actress who was posted for "Fuck the Pain Away" as Ben's mother is now listed as Warlow's mother!!!!! I'm not changing it in castings till I find more info.
Update 6/30- Episode 3 seems to make it definite that Ben isnt Warlow, still might be there to procreate some fae babes with Ms Stackhouse for the big bad though.
MegaBuzz is making me think that Ben was conscripted by Warlow to do the deed with Ms Stackhouse alright-
What's Ben's deal on True Blood? He's obviously hiding something. — James
NATALIE:

We'll find out why he's

really

in Bon Temps this week — and it's not good. But

Rob Kazinsky

swears that deep down, Ben is a good guy. "Everything he says in the first few episodes are not lies," he says. "He has a real genuine fascination, adoration and love for Sookie."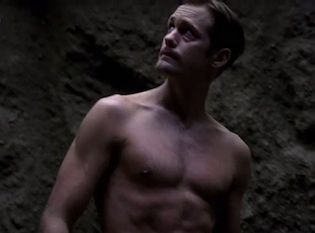 This is how you get the Governor to bend, Willa either gets turned or just D-whipped by Eric all while she's in her nightie.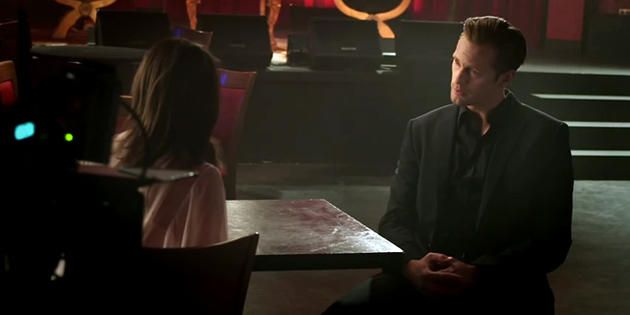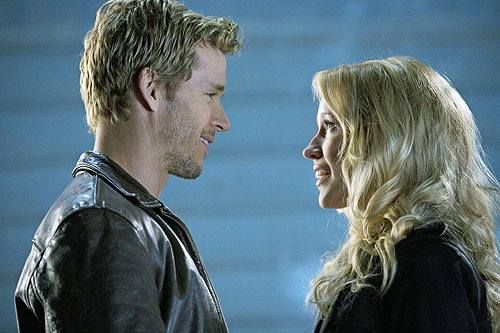 Jason looks very happy to meet Anna, she comes back as a successful writer but is she involved in torturing Steve?
More episode synopses, this time from TVGuide-
S
eason 6, Episode 4 "At Last"
Sookie confronts her attraction to Ben by inviting him to dinner; Eric counters Burrell's brutal anti-vampire initiatives by hitting him where it hurts the most; Andy's faerie daughters keep dangerous company; Sam and Nicole connect; Bill gives Takahashi the task of synthesizing a new kind of blood. Original Air Date: Jul 7, 2013
Guest Cast
Arliss Howard: Gov. Truman Burrell, Rob Kazinsky: Ben, Rutger Hauer: Niall, Keone Young: Hido Takahashi
Season 6, Episode 5 "Fuck the Pain Away"

Sookie gets Lafayette to summon her dead parents (is this why he dunks the hell out of her/); Warlow revisits some painful memories with Lillith; Eric and Tara resort to drastic measures to rescue Pam; Sarah reconnects with Jason; Andy picks up the pieces of his ravaged family; Jessica seeks atonement. Original Air Date: Jul 14, 2013Guest Cast Rutger Hauer: Niall Arliss Howard: Gov. Truman Burrell Rob Kazinsky: Ben
The 7th Episode Titled "The Funeral" was changed (strange to do that this late) to "World Without End".
Ausiello spoilers-

Question: Two episodes into True Blood's new season, and there's no sign of Anna Camp's Sarah Newlin. What gives? —JonathanAusiello: The bitch is back this Sunday and has a "very tense" reunion with her estranged gay vampire ex Steve, teases his portrayer Michael McMillian, who says viewers "will get some insight into what happened in their marriage during Seasons 3 and 4… They have some unfinished business." Bonus Scoop:Back on June 6, Camp tweeted from the True Blood set that she was in the midst of the "craziest day of work I've ever had… and I projectile vomited in Pitch Perfect." Well, I hear things got so nuts that the actress ended up in the hospital with a bruised noggin! It was just a precaution and she's totally fine, but still… Makes me wonder what the hell was going on.
From Drusilla Moorhouse's interview with Rutger Hauer, just the interesting spoilery bits-
When TODAY.com questioned the legendary "Blade Runner" star about his double identity, he refused to confirm -- or deny -- the rumors.
"That's how it started, and at that point they said it was a misunderstanding (was it Hudis' idea?). It was a misunderstanding that was created -- but OK, who am I to say? Because I didn't know what I was doing. I signed on blind."
"Niall is showing up because the last of the fairies are in the wrong corner," Hauer explained. "And Sookie needs to know something that I can tell her. I can show her something that she doesn't know, and it will help her in the end. It will save her if she loses her life. But then there's all kinds of spins happening after that, that kind of make that go away a little bit."
"(Expect) big things in episode four," he promised.
Rob Kazinsy agreed that the fourth episode is pivotal. As Sookie's new man, fairy Ben, he shares screen time with the iconic actor -- and savored every moment.
"Rutger was probably one of the best things that ever happened to me," raved Kazinsky.
He's an incredible actor. ... We had so much fun."

The feeling is mutual. "We were really rocking," Hauer said about their "True Blood" scenes.
So how evil is Hauer's on-screen persona? "I have no idea," he teased. "I play a character -- I think he's pretty nice, you know. He's grumpy, but he's nice. I think he's got a dangerous side that makes him who he is."
"They wrote it that way a little bit and they cast me," Hauer added, acknowledging his reputation for portraying some of the big screen's scariest villains. "It's pretty clear that I'm going to go there a little bit."
This is some pity of a spoiler from MegaBuzz- OMG! Are all our favorite vampires going to die on
True Blood
?
! — Harold NATALIE: Bill's prophecy looked pretty damn scary, right? Kristin Bauer van Straten certainly thought so, saying it made her worry about her job security. But she says that there will be many twists and turns before that scary scene could come true. "A couple of the different worlds are overlapping," she says. "Vampires aren't the only ones in danger and aren't the only ones fighting, and we're not really going to know who's on what side."
From HBOMAX more short synopses, this time for E6 and E7-
"Dont You Feel Me": Sookie now immune to the Bill's influence, returns to a place accessible only to the fairies (I guess the club?). Bill decides to search for Lilith to get advice. Ericm Pam, Nora, Jason and Jessica get closer to the dangerous of Vamp Camp.
"World Without End":-Eric promises loyalty to Bill in his latest effort to save Nora. A tragedy near home forces Sam to ignore the warnings of Alcide and return to Bon Temps. Jessica shows her gratitude to James, a vampire friend incarcerated.
From TVLine's Latest, you read it here a while back and with better jokes.
In the second episode of True Blood Season 6, I sensed a little sexual tension between Sam and the new character, Nicole. Could Nicole possibly be Sam's new love interest or will he be taking a break from the ladies after the death of Luna? –Rashad
Granted, Luna's body is barely cold, but yes, things do seem heading that way – especially since Nicole's current beau runs into some bad luck this Sunday while Sam makes a bold choice to run to the new gal's rescue when the wolf pack runs amok. Oh, and there's this: The official logline for the July 7 episode reads: "Sam and Nicole make a connection." Case closed!
GIF
Still holding out on a Gideon Emery Warlow in my life, please. Update it was Benzini all along.