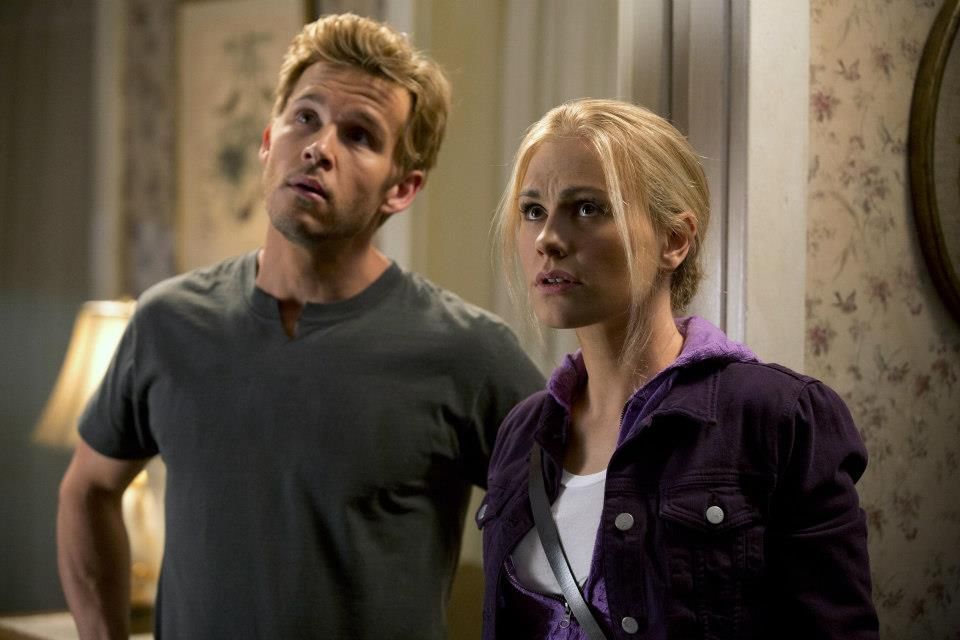 "Susanna":
A young woman's life is turned upside down when she is forced to care for her older sister's infant daughter.
Starring: Maggie Grace and Anna Paquin.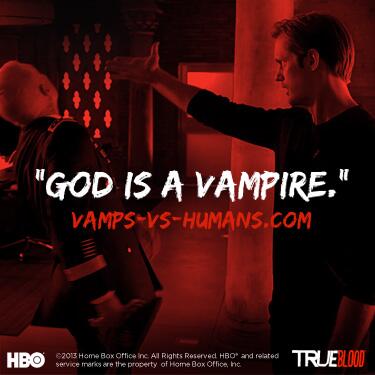 Question: I'm a diehard fan of True Blood and I have one very burning question: Is this in fact going to be the final season of the show? 'Cause all the promotion seems to suggest it will be. —Kenn
Ausiello:
It's absolutely, positively
not
the final season of the show. It's got one, maybe two more seasons left in it. TVLine
Anna Paquin

,

Stephen Moyer

, Alexander Skarsgard

on the red carpet

with HBO Programing President

Michael Lombardo

, executive producer

Brian Buckner

, HBO

Entertainment P

resident

Sue Naegle

, and executive producer

Gregg Feinberg

. More photos at Just Jared.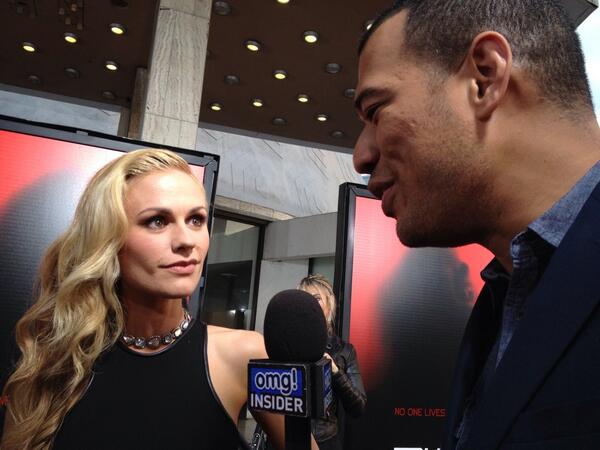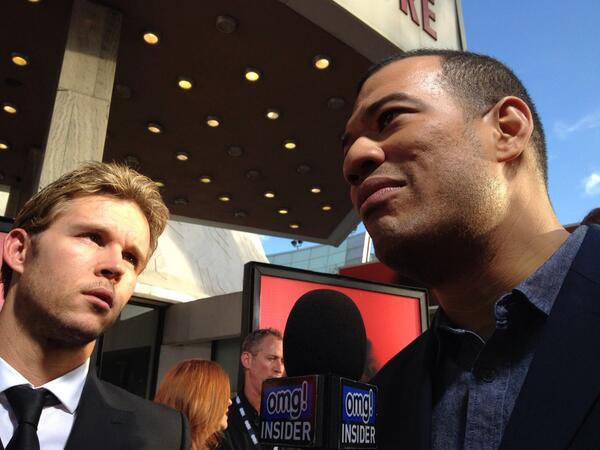 Brittany Kaplan tweeted many good pics.
Trailer for Stephen Moyer's movie Evidence
.The film opens in the middle of the desert outside of Los Angeles, where a massacre has just occurred. The only evidence at the crime scene is the victim's personal electric devices, including a camcorder, Flip Cam and two cell phones. So, it literally is a film in which footage is "found" with the two detectives analyzing the bits of found footage to piece together the identity of the ruthless killer.ShockTillYouDrop.
RollingStone does a Brian Buckner interview, lengthier at the link.- After last season's shocking finale, would you say Bill has entirely lost his humanity at this point, or is there still hope for him? I think there always has to be hope for him. But his arc during the season, in that first episode, [spoiler alert!] he asks Jessica to make sure he doesn't lose it. He will. He does. But he will find his way back, because Bill has to be Bill. But that fight that's going on between the Bill part of Bill and the Lilith part of Bill, she will win for a little while.
Now that we're in the sixth season, how do you keep this story fresh and riveting?

Change. I'm not going to say what the changes are, but it's a big deal. Everybody loves the show, but actors don't want to play the same scenes anymore, and writers don't want to write the same scenes anymore, and so literally shifting things up. And pivoting people around – on this show, other than when we have table reads and premiere parties, a lot of these actors never work together – so the way I look at it, if we can shift the paradigm, and some of the relationships within the show, there are all these sort of new avenues to go down. Jason has basically never played a scene with, like, Pam, right? So there's all these pairings, and my job, and the job of the writers is to change the lanes that we've been driving down for six seasons. The answer is, because we have all these characters, I think it's very easy to stay fresh – you just have to be mindful about doing so. So that's the kind of thing that we have to be aware of and get back to a little bit of our soap opera roots and remember that romance matters in the midst of all the plot we do.
Along those lines, would you say that the Bill/Sookie/Eric love triangle still exists this season?

I think that it exists – the tension is there, but I would say that these characters have never been further apart, romantically. Bill and Sookie are still the center of the show. That pull is there, but you can't always have people together. But the impasse is really interesting.
From TH
R, bits from the cast. Stephen Moyer on Bill,
"He is out to try and find out what he is and what he can do," Moyer told THR about the new, bad-boy version of Bill. "He doesn't know. He doesn't know what his powers are; he doesn't know what his purpose is."
The new season promises to present plenty of threats for many of the characters, who will not only deal with the new Bill, but also increasing tension between humans and vampires and new complicated relationships.
"We're at war," said Wesley, who plays newly made vampire Tara. "They shut down all vampire-run business, there's a curfew. It's really tough to survive."
Wesley also told THR that she's involved in "a really cool stunt" in a very bloody scene later in the season. "But I can't really tell you what it is," she added.
Deborah Ann Woll, who plays Jessica, Bill's vampire progeny, told THR that it'll be a very bloody, dirty season for her as well.
"I feel like every other day I'm covered in blood or dirt of some kind," she said.
Woll said that for the premiere episode, which was directed by Moyer, they shot a very intense scene for five nights in a row. "By the end of that I think I had blood on 75 percent of my body," she said. "And it was the kind of thing where a week later I was still finding it in my ears."
Anna Camp, who is returning as Sarah Newlin, the Southern preacher's wife who is not a fan of vampires, also told THR that she's involved in a bloody scene that left its mark on her.

"I have a lot of bruises from shooting a bloody, bloody scene. I had to put some makeup on them," she said. "I just shot it last week. It's by far the craziest thing I've ever done."
Camp's character first appeared in the second season of the show, and is returning with a very specific cause this year.
Camp's character will get to reunite with her former husband, Steve Newlin, who was once a conservative reverend, but became a gay vampire. Rev. Newlin will get to be a part of some pretty "wild stuff," said Michael McMillian, who plays Steve.
"He's at the center of a lot of violence this season," he told THR. "He's going to be on the receiving end of some trouble, and he's going to be causing some trouble." More