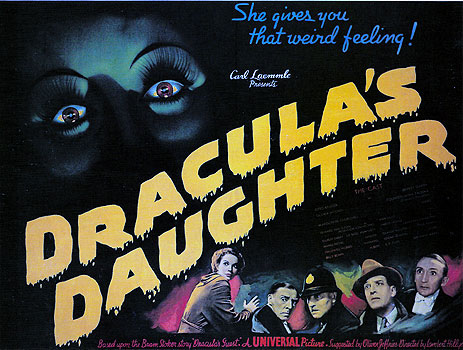 You can't choose your parents as Countess Marya Zaleska (beautiful Gloria Holden) finds out. Von Helsing is on trial for staking Drac, he gets a psychiatrist to defend him (just go with it), the Countess also contacts the good doctor to treat her for that nasty blood thirst! She steals her daddy Dracula's body to burn in hopes of ending what she thinks is a curse but you all know how that turns out. They all wind up in Transylvania (where else?) in this sequel to Bela's "Dracula", it is excellent and different from the other sequels that followed. It ends with the Countess' version of Igor, Sandor, being jealous of the shrink and shooting an arrow (cue ABC's Poison Arrow) through her heart. Quelle dommage! By the way,
Anne Rice reviewed this movie on Amazon
a must read for vamp fans.
Chris Meloni on True Blood, the heat is on (maybe)! From Ausiello
TVLine has learned exclusively that the former
Law & Order: SVU
front man is circling what my sources are calling a "major role" in the show's upcoming fifth season.
If a deal comes to pass, this would be a major casting coup for
True Blood
. It would also mark a high-profile return to the small screen for Meloni following his sudden departure from
SVU
last spring.
Will he be Quinn? I would rather him as Russell's new beau, I can dream, right?
Episode #502, "Authority Always Wins"
[KIBWE] Early 40s to early 60s. A slender African gentleman vampire, he's an Authority council member who believes rehabilitation for prisoners over stricter punishment...STRONG RECURRING
[ROSALYN HARRIS] 40s to 60s. A Texas vampire with "hair high enough to interfere with air traffic," she's an Authority council member with a homespun wisdom-spouting mouth and a firm hand...RECURRING
[ALEXANDER] 9 years old. An impetuous young vampire who was turned at the age of 9, he's an Authority council member who loves cigarettes and razzing his fellow council members...RECURRING
[DIETER BRAUN] 40s to 50s. Mature and self-possessed, calm and authoritative, with a piercing gaze, this vampire of average build is nevertheless extremely intimidating, and he uses innovative methods to torture a prisoner during an interrogation...
[CHRISTINE VAN HEUSEN] Late 20s to 30s. Seen on TV, she's a cute brunette newscaster for a CNN-type program who conducts a high-profile, in-depth interview...1 speech & 5 lines, 2 scenes
[CLERK] 30s to 40s. The kind of guy who buys pork rinds, he lives in a trailer and works at the Stake House, a home protection store that sells weapons designed to hurt vampires...3 speeches & 3 lines, 1 scene
[BOY] 14, determined, hurt, and angry, he punches Jason in the face for sleeping with his mom and breaking up his parents...6 lines, 1 scene
[ELLIS] 20s to mid 30s. A member of Jason's former road crew, he punches Jason in the face for sleeping with his wife...5 lines, 1 scene
[NIGEL] 30s to 40s. A grotesque-looking vampire prisoner, he's been scarred, burned and deformed -- punishment for his predilection for eating babies...5 lines, 1 scene
[WASHCLOTH HELEN] 20s to early 30s. Seen in flashback to 1905 in San Francisco, she's a young prostitute who snorts cocaine...2 lines, 1 scene
[HOT GIRL] A hot female college student at a kegger, she's excited when a notorious, unexpected guest shows up...3 lines, 1 scene
[HOT DUDE] A hot male college student at a kegger, he's excited when a notorious, unexpected guest shows up...2 lines, 2 scenes
[MAN] 30s to 40s. Seen in flashback to 1905 in San Francisco, this pleasant, well-dressed, seemingly non-threatening man is actually quite dangerous...2 lines, 1 scene
From Ausiello-
Question: Even though it's still a ways off, I can't stop thinking about Season 5 of True Blood! I need to know anything, absolutely anything, about anything that may be happening next season! — Tanya
Ausiello:
How about this? In the wake of Nan's slaying, next season we'll be meeting the Authority council, a colorful bunch that includes Kibwe, an Andre Braugher type who's a proponent of prisoner rehab; Rosalyn Harris, a tough cookie who, from what I hear, could have been separated at birth from Paula Deen; and Alexander, a mischief-maker who only
looks
like he's 9.
Will this Alexander be a twist on the books Alexei Romanov, who is book Eric's vamp brother?
Wishing Kristin and Ryan Happy Birthdays again, since today is Ryan's.
Joe likes Football, a lot.
Synopsis of Deadlocked at Vampire.com, the latest from CH.
I see a lot of articles the last couple of days that are just re-posts of interviews from the last weeks. They fool me till I get to the middle and it seems like I read it before. I go look back at my posts and sure enough, find the originals. I am trying to avoid repetition but if I do re-post something let me know so I can remove it. I'd rather keep the original sourced articles here.
From Carrie Preston's twitter Tuesday-
Carrie_Preston
Carrie Preston
So fun to be back with the Bon Temps gang for the #TrueBloodreadthru yesterday. U will get answers people...and even more questions!
Janina Gavankar's birthday is today, November 29th, lots of Sagittarians on the show. She tweeted that yesterday was the first table read for S5. Have a great day J!
Kristin has her art on holiday cards at Amazon, they are lovely.
Some pics of the beautiful Deborah Ann Woll from Buzz 103 radio,
Scans from the December Elle UK article on Alexander, it's here at Askarsgard.com. It's up on Ebay, the issue has Michelle Williams on the cover.