Our Holiday hostess with the mostest is From Dusk Till Dawn's the one and only Santanico Pandemonium! This is how you make an entrance.
Remember folks, tip your bartender, especially when they are Danny Trejo
Belated Birthday wishes to Kristin Bauer (11/26) and Ryan Kwanten (11/28)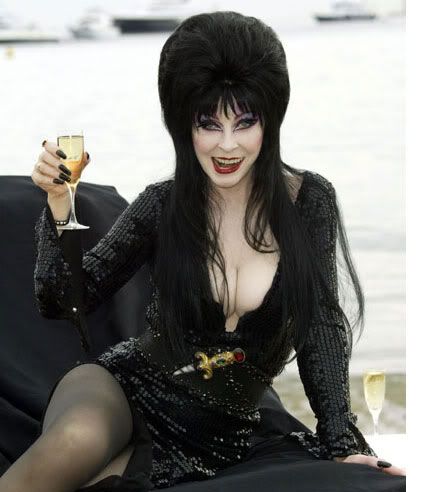 More from the GQ party.
From a much longer article with Anne Rice at The Daily Beast-
True Blood
is set in your native Louisiana, and it really uses vampirism as a metaphor for outsiders, including the gay community. What are your thoughts on using vampirism as a metaphor for the disenfranchised?
It
'
s a given! The vampire is an outsider. He
'
s the perfect metaphor for those things. He
'
s someone who looks human and sounds human, but is not human, so he
'
s always on the margins. When I write and assume the point of view of the vampire, I understand the agony of being a public outcast
—
someone who doesn
'
t belong anywhere, yet longs to be part of something and gravitates to other outcasts of his own kind. I remember the year

Interview With the Vampire

was published, a young man came to me at Berkeley and told me he thought

Interview With the Vampire

was
"
the longest sustained gay allegory in the English language.
"
I was kind of amazed and honored that he was unpacking that from it, but it wasn
'
t a conscious thing.
HBO Marketing Magic
Fearnet.com has an itty bitty bit about Ryan
"Jason Stackhouse's humor is more situational. I don't play him with the intention of, 'Oh, I hope people laugh at this.' I play the situation for real and it is the situation that is funny. With
Knights of Badassdom
I'm playing the straight guy, and surrounding myself with great character actors like Steve Zahn and Peter Dinklage, who really add that nice comedic flavor. That was another challenge for me, to drop all sense of pretense and trust the people around me."
Kwanten did reveal that production on season five of the HBO series begins the week after Thanksgiving.
With no release date set for
Knights of Badassdom
, Kwanten surmises it will be released "mid-next year."
TMZ, ridonkulous as usual.
Bill Cody
interviewed Joe Manganiello, Alcide the werewolf from HBO's True Blood, on the Moon Nightclub Las Vegas red carpet, inside of the Palms for Halloween. Video by Chris Rauschnot
Thanksgiving cooking and meal tips ala True Blood
This is how you host a dinner and treat your guests
Joe at the Macy's Thanksgiving Parade yesterday, what did that guy say is shooting straight up? !!!!