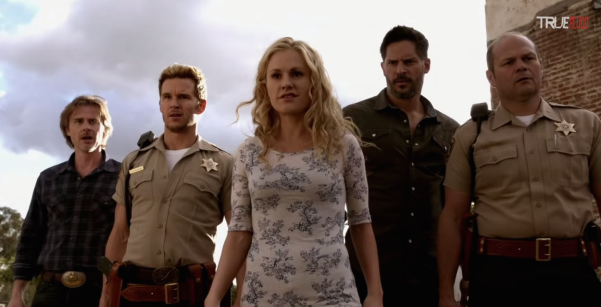 Spoilers part 1, spoilers part 2 at these links, also on the right side of the blog.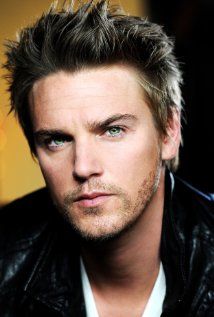 Look out, Bon Temps — there's about to be a new vampire heartthrob in town, Riley Smith is gearing up to glamour fans with his exciting new role. The actor will take on the part of a sexy, rock 'n' roll vamp by the name of Keith. More at TV Rage but the spoilies are below.
TVRage: What can you tell us about your character?
Riley Smith: I'm playing Keith, who's the new vampire for the seventh and final season. I'm going to get introduced in Episode 4 and then I'll be with the show for the remainder of the season. Right now we're actually filming Episode 5. I'm also going to be Arlene's love interest, played by Carrie Preston, and I think that's pretty much all I can talk about at this point.
TVRage: Keith is immediately attracted to Arlene upon seeing her. Can you give any hints as to how the two of you first meet?
Smith: We meet on a mission where the vampires are trying to save some of the cast that are in trouble. That is how Keith and Arlene meet. Keith is saving Arlene from a serious situation and that's their meet-cute, so to speak. And that's what kind of brings Keith into that world.
I don't know how much the audience knows so far about what's going on, but there's a big part of the first three episodes of Season 7 that's leading up to this major thing that occurs in Episode 4 and it's going to be a big situation. Episode 4 was a huge — I think it was like a 25-day shoot for us. There's a huge fight and a lot of the main characters are in some serious trouble, so I'm recruited by James [played by Nathan Parsons] to come help and that's what introduces Arlene and Keith. And that's how they meet and they create their own relationship, which we're just now starting to get into.
Aaron Christian Howles and Noah Matthews will return for the final season of True Blood, in a big way, GoodHollywood.com can exclusively confirm. Howles and Matthews play brothers Rocky and Wade Cleary, respectively.
"Our characters are involved in a plot this season." Howles said. Howles also said this is his biggest acting role so far. GoodHollywood.
New Promo, ok now that HBO released a better copy, I want to thank John Smith for the quickness that they caught the vid but am putting up the new-new one.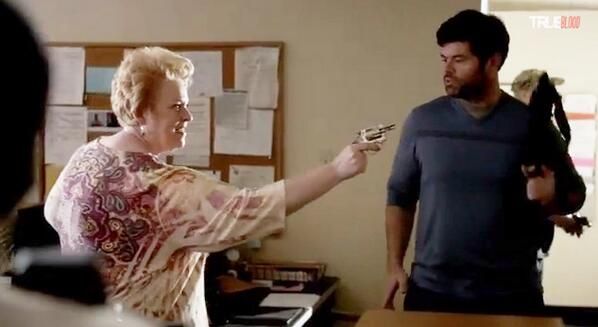 Maxine is hanging out with Mack, a vigilante, oh noes!
This isnt confirmed yet, but I saw a pic of an extra in coveralls as a Alaskan oilfield worker, that is what the person said. If true, wtf is up with that, Alaska can only mean one thing HOYT!!!!!