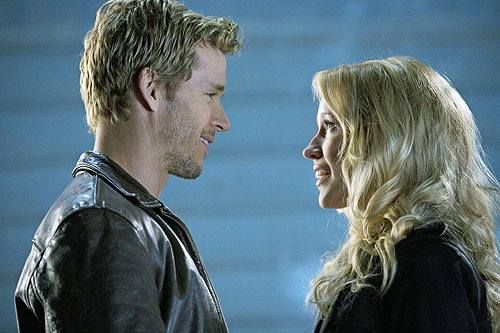 Carumba, part 7? Can't say we didnt give it our all, we're almost at the halfway mark for the season of 10 episodes. This is the last spoiler post for the season, no matter how long it gets.
From the NY Post with Anna Camp talking about Sarah-
Camp is coy on specifics, but rumors are swirling that Ms. Newlin's return means she'll emerge as one of the biggest villains.
"Sarah is really passionate about fighting the vampires more than ever this season, because obviously she's embarrassed by her husband, and she finds herself in a situation with more power than she ever expected," Camp says. "Perhaps this isn't the healthiest thing for Sarah."
Rob Kazinsky talks about Warlow to TVGuide, just the spoilery bits, he really spills and it sounds like he schools Bill on who Lilith really is-
Tell us about Warlow and what kind of powers he has.
Kazinsky: He has the best of both worlds. He is the oldest vampire that we've met to date. He is one of the first, he's Lilith's progeny. He's been around as long as she has. He also has the powers of the most powerful fae. This is all stuff that he's hidden until now because he's wanted to appear not as himself. He knows how guarded Sookie is about what happened to her parents, the truth of what happened with her parents is something she's unaware of. He has all the powers of the fae and all the powers of a vampire and all the cravings of both.
Sookie was promised to him, so what does Warlow want with her?
Kazinsky: Everything that he says in the first few episodes are not lies. They're absolute truths. When I said previously that he is the male equivalent to her, he still is. He's been ostracized not only by humans, but by fae and vampires because he is none of the above and all three at the same time. He's never been able to be accepted anywhere he's gone. He knows what he is. He's a junkie. He's an addict who hates himself for being an addict. He fights against this inner vampire all the time. He came from light,he's a creature of light and goodness. However, he's corrupted by this vampire within him that he has to fight against every single second of every single day. Everything he said to Sookie about what they are and how they feel, that's true. He absolutely means it. He has a real genuine fascinating, adoration and love for Sookie.
So Warlow might actually have a decent side to him?
Kazinsky: Yes, he does. He is ruled by his conscience. He means well and has a good heart, but when you take the most powerful vampire that you've ever met and combine him with something loathed, you end up with a very dangerous, self-hating monster. Despite your best wishes, when you have to succumb to a craving and you're 5,000 years old, it's not going to look pretty. He's incredibly dangerous to the point where you can't even comprehend the level of destruction that he can cause if he lets Warlow off the leash. However, his bonds of restraint are self-imposed and it's a constant battle. The other thing you'll find out about Warlow is that, as a creature of both light and dark, he battles with both all the time. The darker it gets, the harder it is to maintain these bonds.
How did Niall not realize this was Warlow at the get-go?
Kazinsky: When we saw Warlow in Season 5, he certainly looks very different to how I look. When Warlow was around, there wasn't exactly a chance to take pictures of him. No one knows what he looks like. He's older than Niall. Because he hates who and what he is, he's never wanted to be the king of vampires or been at the forefront of anything. He's tried his best to hide himself away from the world; to ostracize himself from society out of fear of hurting people. The story between Niall and Warlow is a very, very personal story that will play out over the course of the season. Episode 5 goes right into the story of Warlow and Niall. People change and evolve.
Will we get flashbacks to see why he killed Sookie's parents?
Kazinsky: Over the course of the season, with Niall's help and with Ben's help and Warlow's truths, the truth will come out. It's not the truth that people expect. When people see how that came to pass and why it came to pass, it might take people by surprise. The reason that Warlow created the character of Ben was because nobody would give him a chance if he was Warlow and he needed Sookie to know and see the truth and develop her feelings on her own without the permutations that the main Warlow would bring.
What's Sookie's reaction like to facing off with Warlow?
Kazinsky: Not with panic. [Laughs] She's been around a fair few scary vampires. She's seen a lot and done it all. For the first time in the entire show, she's ready. She's prepared and she's angry. Warlow is confusing because here is a vampire that can walk in the daylight, here is a vampire that is a fae and she has very real feelings for Ben, too. She has to battle against that and reconcile what she sees in front of her with the image that she created of Warlow in her mind. Those are two very different creatures, which is what Warlow is: He is two very different creatures trapped in one body.
Warlow has a lot of different foes coming after him. Will he find that he has a fight on more than one front in the coming episodes?
Kazinsky: Warlow has spent his entire life being hunted and dealing with fae and vampires and everybody who wants to kill him, so he's well-prepared to deal with every single one of these characters that has a vendetta against him. The most fascinating relationship is the one between him and Bill, because Bill's understanding of Lilith, who is Warlow's maker, makes for a very interesting relationship.
Will Warlow and Bill be on the same side?
Kazinsky: Well, Bill is not Lilith and Lilith is not Bill, but there is a familiarity there. There's certainly a sense of history. When they do finally meet, it allows for a sense of massive fireworks. In Season 5, it was explained that Warlow will be the savior of all vampires, and with Bill being the tip of the vampire spear, it falls to Bill to make sure that this comes to pass against Warlow's wishes. It turns into a very fractured relationship from the very beginning.
With Louisiana declaring war on vampires, does that mean Warlow will have to sacrifice himself to save the species?
Kazinsky: Warlow has no interest whatsoever in vampires. He has no interest in anything but himself and Sookie. He does not want to be a vampire. He does not want to be a part of the community and the Bible, for him, has always just been blasphemy. It's a waste of time. Being a vampire is not his dream situation, so the way it all comes to pass over the course of the season, what you think is going to happen, will not happen; what you want to happen, it's going to be better than that.
This is about the flashback we have been talking about for a while in Castings and previous spoilers (1thru 6), bring on the fairie warriors!
From Ausiello-Question: I saw the Ben/Warlow twist coming a mile away on True Blood, but I'm still intrigued by the storyline. Any intel on this Sunday's episode? —Cathy
Ausiello: This week, you'll learn a whole lot more about exactly how the rare fairy vampire came into existence. Plus, it will make a bit more sense why Sookie waited until after she and her latest suitor were half naked before revealing that she knew his true identity.
Question: Any scoop you can give us on Pam and Tara's love/hate relationship on True Blood? — Ashley

Ausiello: Oh, c'mon. Even though the language they use is often hateful, you know their relationship is really more of a love/love sort. And in this week's episode, Tara makes a biiig sacrifice that proves it yet again.
MegaBuzz's scoop-

I'm loving True Blood this season! What can you tease? — Harry NATALIE: Bill's scary prophecy may come true sooner than we expected. But that's not necessarily a bad thing, since it will show a hilarious new side of fan favorite Pam. Unfortunately, it will also put her at odds with Eric in a way that will make fans very angry.
Adina Porter's Lettie Mae will make a showing this season too, in the last episodes. We know how she feels about vamps.
Looks like Ausiello was right on the future triangle with Jess, Jason and James/Wes.
From TVLine-
I'm in desperate need of some True Blood spoilers, please give me anything you got! –Drew
This Sunday there are exceedingly disturbing goings-on between makers and progeny (Edit:
Pam and Tara, Eric and Pam, Eric and Willa or Puffy and Jess? argh!)
, and two more characters appear to be about to bite the dust — one of them willingly.
Pam and Tara or Eric and Pam (2 vampires entire, one vamp leaves or will a progeny get involved?)?
From an interview with Deborah Anne Woll-

What can viewers expect from the rest of season six?
We always have big surprises and a rollercoaster ride. I will say the big difference here is that the power has shifted. We're seeing humans learning more about vampires and being able to fight them in ways we haven't seen before. That's a big threat to our vampire population.
Will you be back for season seven?
Contractually, I have to. Luckily, I do want to be there.
Thankfully we see that Eric gets out of the white room in these pics below and the synopsis for E6 has him talking to Bill. GIFs via CBLA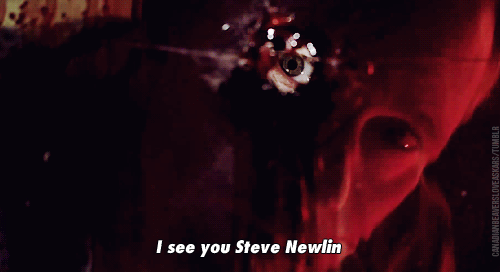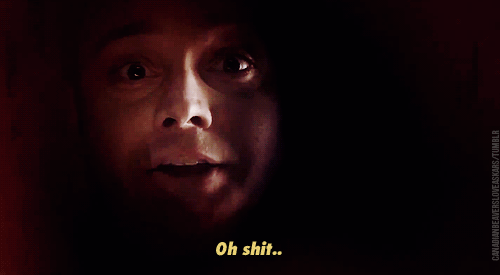 From HollywoodLife-

As we venture deeper into True Blood's sixth season — we are officially half-way through it, in case you weren't aware — Truebies everywhere have one burning question on their collective brain: Which major character is heading for the grave? HollywoodLife.com chatted with Michael McMillian, who plays the lovable (former) reverend Steve Newlin, for his take on the upcoming death; and he assured us it's going to be devastating.
"I obviously can't say who it is, but I was definitely surprised when I found out," Michael admitted, adding that the shocking death "changes the tone of the show" entirely.
So whose death would be/do all of these things:devastating, change the tone of the show and Todd Lowe said brings Bon Temps together?
Adilyn is the last Fae Bellefleur standing, very sweet name.
Episode 7, the one previously called The Funeral, now "World Without End" has a flashback to King Charles Court, what character is the focus on? Is it Nora, a backstory and then she dies?
Rutina says that eventually they all get back together by the end of the season in an interview here, it's the last couple of minutes.
Now gentle readers, spoilers that we know already if you read them at all or have common sense- TVLine-
Do you have any insight as to who might be experiencing the true death on True Blood? –BobbyHere's one name I'd venture to rule out, despite how last Sunday's episode ended: Eric — if only because I hear that he's busy making a last-ditch effort to save an ailing Nora in the July 28 episode. Unless, you know, it's his ghost saving her. Or something.
Not to worry, SDCC's True Blood panel is this Saturday so we'll have goodies to read and videos to view.
From SDCC
From Wetpaint's interview with Rob Kazinsky,
"Towards the end of the season, everything is going to be tied up in the most explosive way," Rob explained. "We're going to be left with a very shell-shocked and broken original grouping of characters to go into Season 7 with ... We're going to lose so many people."
To us, that sounds like a lot of the newer characters could find themselves on the chopping block before the season is over, though the core cast might be OK. But wait ... isn't Warlow a very new character?
Joe Manganiello said that it was like they were on different shows, one about Vamps and one about weres, but the finale brings them all back to one show. Downsizing in season 7, better late than...
Anna Camp also told them the funale has things tied up and some new things left open. So is the new thing the question of Sookie being pregs or what?
So shocked by Terry's death. Is there a chance that we could see him again on True Blood? — Jenna
NATALIE:

Terry is definitely

dead

, but a bloodsucking little birdie told me that

Todd Lowe

will pop up in a flashback later this season.
EW's interview with Carrie Preston had this nugget, will she turn into book Arlene (just a little?)?
What's next for Arlene? "We saw the moment where she was holding her husband as he died in her arms, now we're gonna see the shock, and the aftermath, and the true coming apart. How do you not be unhinged?" she says. We will see Terry's funeral, but not in this Sunday's episode. "There's a scene coming up that was just as challenging as the death. And then the funeral, which will come up somewhere down the line — also quite sobering, to say the least," she teases. "I was constantly texting Todd photos when we were shooting the funeral."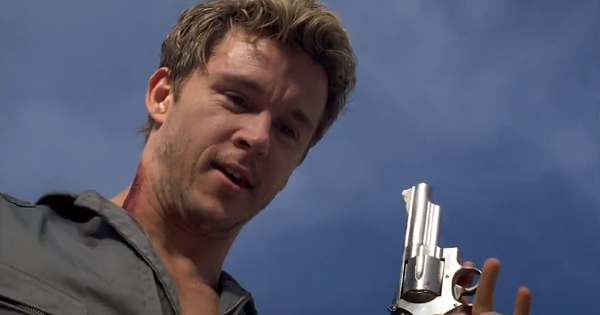 Hopefully our man is looking down at Sarah and not some random guard.
Another synopsis released by HBO-
Episode #69: "Life Matters"
Debut: SUNDAY, AUG. 11 (9:00-10:00 p.m. ET/PT)
A desperate Bill (Stephen Moyer) tries to ferry Warlow (Rob Kazinsky) away from the faerie plain, but Sookie (Anna Paquin) is having none of it. Meanwhile, Eric (Alexander Skarsgård) arrives at vamp camp, looking to inflict serious human damage. In Bon Temps, friends and family take emotional turns remembering a fallen neighbor. Bill feels the pull of Lilith's (Jessica Clark) sirens.
Written by Brian Buckner; directed by Romeo Tirone.
In Sunday's Dead Meat we get to see Lettie Mae again!
Episode 6.10 "We Will All Go Together, When We Go" "Save the Population" "Radioactive" In the sixth-season finale, Jason feels a vampire attraction firsthand; and Bill finds that salvation isn't free. Meanwhile, Sookie considers her future with Warlow as a new crisis poses a threat to humans and vampires alike. Scott Winant Director. Wiki and TVGuide.
Three co-star roles are being cast for
episode 6.10
: a nurse who takes blood samples, and 2 African-American roles: a little girl and a religious woman. There's a town meeting in this episode.
Source:
SpoilerTV
From an interview with Deborah Ann Woll by TVGuide about Jessica's survival-
With Jessica thinking that she deserves to die, how does she feel about the prophecy possibility coming true, especially since her maker Bill is putting his own life on the line to save her?
Woll: She doesn't want to take any active steps towards saving herself, but she doesn't feel that her friends deserve to die and that anybody should die risking themselves for her. She's of the mindset that she will help people out to the extent that it saves vampire kind, but she's trying to come to terms that it may not save her in the end.
From Ausiello, he knows nothing and felt like telling us that-
Question: I'd like to know what Eric is up to in the True Blood finale. So far no one knows anything. Be the first to let us know! —Lorraine
Ausiello: Sadly, I'm going to have to be the latest to tell you that I don't anything either — unless the last line of HBO's official logline for the Aug. 18 closer pertains to Mr. Northman-

Bill discovers that salvation comes at a price; Jason senses a vampire attraction firsthand. Sookie examines her future with Warlow, while Bon Temps braces itself when a new crisis threatens both humans and vampires.
Some Finale goodies from EW's digital version for subscribers- There's more blood, duh. The episode begins with Sookie and a less patient Warlow. Then in the second half of the ep there's a time jump (heehee)
which moves the action back to Bon Temp and sets up next season. Bill realizes he was just too Puffy for anyone to handle, can he be forgiven? Eric has one sexy scene, something for the ladies and gay men. Alexander naked, BUUUUUTTTTT he's so shy! SOURCE
Finale spoilers from EW, really ones we knew from the episode synopsis, but embellished nicely-
True Blood closes its sixth season Sunday with an hour that exec producer Brian Buckner says won't be as bloody as last week's Vamp Camp massacre. What can fans expect: The first half of the episode focuses on Sookie (Anna Paquin) and "a less patient" Warlow (Rob Kazinky), who expects her to follow through on her promise to become his fairy-vampire bride. There's a "significant time jump" in the second half of the episode, Buckner says, which will help move the action back to Bon Temps for next season so it won't feel like separate vampire, fairy, and werewolf shows — which the actors are excited about. "We have a couple of scenes at the end of this season where we were all there. It was amazing to see, like, the 20 cast chairs lined up with names of people I only see once a month," Deborah Ann Woll (Jessica) told Entertainment Weekly managing editor Jess Cagle this week on EW's SiriusXM channel. "What I've heard from Bucky, our new showrunner, is that he's really interested in continuing that trend. So we hopefully will all be on the same show next year."
Bill (Stephen Moyer) will recognize the error of his ways. "The question going forward is, can he be forgiven?" Bucker says. And yes, we will see Eric (Alexander Skarsgård), who appeared to leave town after his Vamp Camp murder spree and feeding Jason (Ryan Kwanten) his blood — for at least one scene. Buckner describes it as "sexy and provocative," adding, "There's definitely something for the ladies and the gay men. We might see a certain body part." Sweet dreams, Jason?!
Of course, we're not expecting a happy ending for everyone. Big picture, let's not forget that we have vampires infected with Hep V and a continuing Tru Blood shortage. And on a personal note, now that Jessica is out of Vamp Camp, will she have to answer to Andy (Chris Bauer) for killing three of his fairy daughters? "Well, that story is definitely not over. I remember when I first read that scene and what I was gonna do to those girls, my first thought was ohmygod, I don't know how Jessica Hamby and Andy Bellefleur can be on the same show anymore. And I was almost certain that one of us was gonna be gone by the end of the year," Woll said. "So we're definitely gonna have to see a little more on that story in the finale."