This is going to be an extra long post, hold on.
Brian Juergens recap, always my favorite-
Barlow (Rob Kazinsky) and Sookie (Anna Paquin) wake up in the graveyard with the chandeliers and he's immediately regretting his decision to be raped: he thinks it was more than just sex, but she schools him that she can vote AND mount guys who are tied to gravestones. But their stone pillow talk is interrupted when she suddenly hears Arlene(Carrie Preston) KEENING in the actual graveyard, and she rushes off – with Barlow's guidance (which she shouldn't need, since she brought him there, didn't she?) – to comfort her.
Let me take a moment here to point out that the LAST TIME that Sookie whisked off via the Hot Tub Time Machine to the Chandelier Cemetery, an hour to her was like six months of Earth time. This time it's even-Stevens.
JUST SO WE'RE ALL ON THE SAME PAGE.
Back at the Concentration Vamp (PATENT PENDING), a bloodsack-declining Pam tellsPruitt Taylor Vince – on THE BIGGEST COUCH IN HISTORY – that he'd "be surprised what a girl can accomplish in solitary." He tries to pick her brain some more in regards to her sexual appetites, and she reminds him, "I was a whore in my human life and that wasn't a coincidence."
BEST. LINE. EVER. More at The Backlot
Great News for Ryan's movie Knights of Badassdom with Peter Dinklage and a wondeful cast is finally moving forward.
Knights of Badassdom looks like it is going to see the light of day after all. eOne Entertainment has secured the U.S. distribution rights. The film has been stuck in legal hell for almost two years. It is unclear which version of the film will be released — director Joe Lynch's original version, or the version reportedly recut by a producer on behalf of the investment company.
The film star Peter Dinklage (Game of Thrones), Danny Pudi (Community) and Summer Glau (Firefly) and tells the story of a group of LARPers that encounter a real magical threat.
[
/Film
]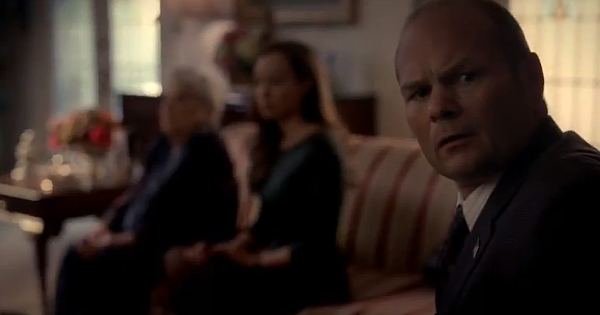 Recap Bitsies, read completely at the links. TVline's-
A HAIRY SITUATION
Though Sam totally missed Luna's funeral – "Luna who?" he doesn't bother to ask while having "See ya!" shower sex with Nicole – he defies Alcide's orders to stay away from Bon Temps in order to go home for Terry's burial. At the doghouse a few scenes later, Alcide lies to his pack that Sam and Nicole are dead. "Oh, really?" Rikki kinda barks. "Then how come we have Nicole and her mother right here and breathing?" Ruh-roh, Shaggy!
Eric had a better wig season one and a better hairline, can we never see this ever again?
Eric Scenes, at least we get more Askars because of Nora
I never liked the Nora character, it wasn't the actress' fault. She was unlikeable from the get go (IMO) as the Authority member and then as the sister that no one knew about, even Pam. As if. At least she's gone now and not an annoyance, Nicole is next, please Rikki. Speaking of which they are really making Rikki very crapped out as well, so is she getting offed too?
Ep. 67 Inside the Episode
The body count in Bon Temps continues to climb, while the surviving cast struggles to cope. On this week's 'True Blood,' our favorite characters reconcile their loss the best way they know how (beer, anyone?), and move through the stages of grief.

Sound Bites of the Week:
"I'm so fucking glad I took my beta blockers." – Lafayette
"Have fun with your sluts!" – Sarah
"You don't have that stockholder's syndrome, do you?" – Jason
OD on V:

Lucy Griffiths, the actor behind Nora, dishes to New York Magazine about her death scene: "I was covered in blood, covered head to toe, and it was so cold."
Kristin Bauer van Straten is auctioning off a limited collectors edition Entertainment Weekly signed by Ryan Kwanten for her anti-poaching project, Out of Africa.
THR's link-Breaking Out of Vamp Camp- Prison Break
Eric is determined to get Nora (who has been injected with the deadly Hep V) out of the Vamp Camp. He grabs a ride on the bottom of a truck and gets them the heck out of there.
Back in the prison, Willa, now aware that the humans are spiking the True Blood with the deadly virus, warns Pam not to drink it. They decide to only tell Jessica and Tara about this information so the prison guards don't realize that everyone knows about the Hep V.
Eric brings Nora to Bill, asking him to give her some of his blood to heal her. But Nora refuses because she doesn't want that crazy Lilith blood in her body.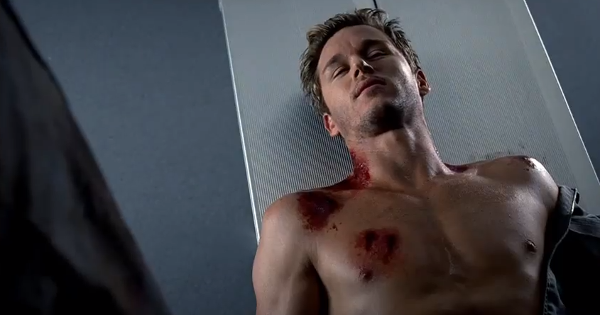 EW's recap-Sarah Newlin, meanwhile, drove to Gov. Burrell's mansion listening to a tape about spreading the gospel. She found Truman's severed head still resting at the foot of his statue and his body lying nearby along with those of his dead guards. She had a tender/mildly disturbing moment with Truman's head telling him he was a decent man and that his commitment to the cause was whole and pure. She kissed his lips. She said his death was not in vain -- it will galvanize the forces against the evil they fight. She also said the enemy preys on the pure. I have a feeling we're about to see Sarah Newlin turn real bad.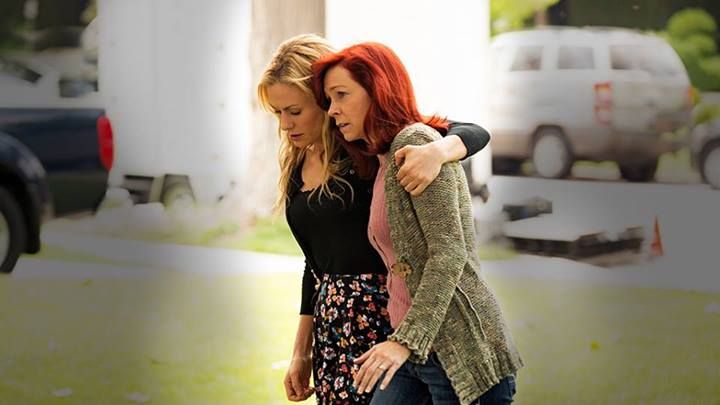 Back at the Bellefleurs, Arlene was day drinking, so Lafayette assumed now wasn't the right time to tell her about Terry's planned suicide. Portia was back to take care of the kids. Andy's daughter Adilyn and Sookie finally met. Holly's teen boys met Adilyn as well. I wonder what thoughts she overheard them having about her. Then boom, in walked Bill. This was Carrie Preston's best scene ever! Bill gave her his condolences and told her he was fond of Terry and had been proud to call him his kin. She laughed and said, "Y'all, I'm wasted." When she realized Holly was physically steadying her, she gasped. "S---, this shit's real. Idn't it? You're walkin' in the daylight," she told Bill. He confirmed it. "F--- me," he said.
Thanks to HBO, Darling Sookie and I'm Here For Sookie for screengrabs and more.
It's no joke that you have to completely forget the last seasons and look at TB as a new show often this season. Remembering Eric telling someone (Marcellus?) last season that Godric chose Nora because she was a political genius while watching Nora's FB. Added to the ignore list along with Sookie's turning more Fae each week with super-duper new powers at her beck and call. One hot thing was how Violet looked at Jason in VampPrison and his look back at her, who's Jess?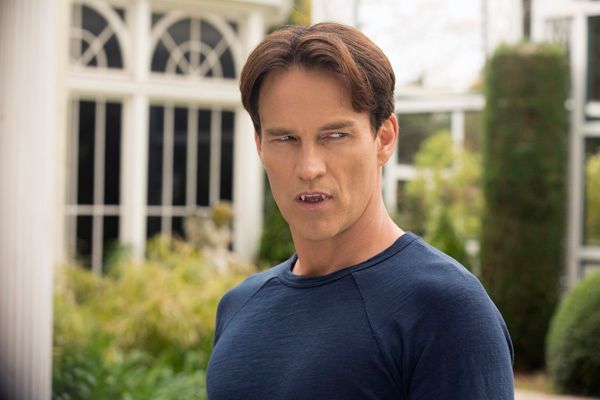 Seeing Puffy (look at his chesticles!) strutting down his kingly staircase to meet Eric was too much, it was like a heartbeat away from them back in matching silk jammies and matching. robes. Then Bill was talking to Eric like the bromance was still on, awwwwwwww, Bill was confiding in his bestie. Oh BTW what was the Hep Vamp killing virus from season 1, Hep D?
AV Club review
-
As Billith's visions become closer to being true, it's becoming more obvious that the true evil of this season is set up not to be Bilith or Governor Burrell (which is good, considering he's dead) but Sarah Newlin herself. When Sarah discovers Burrell's severed head she not only soliloquies about it being "God's plan," but she does the perfect insane thing and conspires with a sympathetic senator to cover up his death entirely so she can continue his plan to exterminate all vampires. Anna Camp does wonderful things with some ridiculously over-the-top material, making her the perfect villain going forward.
Unfortunately for Jason, this means she's on to his plans to infiltrate the vampire camp and blows his cover, setting him upon a room full of vampires with an open wound on his arm. Before this, however, poor Jason reveals himself to Jessica and obviously longs for a reconciliation, while Jessica is busy pining over her gallant vampire savior from last week, James. It's unclear whether or not the show intends for this to be a love triangle between Jason, Jessica, and James, but Jessica's instant bond with him and insistence on sleeping with him seems like yet another completely random and strangely unnecessary narrative tangent to embark upon, no matter how soulfully James stares into Jessica's eyes.