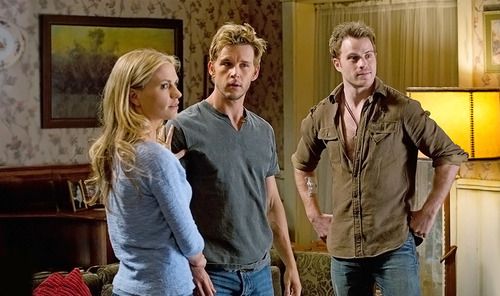 Hoping everyone has a fun, safe holiday weekend. That Jason/Ben porno promo was hot, have no idea why Jason is dreaming about him though, other than those dimples. He didn't dream of Claude and he was full on
fairy. Screencaps/GIFs from IHFS, Darlin Sookie, Miss Ford
Doncha hate when good Fairie Warriors go bad? Is it the the story of Warlow?
The Ben story: DIMPLES Will Conquer All or Have Fairie Dick Will Travel.
MegaBuzz-
What's Ben's deal on True Blood? He's obviously hiding something. — James
NATALIE:

We'll find out why he's

really

in Bon Temps this week — and it's not good. But

Rob Kazinsky swears that deep down, Ben is a good guy. "Everything he says in the first few episodes are not lies," he says. "He has a real genuine fascination, adoration and love for Sookie." AHA! my theory of Warlow's rentboy might be right, seduce and entrap the Stackhouse female fae bearer.
Tony Award nominee
Valarie Pettiford
is joining the cast of HBO's
True Blood
in a recurring role. She will appear in a two-episode arc starting in Episode 7 scheduled to air July 28.Deadline. More in castings
Pretty sure this is Mary, Nicole's mother.
Joe was on Breakfast Television Toronto, video at the link.
One more video from Chelsea Handler is at Eonline.