Season Six Preview: Uncertain Futures
One question all Truebies must have after the surprising ending of seasons 5 is, "What happened to Bill?!" Brian Buckner reveals the season 6 opener just scratches the surface on what happens after you drink all of Lilith's blood -- and it's going to launch us on an exciting ride to discover Bill's -- or should we say Billith's -- new powers. And with new powers comes more heartache. According to Brian, "Look for things to get worse between Bill and Sookie before they get better. If they ever do."
The inside scoop tells us something we should not to expect: romance between Sookie and Alcide -- at least not immediately. What we can expect is a more grown-up, self-knowing, fate-accepting, knows-what-she-wants-and-goes-after-it Sookie, which will make her sexier than ever and her light stronger.
And Sookie's not alone in her heightened appeal. In the world of True Blood, vampires and humans have always had a special bond when blood is exchanged -- Jason and Jessica are no different -- but only time will tell us what that means in the new world order.
So what else can we expect to see this season, apart from a war between humans and vamps? Brian Buckner wants us to prepare for relationships to be tested and changed -- more so than has been done in previous seasons. Among them, Andy will learn that raising four faerie daughters is much more involved than just raising human quadruplets and Alcide's role as packmaster will be challenged.
New clip - Oh Sookie, Bill plays by god rules, donchaknow?
Humans are fighting back. Sookie's seems to be telling Ben, Y'all come in here and say you love me (then she's all kissing up on him.), and you want me, but I'm not yours or anybody's. We see Bill de finitely meeting Dawn with a smile on his face. Even after barging into Sookie's house (yes, Clotith cannith bargith now) he's smiling like a proverbial pig in the shit. Is that FauxWarlow or real W that Jason is pointing a gun at, or is he just playing Taxi Driver? Yeah! Ginger yell! Eric is telling Pam Tara, Nora that they have nothing to fight him with, nothing to negotiate with, are they talking about Bill or the Gov.? Sounds like Bill to me.
We see that Bill's daylight carousing doesnt last too long.
Linda Stasi has a review of the first episode-
Lesbian vampires, three-way werewolf sex, skinless naked ladies romping about the glen! Oh yes, and one old-man faerie godfather who seems to keep his clothes on.
This Sunday, the two-hour "True Blood" sixth-season premiere once again brings a whole new meaning to the term "blood lust." Maybe it should be "lust blood."Anyway, the "terrorist attack" on the true blood manufacturing and bottling facility has left the real fake stuff in short supply, in turn leaving the vamps thirsty — and angry.
This threat sends the governor into full scale attack mode. He's even been working with the feds, or maybe private industry, to develop vampire-killing assault weapons. They might even work!
While it isn't really clear why the vampires aren't all out there on the hunt without the good stuff, it is clear that the Louisiana state government is out to stop a reign of red terror before it begins.Not as much gore as before, but plenty of pyro-technic action as Bill (Stephen Moyer) has transformed into a super-something. He was killed, yes, but he's back in a new human form again — but with powers beyond the normal vampire bite-and-fly. He can see the future and it doesn't look rosy. Bloody yes, but rosy no.
Meantime, the search is on for Warlow, the mysterious being. Will you finally get answers? Not in the first two episodes.
Lots of fakes—we know, we don't. Oh, it's him, no—it's her. No it's not.
Most of the same characters are back — Lafayette (Nelsan Ellis) is still my favorite with the best lines in the show — but a new bunch of characters have come aboard as well, including Arliss Howard (who is just terrific in the role) as Truman Burrell, the state's governor.
The wondrous Rutger Hauer shows up in a beat-up station wagon as Niall, Sookie (Anna Paquin) and Jason's (Ryan Kwanten) long lost faerie grandfather/godfather.
When Niall reveals to the Stackhouses that they're from a royal line of faeries and Jason gets all excited to be royalty, Hauer deadpans "The genes skipped you."
With huge references to the civil rights movement and with scenes of the future looking just like real-life scenes from the past, the show's taking on a "Star Trek"-ian approach to history and current affairs.
The writing is still good —
including Lafayette's best-ever line in the premiere: "That was the sickest s--t I ever saw on TV," he says, "And I watch 'Dance Moms.' "
RollingStone does a Brian Buckner interview, lengthier at the link.
-
So what can we expect from this new season?
Well, thematically – and I want to be fair to all seasons past – I feel like we do so much running and killing that we very seldom stop to speak to the importance of life. So we will have an episode this season that's entitled "Life Matters." We're trying to remind people that the lives of these human beings and of the vampires here in this small town of Bon Temps, they mean something. So that if we lose somebody, we're going to stop to grieve them, and try to tell the more human side of the supernatural stories we're telling. That is sort of my mission statement.
Without giving away any spoilers, what secrets of the new season can you reveal?
I can tell you, because I believe it's already out there, that you will see both Steve and Sarah Newlin, in a meaningful way. [Pauses] One of our principal characters will not make it all the way through the season. In television, because of the pace of what we do, who these actors are, they inform the characters that they're playing. Because Anna [Paquin, who plays Sookie Stackhouse] is changing in her life – because she's a mother now – we're trying to make a more grown-up Sookie, a less naive Sookie. A Sookie who knows when she needs help and isn't always saying, "I can do it myself." And
a darker Sookie, honestly
. Someone who's a little bit more eyes-open to the world and self-aware.
Would you say that the Bill/Sookie/Eric love triangle still exists this season?
I think that it exists – the tension is there, but I would say that these characters have never been further apart, romantically. Bill and Sookie are still the center of the show. That pull is there, but you can't always have people together. But the impasse is really interesting.After last season's shocking finale, would you say Bill has entirely lost his humanity at this point, or is there still hope for him?I think there always has to be hope for him. But his arc during the season, in that first episode, [spoiler alert!] he asks Jessica to make sure he doesn't lose it. He will. He does. But he will find his way back, because Bill has to be Bill. But that fight that's going on between
the Bill part of Bill and the Lilith part of Bill, she will win for a little while.
TVGuide's Nat Abrams says Courtney Ford is returning to True Blood!
Ford will reprise her role as Portia Bellefleur, the great-great-great-great granddaughter of Bill Compton for at
least one episode later this season. So, what brings Portia back into the fold?

"After watching the Season 5 finale, which was pretty intense and crazy, things are getting a little heated in Bon Temps and it stands to reason that someone is going to need a lawyer,"
We last saw Portia in Season 4, when she made a play for Bill. Even after she learned that they were related, Portia tried to continue their fling, but Bill glamoured her into screaming and running away from him any time she sees him. Will Portia have that same reaction to whomever — or whatever — Bill is now after drinking the blood of Lilith?"How much of Bill is in there?" Ford muses. "Is Bill still Bill? That's the big question mark. I think if she's afraid of Bill, she'd probably be double afraid of Billith. Billith is pretty scary."
Ford, who is slated to return in Episode 7.
Very excited for Anna Camp's return on True Blood. Got any scoop? — Michael
NATALIE: When we see Sarah Newlin again, it will be in a very familiar position — she still believes that God hates fangs. But she's redoubled her efforts, which will spell bad news for her reunion with former hubby (and current vamp) Steve. TVGuide
Miss Ford GIFs
Three sneak peeks from True-Blood.net
Sam Trammell talks to Jim Halterman, just the spoilers- TV Fanatic: You're six seasons in as Sam Merlotte. Are you still finding out new things about him after all this time?

Sam Trammell: Here's the thing, in True Blood time, only about two years has passed. [Laughs] There's still a lot to learn with Sam and there are new things and new relationships and there are some new people this year. The shape shifters have been outed and certain people [the aforementioned Governor] wants to take away your personal freedom to be who you are in the world.
The short answer is that the show is so well-written and shows so many dimensions, at least with my character, I feel that you continue to find things out about him.
TVF: Brian Buckner has stepped in for Alan Ball in running the show and he's said he wants to shake things up on True Blood. Do you feel that he has from the actor's perspective?

ST: Alan, I'm so sad to see him go but he wanted to take a break. There's barely been a shift but this year is a little different. I feel like this year is going to be a little more about the core characters. There aren't as many side character stories going on. It's a little more focused in that sense and I know as the show continues, if we do another year, I feel like it's gotten back to the core people and really focused on character.
TVF: Is it possible at all for Sam to find true love in this world?

ST: It just seems like it comes and goes, doesn't it? I think Sam has found true love but he just keeps getting kinda screwed. On the one hand, it's fun to meet new people and have new relationships but, on the other hand, it would be nice to get into something pretty deep and have a mature relationship at last before a week passes and someone leaves or gets killed.
TVF: Sam and Alcide (Joe Manganiello) seem like they might be butting heads a lot this season. What can you say about that?

ST: Yeah, Sam and Alcide are definitely going to be butting heads. The shifters and werewolvesm Sam is on the wrong side from the werewolves, let's put it that way. The werewolves are a rabid bunch and a big bunch and that's a big part of my season is how I deal with the werewolves and Alcide. Alcide and Sam have been friends in the past but that gets complicated because of Emma and Luna and that definitely is trying our relationship.
TVF: I've always loved that the characters on True Blood can be fighting for their lives one minute and then, with Sam at least, the next day he's just back running Merlotte's.

ST: [laughs] That is so true! It's just a part of life now, danger and craziness and shifting and seeing people get slaughtered and then going and having a nice lunch but that's the world! It's high, high drama and you don't really get a moment to catch your breath.
TVF: I miss the Sam and Sookie scenes that we used to get more of in the early years of the series. Will we see more of those this year, by chance?

ST: I do, too! I love working with Anna [Paquin] and I love the Sam and Sookie dynamic. There's a real genuine relationship there. Sam has affection for Sookie and Sookie has affection for Sam in her own way.
TVF: Is that coming early in the season or later?
ST: Kinda later in the season. MORE
According to stars Carrie Preston and Todd Lowe, who play husband and wife Terry and Arlene, it's going to be a huge downer of a death, the interview is in it's entirety at NBC. The last line about bringing the town together makes me think it would only be Jason or Sam that could do that, as far as being well known by all and liked, I am puzzled.
"There is a major death. It kind of shocked us at the table read, and is a very emotional moment," Lowe told TODAY.com. "It was just a big surprise. I had gotten the script late and hadn't looked into it. So I was kind of like, 'Oh! Wow! That's different.' It saddened a lot of people."
"We were all very moved by it, and saddened by it," Preston told us. "It kind of brought us together as a cast, in a way that we haven't felt in a while, just as a whole. There were tears. There were lots of tears."
Forget about spoilers regarding which central character will be meeting his or her true death -- lips are tightly zipped on that topic. But Lowe said that the passing "kind of pulls (Bon Temps) together."
"It's a vampire show, so the stakes are always high!" Preston joked. "(Terry and Arlene) did something very drastic last season, which is they had to kill somebody -- Patrick. They will be dealing with the ramifications of that. ... What they did last season continues to weigh heavily on them."
"That's drama that's only going to add to his PTSD," Lowe said of his character. "It wouldn't be 'True Blood' without more problems for everybody, specifically Terry. I can say it's another emotional season for me."
Yes, the couple rid their family of the curse and the Ifrit that was after them at the end of last year by offing Patrick, but as Lowe pointed out, just because the curse is over doesn't mean it's truly gone.
Sounds like Nicole is Sam's new GF, YOU IN DANGER GIRL!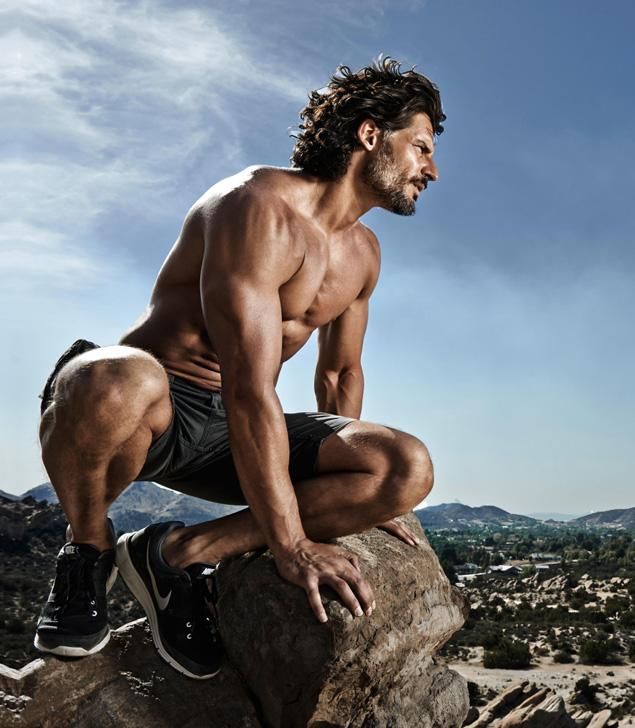 Joe Manganiello Teases Premiere's "Crazy" Threesome, Major Death Ahead!
"There's some crazy stuff that goes on with me in the premiere," star Joe Manganiello teased when he stopped by E! News' Casual Friday to chat with Catt Sadler, before dishing more on Alcide's threesome in the season six opener. Now if that won't prompt you to set a series record on your DVR, we don't know what will!
Manganiello and his costar Kristin Bauer van Straten, who plays fan-favorite vamp Pam, also dished on season six's major death and how they said goodbye to their fellow castmember!
VIDEO: Joe Manganiello reveals how to make threesome scenes comfortable!
Viewers shouldn't expect to see a lot of relationship drama going down as Bauer van Straten explained, "The vampire world, we're in a bit of crisis this year, so the vampire relationships are developing and being challenged under fire. There isn't a ton of time for romance."
But there will be time for a major death, one which upset the cast at the table-read, with Manganiello revealing, "There were some tears shed!" At least the fallen castmember got to have some cake before they departed the series: "That's a tradition, when a major cast member dies, we have red velvet cake, like bloody cake," Manganiello spilled. "We eat bloody cake and the new go back to work…unless you have a shirtless scene, then you don't have cake!"
I wished to never see Lilith again, I didnt get my wish.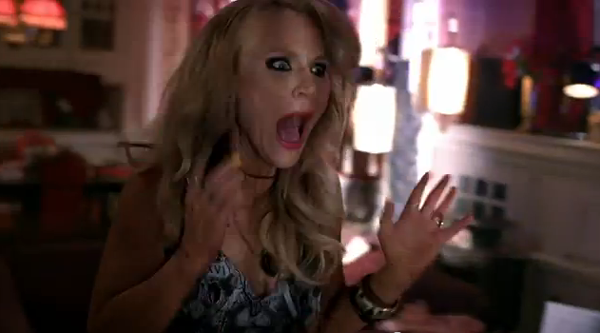 all's well that ends well with Ginger screaming.
I'm holding out for Rutger being Niall not Warlow, that Jason is still all fakata in the head, seeing deads an all that. Thanks to Darlin' Sookie for the screencaps.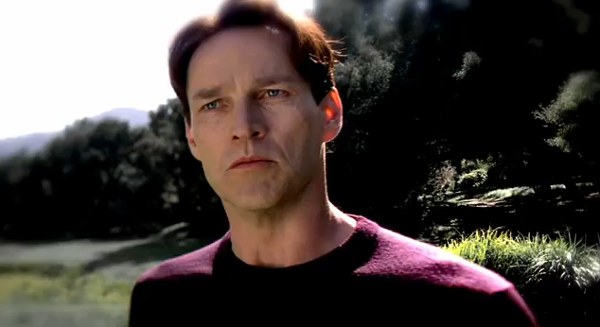 Maybe a little sunscreen wouldn't have hurt, I feel a burn coming.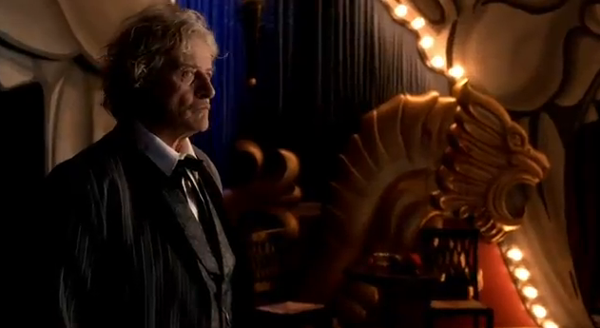 All I ask is that Niall does no dancing, ok, only a little jig in his lucky charms suit, no more.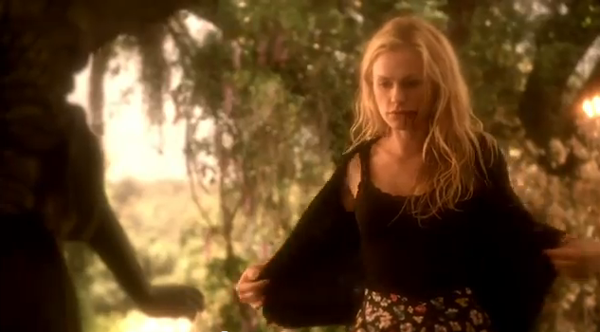 Is this a dream or the honeymoon night with Warlow? Whose blood is that?
James/Wes being tortured/experimented on by dun dun dun...Dr. Overlark!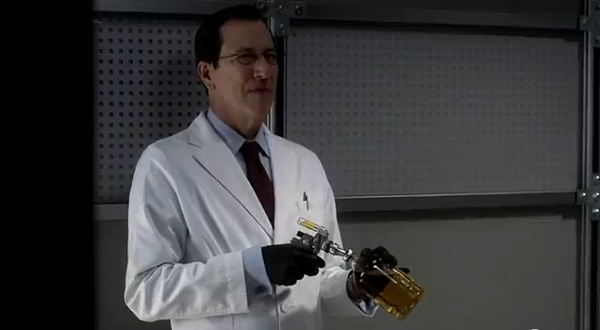 TVGuide talks to Anna Camp, nothing we didnt already figure out-
When the crazed character reappears in Bon Temps on June 30, we'll learn "she's written a best-selling book about what it means to be a Christian fighting vampires," Camp says. "And she's working her way into politics, because she's craving more power and fame."
That ain't all she's craving. "Sarah is a very sexual lady who still has a soft place in her heart for Jason Stackhouse," The Good Wife alum says. "There's a scene where I come over to his house after a long, hard day and things ensue."
We can also look forward to Sarah landing another sexual conquest (Eric?), and having an awkward reunion with ex-husband Steve, who has transformed into a gay bloodsucker. "Sarah is not happy about what's become of him and confronts him head-on," she says. And what does Steve have to say for himself? "He's not really in a position to be able to speak." (being tied in silver with a hood on your head tends to do that and how could Keck think she gets it on with Eric, but Bill would be a hoot?).
EW Interview with Lauren Bowles-

With Andy being a father, is Holly going to be sucked into this fairy world drama?I would say this season is truly more so than any other the season of survival, so whereas season's past often there's this outside big bad that comes, I would say there's not really that this year. It's sort of taking the existing world that we know and love and really amping it up on steroids.
Will Holly be using any magic?

I'm hoping that we will, but this year is certainly less about her Wiccan ways and more about her personal relationships. Circumstances are such that the humans really need to all stick together, really rely on each other. Holly really proves to be a Rock of Gibraltar for a lot of people this year. I would say it's more focused on her personal life and relationships than it is necessarily on her Wiccan abilities.
Does the question of "What is Bill?" play out through the entire season?

It is answered for sure, but it does take a while, which is the fun of it. I think we're hoping we're going to keep people guessing in terms of how has he changed and how's it going to manifest.
Let's talk about Warlow. Is he a threat just to Sookie or does he affect everyone?

I would say he's a huge presence this year. What I think is fun about this year is that things aren't necessarily what they appear to be. Things continue to morph and change, so just when you think "Ah this is what they're setting it up to be," it changes. So I would say he's a huge force in Sookie's world that she's not quite sure what to do with.
Questions and wonderings from the mind of Urno-
At the end of the episode when you hear what sounds like Lilith calling main clot Bill to the room where the 3 young (looking) bloody godlings possess Bill, what the hell is that about? Guesses?
Ooh this Stackhouse is coocoo for cocoa puffs.
I am speculating and it hurts, no one is noticing (but Niall) that Jason had a head trauma and is seeing things and acting crazier than his usual self, maybe it's just for us viewers to see. Is this leading to something as far as the shocking death coming up that brings all of Bon Temps together? I hate to say that but the guy isnt going to a doctor anytime soon to get it checked out and it looks like he gets bounced around some more from fae blasts and who knows what else.
NATALIE: That's what he'll be trying to figure out over the next few episodes, much to Jessica's chagrin. As Bill tests the boundaries of his newfound powers, he'll have some disastrous results. "Jess is terrified," Deborah Ann Woll tells us, "absolutely out-of-her-mind terrified. He's the last tether for her. She doesn't have Hoyt. She doesn't have Jason anymore. It's really scary to think that the one person she used to rely on is in this internal battle."
Sneak peeks for the next episode, The Sun.
Peek for E3, You're No Good
on a loop. I think one of the nudies is saying "I am Lilith's prophet", not Bill.
From Wetpaint's interview with Jamie Gray Hyder (Danielle the horny wolfie)
What's the relationship between werewolves and vampires will be like in Season 6?
The wolves I think are just trying to keep to themselves and trying to keep their own stuff together. The vampires are being attacked by the government, and I think you don't know who's next. They could be coming for us next. All the supes are threatened by what's going on, even though they're focusing on vampires right now. Werewolves know they're not far behind. I think most of the species are sticking to their own kind this season, because everyone's just trying to protect themselves. The wolves are really just trying to stay strong for the pack and not get involved in other conflicts that are going on, because we have enough of our own conflicts to worry about.
AND IT IS MORE THAN ONE DEATH-

What are people going to be shocked by most this season?
We lose a couple of characters this season, and think that's going to be a big deal for the fans. We lose some big people, so that's going to be surprising for them. I think just the heightened tension of this season, it's such a commentary of what's going on in the world in general, and I think the whole season is just more heightened when you have this whole vampire and human conflict. Even though we've got all this crazy supernatural stuff going on, it really brought the season down to a very human level, and something the fans can really related to. So I think the fans are going to be surprised by how moved and how involved they are in the conflict.
fingers crossed.
CONTINUED