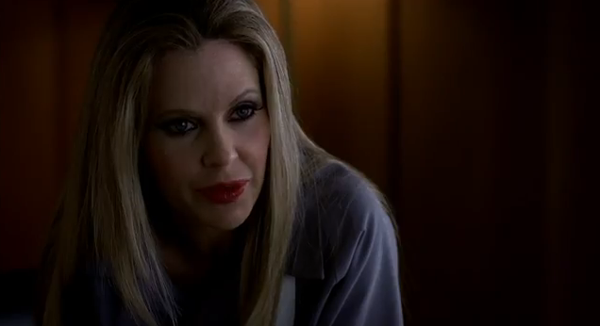 I didn't put the Fuck in the title because I didn't want googling diddlers to find us, am I too silly?Photos from HBO I'mHereforSookie and DarlingSookie.
Hey, what about that wig, ? It was so funny, Flintstone Fairies with bad hair.
Brian's always hilarious recap at TBL- Billith forces Barlow to flash back to 3500 BC – wait, are they actually serious with this? – where Warlow's tribe is one Chaka short of a Land of the Lost rerun.
This. Is. Recockulous.
So Chaka – sorry, Warlow – is accosted by Lilith by the drinking fountain, and she rips off his skirt (no complaints here) and mounts him before biting him and remarking, "God spoke of a creature like you." You can drop the pillow talk, Lilith – pillows haven't even been invented yet. So did Warlow just get Lilith pregnant? Anyway, Barlow and Lilith speak Dothraki and back in present day Barlow yells at Beel, "You made me into something I despise!" What, a plot device? Billith, meanwhile, has taken some of Barlow's blood. More
I have many uses for this GIF, thanks to theworldisavampire.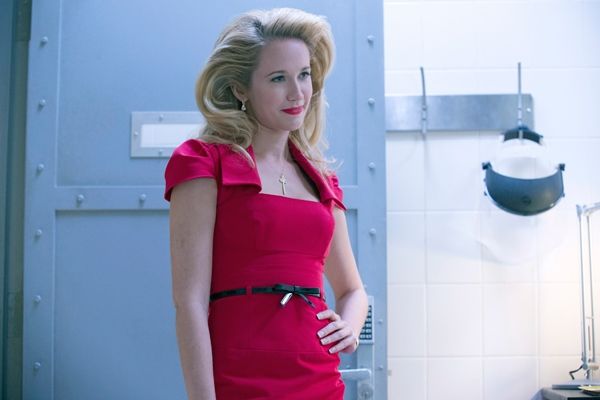 she's a total ho this season, will Jason be the one to off her?
Some Recaps bits and links.
AVClub-
From here, things just get better: Lilith is Warlow's maker, and the show wants us to know exactly how, so it flashes back to 3500 B.C. 3500 B.C. is apparently a time without shirts but with merkins, where fairy Warlow meets a naked Lilith and does exactly what any normal fairy would do: Fucks her brains out, then acquiesces as she turns him into a vampire. These flashbacks were likely supposed to be poignant reminders of everything Warlow lost when he was turned into a vampire, but really they're just a silly lark into nonsense, like all good True Blood flashbacks should be. When the episode returns to the present to deal with Billith and his desire to take Warlow's blood and use it to create the new, improved TruBlood, it is revealed that Warlow wants nothing to do with Lilith and her prophecy, and he's pretty keen on letting all of the vampires die. Time to do some brainstorming, Billith.

Wetpaint- Eric and Pam put in Gladiator-style fight to the death.Throughout the episode, we saw Hunger Games-style battles in which vampires were pitted against each other to try to hurt, and perhaps kill, so they wouldn't have to sacrifice themselves. In the final minutes of the episode, Eric and Pam were put in a Gladiator-style fight to the death, and though we kind of saw it coming and we didn't see the actual fight happen yet, this confirms that one of them could die next week. Will it be Pam? Will it be Eric? Will someone come in to save the day — maybe Tara or Willa — and sacrifice herself for the maker and his progeny? We'll have to wait an agonizingly long week to find out.
TVLine, I concur with most of it-
WILD KINGDOM- While Nicole continues to make Sam and Emma's dire situation all — and I do mean all— about her, Alcide has a falling out with his dad, who — what are the chances?! — winds up spotting the fugitives that the wolf pack is after. Back in Bon Temps, Andy manages to revive one — but, sadly, only one — of his daughters using his stash of V at the police station. And Terry, poor Terry… he's so wracked with guilt over having had to kill Patrick (who?) that he asks an old Marine buddy to put a bullet between his eyes. Even worse, the sharpshooter agrees to do it!
Okay, your turn. What did you think of the episode? Personally, I loved the name of the wolf bar — The Unfriendly Possum! And it was great to see onetime Kindred: The Embraced blood-sucker Stacy Haiduk as the unhelpful hooker. But the flashbacks to Barlow's origins appeared to have been filmed in the Land of Bad Wigs. And hasn't Nicole become twice as irksome as Nora ever was in approximately half the time? That's saying something — and not something good!
RollingStone-
Even if Warlow just wants to make Sookie his bride and not actually kill her, it remains to be seen if he's one of the good guys. And Sookie doesn't get that chance this episode because Warlow spends the rest of it locked up in Bill's makeshift TruBlood lab-factory. But we get flashbacks! Lots of 'em! Upon returning to Compton Manor, Bill arrogantly explains how he was able to puppet-master Warlow: "I am a prophet in [Lilith's] name." Not only can he control him, but with Andy's faerie daughters ostensibly dead, Bill's got himself a brand-new donor for Hido Takahashi's experiments. Ordering Warlow to resist the urge to kill him, Bill plunges a syringe into his neck as we cut to 3500 B.C. A redheaded pregnant woman, draped in animal skins, uses her light power to ignite a torch as a longhaired, scraggly looking Warlow approaches her and asks in a primitive language, "How long?" Awww, is Warlow about to be a daddy? That night, Warlow is gathering water when he notices a naked Lilith standing in the shadows. Before he can even offer to buy her a drink at the nearest faerie cave tavern, Lilith is raping him in the moonlight, saying that he is destined to save "vampire-kind." This is why Lilith's version of a happy ending came in the form of turning an unwilling Warlow into a fanger – made even more shudder-inducing when her head morphed into Bill's.
love that look on BenWa's mug, ha.
The True Death of Me
No surprise they changed the parent storyline to fit with having a new love interest, lol. It's what they do, continuity be damned. Eat the fae fruit and forget everything previously shown, just sit and watch, don't think.
What behind the door on Vampire Let's Make A Deal!
Meet Kristen Bauer of "True Blood"!Kristin Bauer van Straten is an American film and television actress, perhaps best known for her role as vampire Pam in theHBO series True Blood at Boston Comic Con Saturday and Sunday August 3-4.
In 1995 she had her first recurring role in a television series, as Maggie Reynolds on The Crew. In addition to recurring roles including ABC's Dirty Sexy Money and Once Upon a Time, she has also made a number of guest appearances in several television shows, including LA Law, Seinfeld, Everybody Loves Raymond, Dark Angel, Two and a Half Men, Star Trek: Enterprise, CSI: Crime Scene Investigation,Desperate Housewives, and The George Lopez Show.
Bauer's other notable appearances include 50 First Dates, starring Adam Sandler, and in the animated series Justice League as the voice of the superhero Mera.
Appearing both days. $40 per autograph.