Nick Knight is our host for the 2 month post mark of our group, he will help fill the void left by True Blood.
This 800 year old vampire tries to make up for all his evil doing by becoming, wait for it...a homicide detective in Toronto. Lucky for him he never has to change shifts like other popo and has a permanent gig on the night shift. The one person who knows about him is the department's pathologist who gets him out of the daylight by saying he has a severe allergy to sunlight. Poor Nick, he wants to regain his mortality and his vampire friends won't let him, the crowd he ran with wants him back. When you have vamps as the main characters anything else can seem easily believable so it was easy to love this show and the sexy lead actor, Geraint Wynn Davies. The show ran from 1992 to 1996, depending on where you viewed it. When it first was on many of us olds thought it was very familiar and it was. The show was based on a

CBS movie

from '89 with Rick Springfield, see how he rolls in this video, love the '80's.

I could watch these videos all day, but it's TB time and let's roll to 2011. Season 5 Episode spoilers and some speculation on the new episode titles from IMDB-

#1

"Turn, Turn, Turn"- I think this will pick up right after the finale of season 4, the Halloween episode. The title can refer to many things, changes mainly and taking them in stride or not. It is a good Autumn tune, don't you think, the leaves changing, the daily temperatures and Bill and Eric forced to be besties on the run. There's also big changes coming up for the werewolf community with Marcus' death and the Pack Master challenge that will come up as a result. So Manganiello should be front and center in this season more than he was last.

#2

"The Beyond of the Bubble Gum"- I am hoping this title is going to be changed, just doesn't sound right. Don't forget fall is when school starts up again, makes sense with the spoilers of Jess at a frat party. Maybe it's linked up with this kiddie plot of the Sookie flashback spoiler from last month and the premiere info is off, just a guess-

The season-five premiere of

True Blood

will have a flashback to Sookie's (

Anna Paquin

) childhood, and we get to see her use her powers in a deliciously evil way to embarrass a couple of playground bullies. What did they do to piss her off? They don't pick her for their kickball team! That is a wound that burns deep forever, kids…so be nice when playing kickball!

#3

"It's New Year"- could point to the actual new year, January 1, or a new school year. Hmm, need more info. From Spoiler Chat- Jody in Crown Point, Ind.: I know True Blood is starting up again soon. Got anything?

Gold stars for keeping track of

TB

's shooting schedule! "Three more weeks and we're baaack!"

Janina Gavankar

sings to us. "We just got out first script. It is intense. As you can imagine, stuff goes crazy right off the bat!" Unfortunately, that's pretty much all we got out of her, since

True Blood

loves to keep their spoilers secret…even from the cast! "They tell us nothing," she admits. "We actually have no idea. All I can promise is drama right off the top."


I missed this photo from September of Alex at a Mulberry event in NYC. He is featured in the December issue of ElleUk and the scans of the article are here on Suzi's Tumblr and the Nester's at trueblood-news.com have the text up at their link. Here's a bit- On fame and vanity:

Skarsgård claims to be a reluctant heart-throb. He scrunches up his face at the label.

"Euggggh. Of course it's flattering, but I prefer compliments about my acting. There's too much vanity in Hollywood. Vanity is suicide for an actor. Your creativity will die if you focus on looking good. It's one of the main reasons I don't look at gossip about me online."

Just to push him, I ask what he says to compliments about his chest and arms.

"thank you?"

he says, slightly desperately. He looks mortified.

On love, relationships and Kate Bosworth:

Although their two-year relationship recently ended (neither will discuss why publicly, he says), he is convincing when rolling out the "we're still good friends" platitude.

"I've got nothing but love for her. She's amazing, a great actress and person." Is he happier single or in relationships? "If it's right, love is amazing. I've been very happy in relationships, very miserable in relationships, very happy single. I'm not stressing about it, but I want to get married and have children. I come from a family with six younger siblings. I love kids. That day will come. I've got plenty of time."

Vote for True Blood at the People's Choice Award site. Mediabistro.com has more info on the ongoing comic series that was posted here previously.

HBO show creator

Alan Ball

gave this statement in the release: "With this new ongoing series, Truebies will be able to find a new comic in stores every month. We'll also have even more room to create in-depth drama and further explore the world of Bon Temps." The first issue of the new series is slated for release in spring 2012. So far, IDW has published three

True Blood

series:

All Together Now

,

Tainted Love

and

The French Quarter

.

Stephen lists his favorite places, My LA to Z: Stephen Moyer from LAmag.com, here's a couple-

Airport Park-The dog park there is great because it feels like it's been designed for dogs by their owners, which I like.

Santa Monica/Venice Beach-

I love to hire a bike and go down to Santa Monica pier and cycle up the boardwalk all the way to the Marina del Rey peninsula and back again. Down by the pier there are ten steel rings hanging from a giant frame in front of the trapeze bars. Basically, it's giant monkey bars for grownups. I go down there and I absolutely love it. The truth is, it's kind of the reason that I moved to the Westside. If you haven't seen the crazies doing the drum circle in Venice, it's a thing to behold.



Interview with Joe from the Philippine Star in Hong Kong. Here's one nugget-
On Joe's first day last Nov. 1 were roundtable interviews and a presscon at the Mandarin Oriental Hong Kong with the regional media, including
The STAR.
He talked about his breakout role, how he snagged the part and how he waited for over a decade for a break like this.
Joe, himself, is fascinated with Alcide. "The struggle for the werewolf is that inside, there's this beast, this destructive power, but that side of him is also connected to a great power. Sookie is a catalyst, who forces him to get him into trouble. There's a hero that emerges when he does that, but there's also that monster. And that's very scary for him. It's a fascinating character for a man to play — a character like that is a homerun."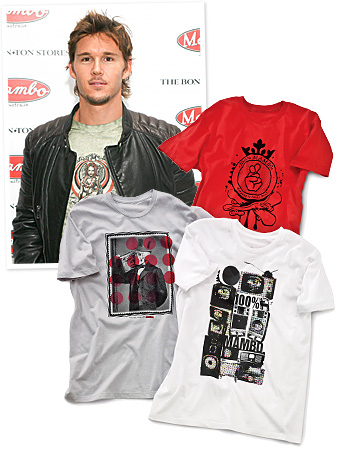 Ryan's Mambo Promos are kicking off, this is from Instyle.com, they have links to purchase products- True Blood fans don't necessarily associate actor Ryan Kwanten with clothes
—in the role of town heartthrob Jason Stackhouse he spends much of his screen time sans threads.
However, he loves them, as
the native Australian signed up to be the face of Mambo for its North American debut in Bon-Ton stores
. "Mambo has a sense of humor that I really relate to," Kwanten tells InStyle.com of why he loves the surf and skate brand.
As part of his gig, he will also create two designs for the label.
"I'm giving myself some time to work them out," he says. "It's a matter of getting my imagination onto a T-shirt." In the meantime,
check out the Mambo line, which includes shirts, bags, hoodies, hats and more for $18 to $50, at bonton.com now. Plus, browse this True Blood-inspired bag line!