Emmy winner Carrie Preston looking perfect at HBO's Emmy After-Party. More
Carrie is talking about finding out about her nomination this year below.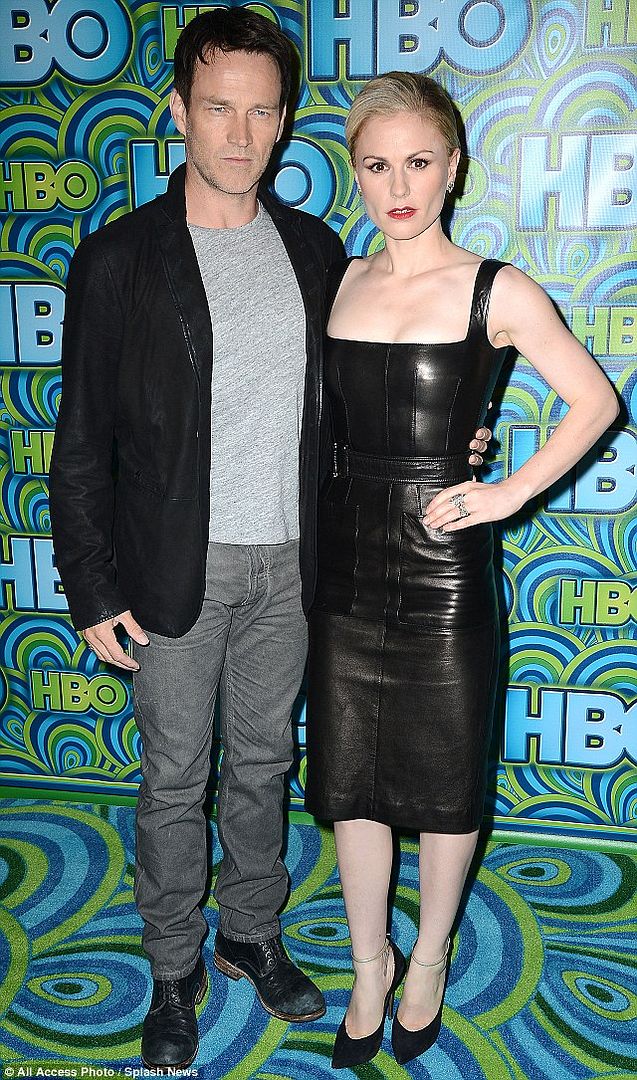 Anna and Stephen were at the
HBO party
as well.
Sam Trammell attends HBO's Annual Primetime Emmy Awards Post Award Reception at The Plaza at the Pacific Design Center More pics of handsome Sam at Zimbio.
AS doing his Calvin Klein thang at Fashion Week via SkarsJoy
Behind the Scenes The East from imhereforsookie on Vimeo.
Behind the scenes of the filming of The East, Thanks to Annie.
Carrie talking about her role on The Following and TB's last season.
Rutina from last year, missed it earlier.
I lost track of how many shows Janina is on now, but she is working a lot, great career.
Members of the True Blood cast attend HBO Luxury Lounge in honor of The 65th Primetime Emmy Awards at The Four Seasons Hotel.
- Source: Joe Scarnici/Getty Images North America MORE at Zimbio. Wouldn't you love all this free swag?
From Eonline's Marc Malkin-
It's safe to say that True Blood fans were not expecting to see Alexander Skarsgård's full frontal exposure when Eric went up in flames during last month's season finale.
"It was never intended that way,"
Stephen Moyer told me yesterday at the BAFTA LA Tea at the SLS Hotel. "It was never written to have him full fro
ntal. Alex doesn't like wearing his 'sock' or the 'sack of destiny' as we call it.'"
His sack of what?
"It's the sack of destiny that covers everything," Moyer laughed. "He doesn't like wearing those so he had one in his room that day [but] he was the one who chose not to wear it."
Moyer says the crew had unsuccessfully tried some "camera trickery" to hide the goods.
Moyer says he has no plans to follow in Skarsgård's full frontal footsteps. "I'll save that from the crew," he cracked.
Meanwhile, like Carrie Preston first
told us
,
Moyer says cast and crew suspected that season seven of True Blood was going to be its last.
"We wanted to go out on a real high," he said, adding, "It means the writers can go in the room and they can arc out the season and really go for it. We're all quite excited about that."
So what does Bill's future look like?
Moyer joked, "I want him to end up in a little white house with a white picket fence."
Perhaps he'll find a white coffin to go with it.
OK, I love that Stephen can joke about Puffy Bill, a white coffin is on next season's wish list.
MPTF's Evening Before party was the last stop for many partygoers before Sunday's Emmy Awards. Held at the Lawn at Century Park, stars and TV bizzers mingled under the stars. Variety
Only Lovers Left Alive- Tilda's Eve enjoys a bloodpop.