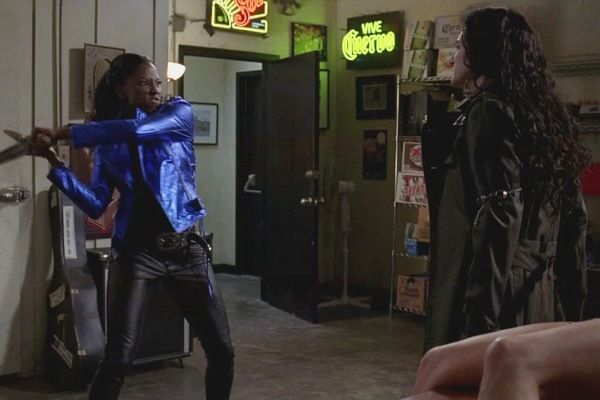 It's that time again for us to wait it out, nine months is a long time. Anna and Melody (from Bookies) will be giving birth soon, and we wish them the best on their coming bundle of joys. I will be watching Sons of Anarchy, Hell on Wheels, Boardwalk Empire (!!), Dexter, AHS, GoT, Fringe and TWD during the wait. All are great shows and very different from each other and True blood but well acted and appealing in one way or another (my opinion only). Hiatus Support Therapy is now in session, so we don't lose our heads.
Of all the days at Fan Expo 2012, I would have to say that Sunday was my favorite. The lines were a little shorter, the convention a little quieter but, the absolute highlight of my entire weekend was my very first celebrity interview!
The lusciously voiced, Nelsan Ellis was kind enough to let us hassle him for a few minutes to talk about True Blood, his inner fanboy, and the role he's dreamed of playing his entire life. Source
From USAToday
Nelsan Ellis, best known for playing Lafayette on HBO's "True Blood," is to direct an off-Loop show in Chicago.
Ellis, who was born in Chicago but raised in Alabama, will helm Katori Hall's "HooDoo Love" at the Athenaeum Theatre, 2936 N. Southport Ave., beginning Sept. 22. Hall was represented on Broadway last season by "The Mountaintop."
This Chicago premiere of "HooDoo Love" is the first endeavor of a new theater company called The Collective Theatre, made up of six African-American friends who attended high school together in Dolton, Ill., in the 1990s. Along with Ellis, the other founders of The Collective are Francois Battiste, Veronda Carey, Le'Mil Eiland, Metra Gilliard and Jasond Jones. (Chicago Tribune)
More from Dragon Con, thanks to all who posted vids on Youtube, love Sam talking about Marshall Allman.
Another HBOGo video, this one with Ryan-
McMillz is back on "Hot in Cleveland" Playing Joy's son she gave up.
Joe is in the Emmy commercial with Kimmel, a lil' plumber's crack.
Carrie Preston on Wednesday's Royal Pains
To add to this crappy dismal day, some sad news, I feel like there's been a death of a close friend. I always affectionately refer to TrueBlood-News as the Nesters, now they are shutting down their great site. I don't make friends with many in this fandom, (face it, some fangirls are just shot out and attention seekers) but these people are the best. I feel like there is one less place with normal fans to frequent, a hole in the Truebies world.