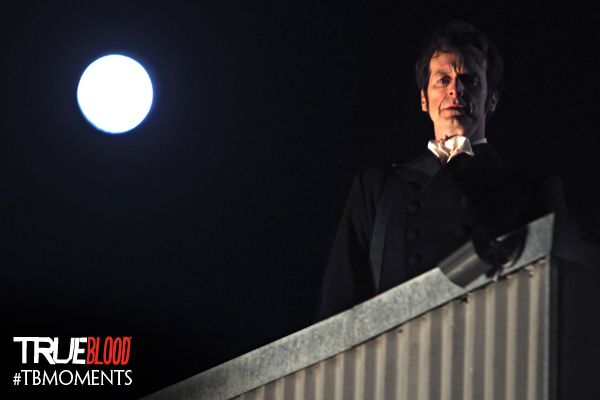 "We are all like the bright moon, we still have our darker side."
Khalil Gibran
Going to be re-starting the Hiatus Therapy Support Group soon, we'll need it, just read season 6 only has 10 episodes.
Where will we go from here Truebs? Where can we go after the finale in terms of story lines? Jason sees dead people but not really the ones they appear as, is he crazy, or is something controlling his thoughts and visions? Will he be able to get help and who can possibly help him get rid of the hate that's consuming him and making him an incredibly accurate marksman to boot?
What will go on at Fangtasia? Will Eric give it to Pam or will he come back as proprietor, seems unlikely but I can hope. Will Nora be a recurring character next season and be with Eric as a love interest? Pam isn't going to be the parent figure that Tara never had, but a girlfriend instead. I think it would have been better the other way, and much more of a touching story line that viewers would definitely be invested in. On True Blood as a whole, they still have to deal with the public concerns, safety after the Russteve video went public and the General was killed. The Shifter bit can be written off the same as the scene it was taken from in "The Howling", the viewers didn't believe their own eyes then and then a dog food commercial came on, ha! Some smokescreen can be creatively pulled off by the powers that be to allay mass hysteria, after all, isn't the fear of mighty Vampires enough?
Sookie will be looking for some peace and quiet and happy to just waitress for a bit. With no love interest in season five she's due.
Bill, Bill, Bill, what are we going to do with you? How can they make you anything other than a screeching bitch who wants everyone to drink from you? Will you be the Blood god, the big bad daddy of the Vamparchy? Makes my head ache to even think of it, maybe Eric will just outright kill Bill or maybe Bill will just open his mouth and say, "What the fuck was that? Get me a towel and an Armani suit!
Help fight Ovarian Cancer by donating to the Karene O'Hare Memorial Run, you can read here story and donate HERE, Denis will be doing a reading-
So I will be heading to Williamsburg, VA for my Mom's Memorial 8K run.
Dragon Con 2012 panel from Friday 8/31 (different versions) and more-
Serena Hotels has been host to The Van Stratens this week in Kenya- American actress Kristin Bauer van Straten best known for her role as vampire Pam in the HBO series True Blood has been in the Kenya for the past one week on a mission to help save elephants from being killed for their tusks, and to raise awareness of the deadly ivory trade.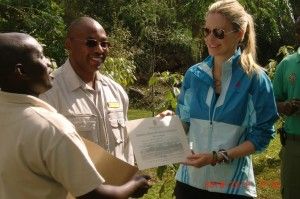 Bauer, a celebrity ambassador for the International Fund for Animal Welfare (IFAW) was accompanied by husband, singer Abri van Straten and mother-in-law Cicely Luck van Straten: an ex-Kenyan now resident of South Africa. Serena Hotels had the pleasure of hosting them at the Amboseli Serena Safari Lodge where they took some time off their busy schedule to plant a commemorative tree at the lodge. More on the IFAW Blog.
True Blood returns to FX in the UK-
The wait is almost over! True Blood returns to FX for a thrilling fifth season on Monday 17th September at 10pm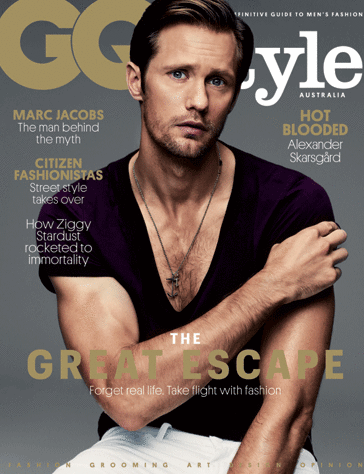 GQ Australia updated with more on the latest issue,
Words by Mickey Rapkin Photographed by Steven Pan
"This was supposed to be my day off."
That's Alexander Skarsgård speaking. And while we respect his need to unplug, it's hard to sympathise with the guy given that he's staring at himself in the mirror as a gorgeous woman massages his bronzed arms with moisturiser. Things could be worse.
This is kind of what Skarsgård's life is like these days — mostly work, a little bit of play. In the last month (in no particular order) he's been named the face of Encounter, Calvin Klein's latest cologne that's available here October 28, wrapped production on the fifth season of True Blood, taken a 13-hour flight to Sweden to visit family — for the weekend — and prepped for his next project, Hidden, a thriller set almost entirely in an underground bunker. If Hollywood's welcomed him with open arms and thick pay-cheques it's for good reason. Skarsgård, 36, is that rare thing: a walking Ken doll with the chops to impress art-house directors like Lars von Trier, but also the Alpha Male presence needed to float action flicks like Battleship (for the record, more watchable than you've heard). MORE Photos and interview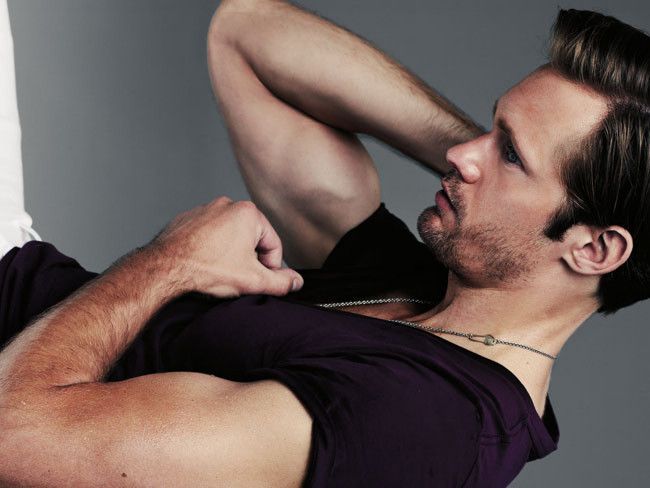 Teaser for Alan Ball's new show Banshee
Denis still filming "The Good Wife" and tweeting-
More photos from the "Hidden" set, via FameFlynet, Inc.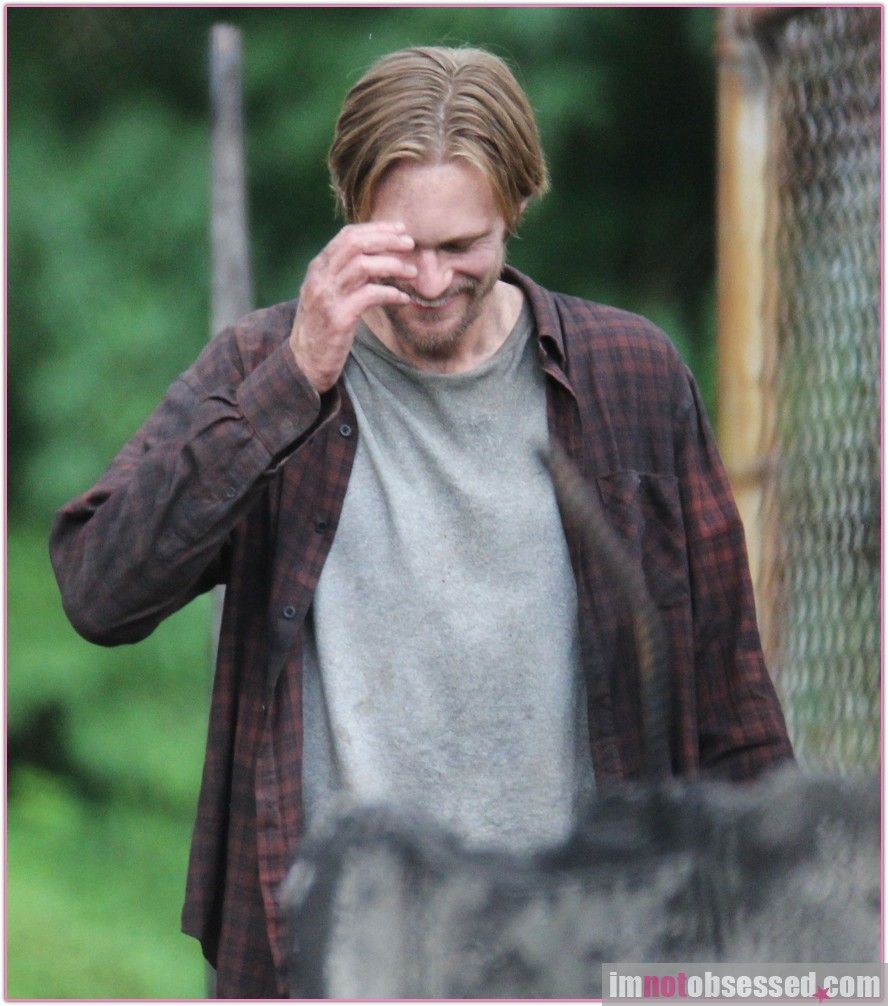 That day no one wanted to have lunch on set with Sam or Stephen, wonder why?
The Finale also drove home the fact that a character I never found a reason to like was not going anywhere. Andy will need someone to help with those Faebies, so Holly will be in season 6. What will this mean as far as Arlene's scenes go? If there has to be a harried waitress-mom, I'd rather watch Carrie Preston's Arlene any day. Just my opinion.
Another Ball interview from TVGuide about his swansong- in full at the link.
TV Guide Magazine: Much of last year, and particularly the finale, really severed the connection to Charlaine Harris' books.
Ball: It's something organic that happens. You can't just transcribe the books. That said, there's some stuff in the later books that I think later seasons of the show will address. But we did go on our own little path this year.
TV Guide Magazine: Let's answer some burning questions left by the finale. First, what the heck is Bill or "Bilith" as some call him? An evil god? A demon?
Ball: We don't know! Honestly, we didn't know what Lilith was. Just because the fundamentalists called her "God," that doesn't mean she was. On our show, there's room for all kinds of supernatural creatures. We do know that Bill had some kind of major transformation into a deeper supernatural being. The question for me is has he lost his humanity entirely or will it just have to fight harder to come out. That's certainly something that the writers are talking about for next year
TV Guide Magazine: Bill's been such a monster. Can he really come back?
Ball: My own belief is that people can come back from anything. It doesn't mean that it won't come at a huge cost. But I'm interested in a Bill who is really evil. Because after almost five seasons of a Bill who was "I hate that I'm a vampire, I'm so nice," it was time to make him really go dark and see what that does to everybody else.
TV Guide Magazine: Will Sookie fight to rescue Bill?
Ball: It could be that or it could also be that Sookie is trying to save herself from
him.
The fairy elder said, "There's a reason you give your heart out to every fangster you meet." That's going to be very interesting to find out why.

TV Guide Magazine: That sounds like it has to do with Warlow, the unseen vampire who killed Sookie and Jason's parents and "owns" Sookie? Jason's off to kill him, so will we meet him soon?
Ball: We will definitely see Warlow. Whether or not we have met him already, I will remain mum. There will also be some other characters maybe who we know and love who are pursuing a less than generous agenda.
TV Guide Magazine: Does all that leave the door open for non-bloodsucker love for Sookie?
Ball: Even though it looks like Alcide and Sookie may have cooled things off, I'm not so sure that he's totally dropped the torch that he carries for her.
TV Guide Magazine: Who and what are the apparitions that Jason sees as his vampire-hating parents who are urging him kill all fangers?
Ball: When he was thrown across the field and hit his head, it shook something loose in his subconscious, which is using his parents as a way to communicate his more violent and vengeful impulses. (edit) Duh he was seeing them before this, multisighs.
TV Guide Magazine: Is Sam's love, fellow shape shifter Luna, dead after shifting into vampire Steve Newlin's body?
Ball: I can't tell you that! But Newlin isn't dead. We love him.
TV Guide Magazine: Was it always going to be Eric who killed Russell?
Ball: There was a moment at some point when we were pitching that somebody else would kill Russell, but it just really felt that it should belong to Eric, because Russell killed his mortal family.
TV Guide Magazine: Is Andy Bellefleur really going to raise four little half-fairy babies next season?
Ball: It's definitely going to complicate things for him. But they may go to live with the fairies where it's safer for them. Also, who knows how quickly they age!
TV Guide Magazine: After that sizzling kiss, are Tara and Pam now Bon Temps hot new couple?
Ball: Yeah. [Laughs] We wanted that to happen from the very beginning of the season, but we wanted to really, really, really take our time with it.
TV Guide Magazine: Will Anna be back full time right away after the birth of her twins in November?
Ball: She is. We're moving production to January to accommodate her. And there will only be 10 shows next season partly because of Anna and partly because of the economics
TV Guide Magazine: Even if you're not running the show, will you come back for the series finale?
Ball: I will. I just needed to take some time off just to recharge my batteries.
Finale Recap True Blood Bites-
Backstage at Into the Woods.