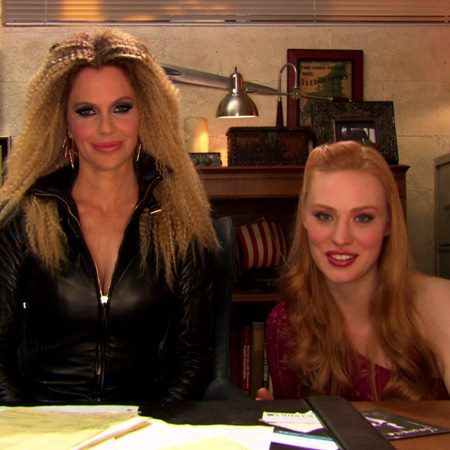 Ep. 57 Clip - Where in the World is Hoyt Fortenberry?
This video was pulled by HBO off their site, it showed Jessica saying she couldnt feel Hoyt anymore even though she had his blood. Must be for E10.
Ep. 57 Clip - Questionable Faith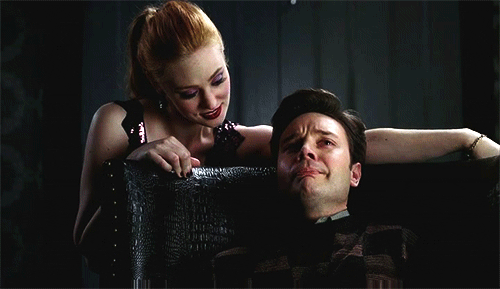 McMillz has a new interview with TVGuide, here's a bit, it all at the link-
Steve Newlin began cozying up to Russell Edgington in last Sunday's episode.
Michael McMillian: Well, it's sort of a May-December romance. [Laughs] Russell's a much older and more powerful vampire. It's interesting because when Steve was human, Russell was somebody that Steve targeted as the example of an evil vampire, but I think Steve's very attracted to power. He's suffering a heartbreak from Jason Stackhouse. Here comes this distinguished gentleman into his life. I think he's quite taken.
How does their new friendship compare to Russell and Talbot's (Theo Alexander) relationship?
McMillian: I think that there's a spirit in common with Russell and Talbot's relationship, but Russell and Steve kind of have their own thing, which is fun. You'll see there's some great stuff coming up between the two of them. But ultimately, as with Steve coming out and being with Jason, he's a really funny character. I always try to ground him in reality and always try to keep the emotional truth alive underneath the humor.
With the war between the Sanguinistas and the mainstreamers ramping up, is it a good idea for Steve to be hanging around the ultimate enemy right now?
McMillian: That would depend on whether or not Russell really is the ultimate enemy. I think the two of them are both acting in their personal best interests. You'll see that as the season plays out. I think Steve is really happy that he's not being killed off and is allowed into the Authority. I think he just can't believe his luck. He's a survivalist. He is going to go wherever he thinks he's going to do best.
Since Steve is the new Nan Flanagan (Jessica Tuck), how will he spin the Authority's killing spree in New Orleans?
McMillian: That's a really good question. That's where his mastery of spin comes into play. He's definitely going to be called upon to do that in the next few weeks as things heat up between vampires and humans. It's really fun how that plays out and how that goes down.
Yes, and Eric is already trying to turn against it.
McMillian: Well, I think Eric actually has more in common with Russell and Steve in the sense that I think he's definitely a survivalist and he's always acted in his best interests. Really what that moment when he sees Godric is about is less about killing all these humans in this bar is wrong and more about saving Nora, his vampire sister, and getting her out of that situation. I think that's really what Eric cares the most about. We've seen Eric tear humans limb from limb in seasons past, but I think that Eric falling into a nest and Eric being dictated to is something that he's never really gelled with. I think his interests really lie in getting Nora out of this cult mindset.
Do you think Bill will fall into it?
McMillian: It's interesting because I think that Bill has always clearly been a mainstreamer at heart. As far as we know, the only people he's really fed on are people that he's been in a relationship with. I think everyone's playing a game at this point. I think he keeps his cards close to his chest. Obviously, he was keeping a secret from Sookie for three seasons that he had been sent there by Sophie to spy on her originally. Whether or not Bill is falling into step with the Authority and the new agenda is a bit of a mystery in the second half of the season.
From Eonline-True Blood hunk Joe Manganiello is returning to CBS' How I Met Your Mother as Marshall's ( law school buddy for two episodes of the hit comedy's eighth season, CBS confirms.While we're not sure what brings Brad back into the HIMYM fold, but viewers last saw the very muscular lawyer in season five when he went on a weird hockey date with Robin and possibly revealed he's transsexual."He revealed he may be a hermaphrodite 'cause he tells Robin, 'I'm a little different down there,' So maybe deeper into the mystery of what Brad is," Manganiello once told us of returning to the show. "We need to figure out what Brad is. We're figuring out who the mother is and what exactly Brad is. It's kind of the b-plot of the show, 'What is Brad?'"
And as if Manganiello's return wasn't already awesome enough news for you, the network added, "Yes, he will have his shirt off." He also talked about his Olympic dream-
JOE MANGANIELLO-"I would be a decathlete. I played three sports growing up, I play sports
year-round. I have kind of an eclectic set of skills."
"Terry - you in danger, girl." That's all we could hear when La-La strapped on the turban to recreate Whoopi Goldberg's Oscar-winning performance in "Ghost" in this past week's episode. We also answer a viewer question, discuss the ridiculousness of new villain Wario, and wish aloud that there were always two Sam Merlottes around to almost make out with one another. This and more from your friends at Campblood.org!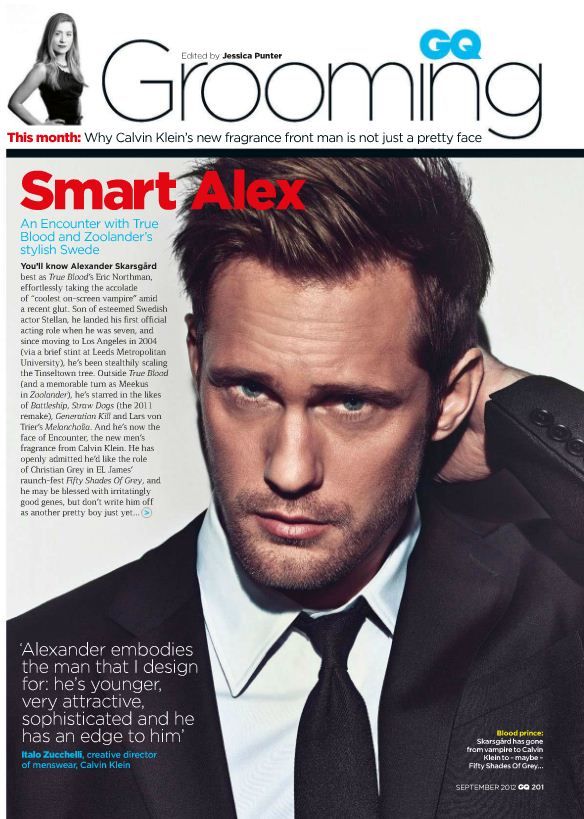 From Askarsgard.com, September issue of GQ UK.
From the live blog at Hitfix of the HBO Executive Press Panel with Richard Plepler and Michael Lombardo-
"As long as he keeps writing, we'll keep producing," Plepler says of George R.R. Martin and "Game of Thrones." Regarding "True Blood," Lombardo says that as long as the show keeps exciting the storytelling, they're there.
More on diversity! Both Lombardo and Plepler mention "Treme" and "True Blood" as diverse casts. "Do I think we can do better? Absolutely," Lombardo insists. "It's something we're aware of. I think we have shows that have diversity, but the truth is that we can do better," he says.
I like Gary Cole, Earl Stackhouse and Lois Smith Gran Stackhouse and now they are in a play together! Starts August 7,
call the Box Office at (212) 244-7529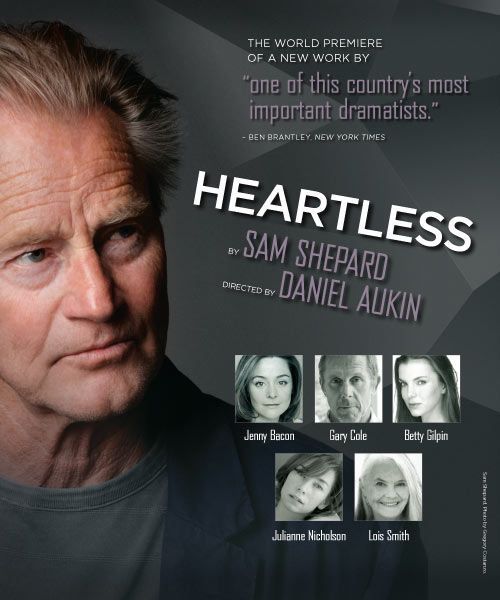 Blogtalkradio
with Darlin Sookie discussing Somebody That I Used to Know
I really did laugh at loud when Jason got zapped by Sookie's fairyflashes and he said it was ok, it hit his head. So dumb, so lovable. GIF by Lilith Moore
more vids on the The Vault's youtube channel