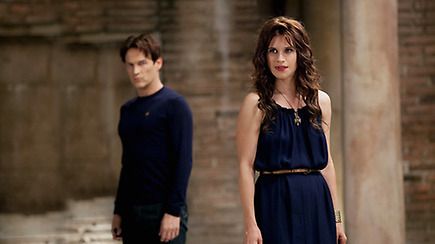 Gone Gone Gone Use the hashtag #Gone during the new episode to join the social conversation. The navy must be the new Authority elite color, twinsies!
Sunday Aug 12,
Episode 5.10 - Gone, Gone, Gone
Bill puts a spin on the rising vampire violence; Jason uncovers a mysterious scroll.
With vampire-on-human attacks increasing, the Authority attempts to woo public favor. Meanwhile, Nora tries to convert Eric to Lilith's gospel. Jason finds a mysterious scroll; Elijah, the new vampire sheriff of Area 5 (casting info for Elijah HERE), pushes Pam and Tara to obey a new mandate; Sam and Luna search for Emma ; Russell seeks a higher
calling.source
Photos courtesy of HBO, Skarsgardfans and I'mHereforSookieTumblr
This photo from HBO is very troubling to me, don't like this at all. Jessica lookout!
I don't care what you do to me, ABBA is and will always be my favorite band shawtie!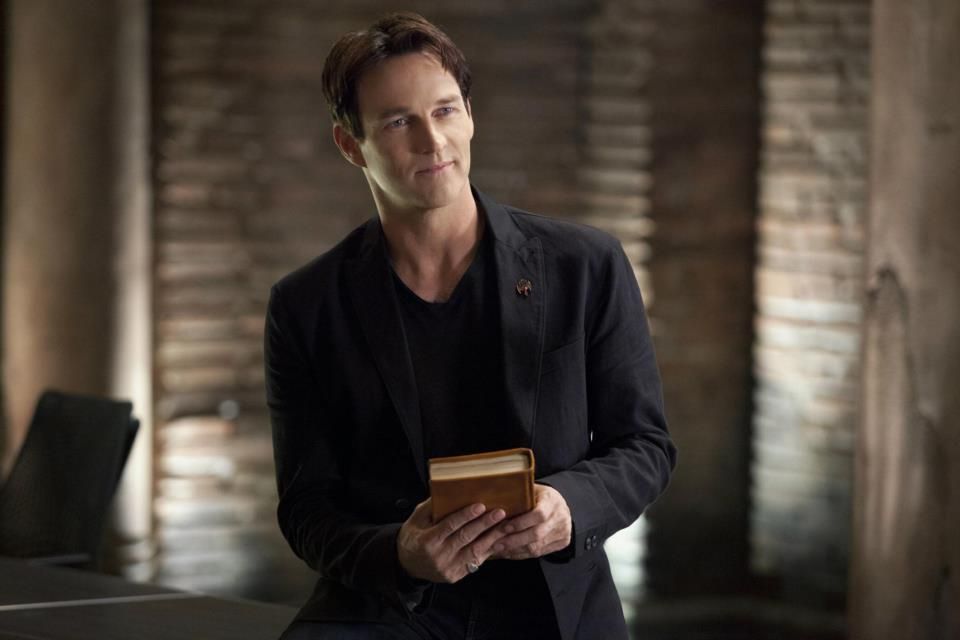 Bill:I can't wait for this to come out as a trilogy, Bilbo Baggins is my fave hobbit ever!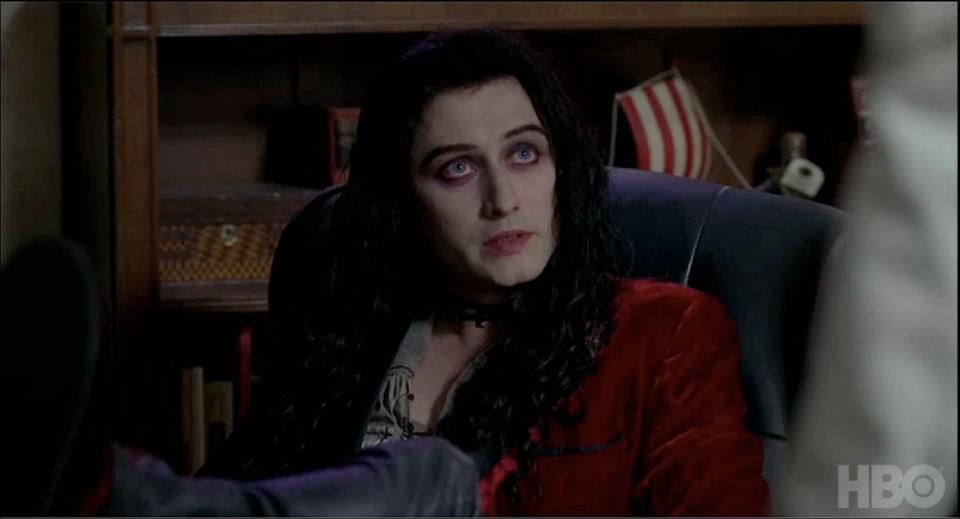 Elijah had a T-Rex cover band in the 80's, I always wondered what happened to him.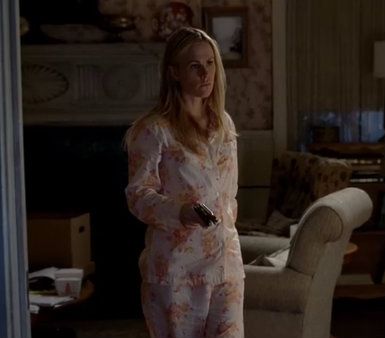 This is a better Sookie than she was at the season start, you go girl!
DIP!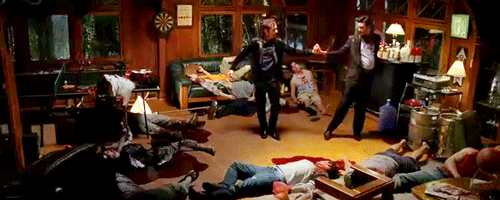 Casting calls From Rhoswen7-
TRUE BLOOD, Episode #510, "Gone, Gone, Gone"
Director: Scott Winant, Writer: Alexander Woo Location: L.A.
Start Date: Approx. 5/3/2012
[COLE AND ROBBIE] Male, mid 20s to early 30s. These two redneck vampire-haters at Merlotte's plan to take out a vampire, but they're quickly neutralized, terrorized, and humiliated. Co-stars
[PROFESSOR WILLIAM O'CONNELL] In his 40s, divorced, youthful and nerdy, this linguistics professor can't make heads or tails of an ancient text. He thinks it's probably a hoax, or a prank sent by a rival university. One day guest star (the fae scroll as we now know)
[AUTHORITY GUARD CAPTAIN] Male, 30s. Businesslike, polite but firm, this vampire is sent to retrieve another vampire's progeny and escort her someplace else. Co-star
True Blood Promo Spot from Damian Atkinson on Vimeo.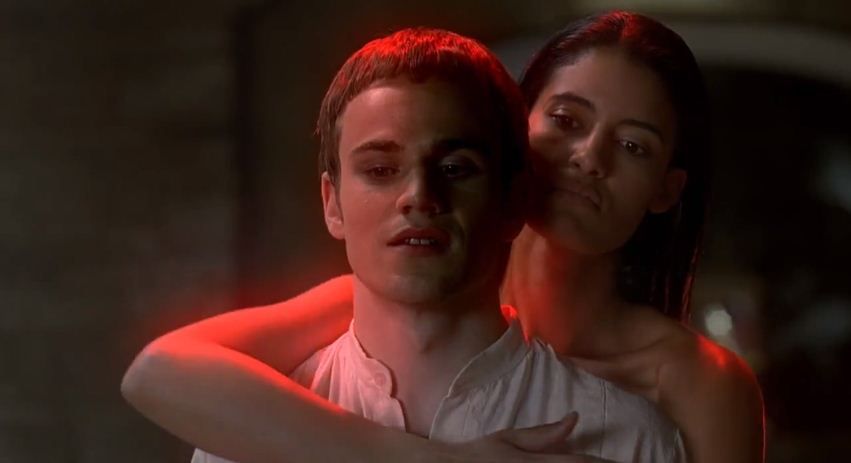 This is how drugged up Nora sees Godric, rocking with Lil at the Redlite Bar and Grill.
Drusilla Moorhouse, now with Zap2it has some thoughts on Sunday's episode-
Only three episodes remain in True Blood's fifth season, peeps (and supes)!
We've tossed some spoilers out in the universe, and today are rewarded with even more clues to what Alan Ball has in store before his showrunning duties officially end with the Aug. 26 finale.
We'll see a lot of Jessica Sunday's (Aug. 12) episode, which has the troubling title "Gone Gone Gone." First, Jess and Jason have an unexpected encounter at Merlotte's, which is closed either due to rampant vampire attacks or its ongoing staffing shortage.
Suddenly Hoyt walks in and they realize he's summoned both of them to (1) hug it out and give his blessing to the obviously smitten Jess and Jason; (2) kill them; or (3) suggest a threesome.
Since they seem to be having a civilized conversation at the table, we're not betting on sex -- or death. So if Hoyt doesn't shoot him, how does Jason end up at the bottom of a grave with Jessica? Could Jess's visit to the Authority have something to do with it? When Bill
says, "I told you: Vampires often turn on the ones they love the most," is he commanding Jess to turn Jason? EDIT: Why does Ball think Vamps turn on the ones they love, it's quite the opposite in most lore.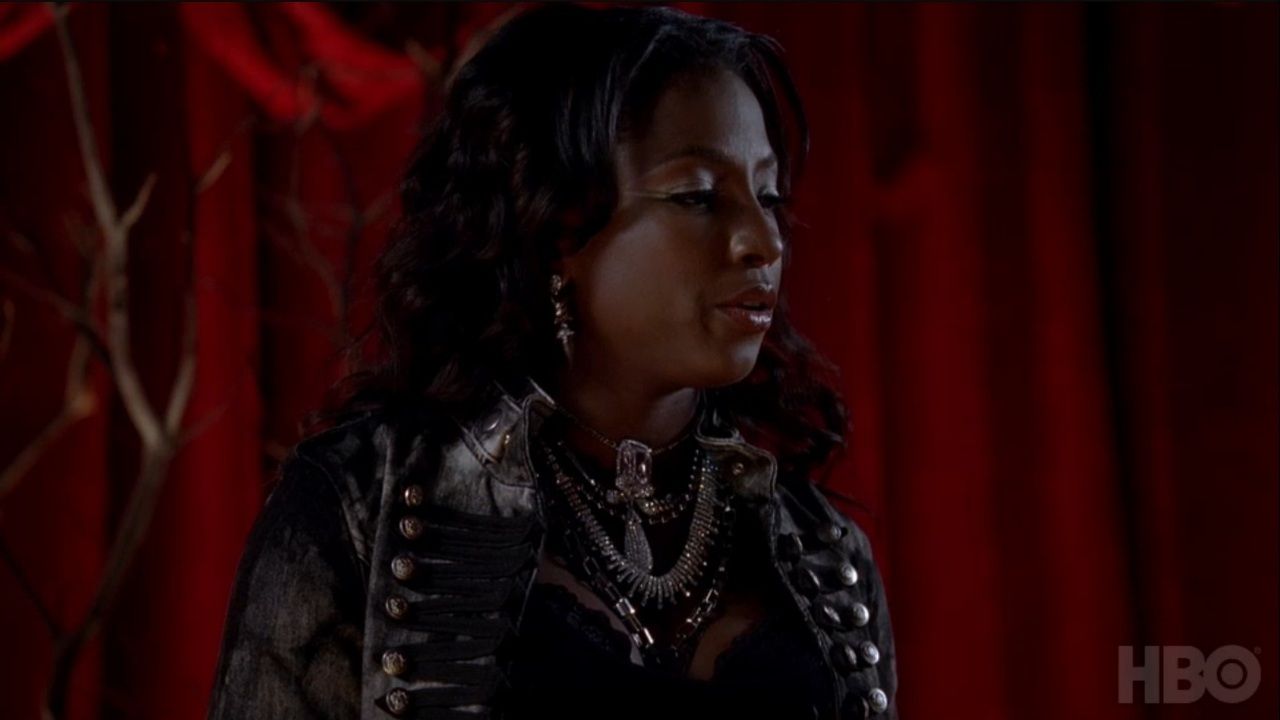 Come awn Tara, get a plan together, you can dooo eeet!
Meredith Jacobs is wondering watup-"Gone, Gone, Gone" shows the fairies looking at what could be the mysterious scroll mentioned in the episode synopsis. Russell says that fairy blood allows them to walk in the sun. Is Sookie now going to be hunted by multiple vampires with her powers not strong enough to use for protection? Meanwhile, Tara asks Pam if she's going to let Elijah take everything, but her maker plans for them to live like she and Eric did.
Speaking of Eric, he's brought in front of Bill, he warns him the True Death will come soon if he doesn't accept Lilith. However, Eric says to let it come. Uh-oh. Would Bill really let that happen to Eric? Considering how Bill has been acting, he's definitely not himself, but can he come back from that? Will he come back from it in time?
Luna tells Sam she's going to spill about everything, but he warns her that will get her locked up. The promo shows her going into Steve's dressing room, but will she find Emma, or will this end with Sam having to save both Emma and Luna?