Andy is my hero this week, he finally filled those Sheriff shoes (or boots) he didn't think he was worthy of wearing. Screencaps from Skarsgardfans, she has the promo caps too, and HBO.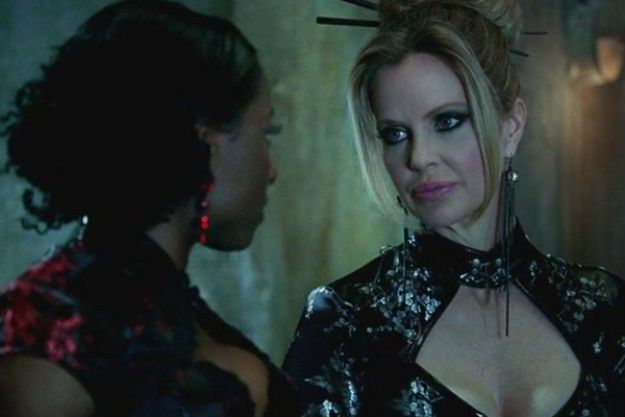 Ep. 57 - Inside the Episode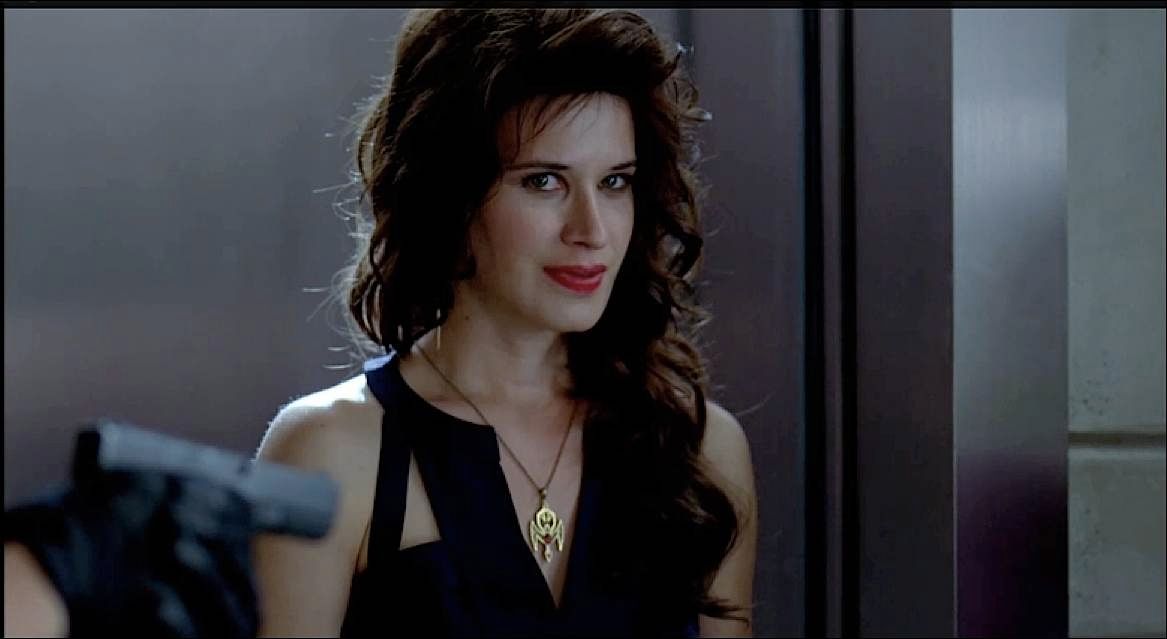 I missed some parts, I'll rewatch tomorrow but I made this peach cake and it is so good, I digress and digest, on to recapping. I liked this episode pretty much. It wrapped up 2 subplots, so you have to love that in this season of 1000 plot threads. It was Barzini all along! Bud was Dragon his dang boots gave him away to Andy (who is becoming a hell of a lawman). Sweetie, the award winning square dancer, was the brains behind the hillbilly supe killers. I just can't with them calling them the Obamas, that just sucks. This Sweetie was nothing like our book Sweetie but hey y'all she dances and runs damn fast for a big girl. Jason cradling Hoyt in his arms calling him Bubba made me realize this is the love of Jason's life (Jasoyt) and no sex is involved you nasty minded people, ok that is just in my mind. Patrick kidnapped Arlene and was waiting for Terry to kill him because Patrick has a family too so it was him or Terry. Scott Foley got the shaft in every way with this role, glad it is done with. Arlene went balls out and stabbed him with an ice pick in the neck, then he fights with Terry but Arlene picks up his gun and stops the fight. Terry is holding the gun on him when Iraqi spirit of Ramadan past comes and says do what is right, blood for blood. The end and not soon enough. How about this big goof, how many times has Sookie had to re-do her whole house? Yeah lots, yet there's a box under the bed she never saw, a big WTF to the writers. I'm too tired to even read my own notes, so I'll just post other people recaps as usual. One thing I have to add, there was some great one liners, whew. One of the things Pam stays away from, humans who eat too much fish, and to Tara, "just because we drank a bitch together does not make us Oprah and Gayle". Tara of course has a comeback, "suck me, vampire Barbie". Those two need their own sitcom. Meglomaniac Salome is the trip mistress, that blood is dosed, heavy duty dosed. So much so that Bill gets all fakakta on Sal's blood and sees Lilith. The bitch has been giving it to Nora to keep her under her spell, which brings up the question , why the heck didn't she give it to Roman? Now I can't get Roxy Music's Love is the Drug out of my head but of course I'm singing BLOOD is the drug and I need to score. Ok, I have to get one with the rewind before I get into Russell doggiekidnapping.
Full Recaps at links just tastes for you to choose what you want to read.
Earsucker.com has a scene by scene recap for others who missed something.
WallStreetJournal's bits-
While this episode moved things along and had a number of surprising developments, it generally seemed like filler material to hasten things toward the end, setting the stage for the ultimate face-off, somewhat like the fifth book of Harry Potter (edit:HUH?)
Dichotomy between man and beast as explained to younger Alcide and Debbie Pelt. The point is made clear: Men are selfish, while beast is connected to a pack, something greater than itself. Many Western and Eastern fables tend to invoke this theme, that sometimes animals are more human and more decent than their human counterparts. "Twilight"(edit:HUH?) tries to make the same point but can only do so much given its limited verb selection.
Edit:Vamps are fast and all that but to get the plan together to blow up the TrueBlood factories in like what, a day?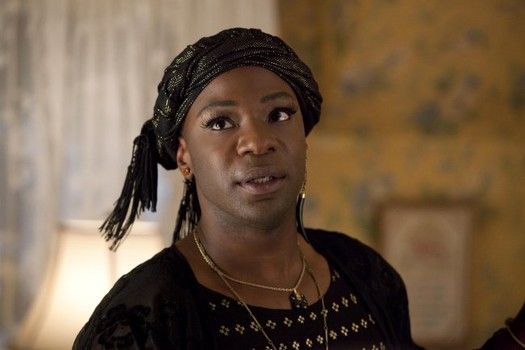 Baltimore Sun, I have been liking their takes on episodes
-
Lafayette had a great, quotable scene in the very beginning with Sookie who asks him to try to figure out who the spirit was who scarily encountered her last episode. "Creepy spirit thing, why you in Sookie's bathroom?" he asks.
He doesn't get an answer ("I ain't Whoppi Goldberg in 'Ghost,' he says. "Although I am prettier." Although he does later get in touch with Gran, who tells Sookie to look through a scrapbook, where she finds out that Dearborne discovered her dead folks.
And Pam. Love Pam. Because of the Tru Blood factory bombings, demand for the drink is high, and Tara wants to save some of the bottles for later. Pam tells her to keep serving it -- and stay out of trying to figure out whether the vampires are behind it.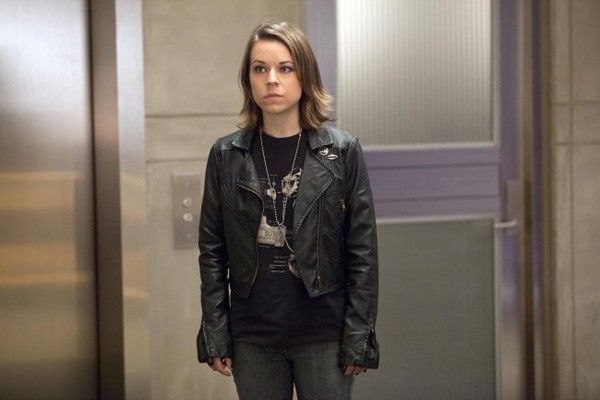 Eonline's recap up-While you were wasting the week away at work the True Blood vampires went and started a "holy war" by blowing up Tru Blood factories. What will those crazy kids get up to next? But there is another contingent of troublemakers in Bon Temps: Obama-mask wearing psychos raging war on supernatural creatures and their sympathizers. Oh boy, the blood's going to hit the fan.
ONE-LINERS
"Creepy spirit thingy, why you in Sookie's bathroom?" —Lafayette
"Bitch stop texting me or I will eat you." —Tara's text
"There are two things I try to stay away from: Humans who eat a lot of fish and politics." —Pam
"Just because we drank a bitch together doesn't make us Oprah and Gayle." —Pam
"She's a mind-reader with electric fingers and a fetish for fangers. If that ain't a sup I don't know what is." —Sweetie Des Arts
"I never had a pet, my father was allergic to everything except God." —Steve Newlin
"You better get back to slaughtering people in the name of God." —Eric
Did you like this episode of True Blood? Are the storylines finally merging? Worried about Eric's fate next week?
Jethro Nededog-is now with Celebuzz, go read this whole thing and give our True Blood friendo a comment-Thankfully, Jason (Ryan Kwanten) and Andy (Chris Bauer) were able to recognize Bud's boots from the gang's web video and got to his farm in time to save Hoyt (Jim Parrack) and Sookie from being pig feed — with some shifter help from Sam (Sam Trammell). After a scuffle, the group's deadly extracurricular activities are over. Plus, Luna (Janina Gavankar) was able to exact some revenge on Sweetie for ordering the kills on her, Sam and her daughter.
What a revolting development this is Marcellus.
RIP Bud Dearborn, those fancy boots did your ass in,
but Bud didn't have to be turned to a shit'em. Why do you always do that TB writers, why?
. Sanderson is so good in anything from comedy to Sci-fi (BladeRunner), I was hoping for more when I read he was returning, sigh.
Six Easy Ways to Keep Yourself Entertained*
Sunday, August 5, 2012 at 10:00PM
When you're stuck at home for the night with a gaggle of human guards, worried about
what's going on in the outside world but under strict orders to stay indoors… passing
the time ain't exactly easy. Here's a few ideas for how I like to kill the night:
Channel your inner choreographer...


Foot massages!


Make sweet music.


Prank call Maxine (CLICK ME FOR SOUND!)
Hang time with the boys!


Never EVER forget the power of glamouring.


*guards not included
SOURCE