Alexander did phone interviews last week, one was posted earlier in the week. Here's another by Jody K, you might remember her from the much missed, The Nest. Photo courtesy of Skarsgardfans
I had a phone interview yesterday afternoon with Alexander…
There was a lot of feed back so AGAIN he had problems hearing me but I edited the conversation, removing the confusion between questions.
He had just returned to LA after a month of traveling and a short stop home to visit with family in Sweden. I'm sure he was exhausted but still had time to answer a few questions from you guys.
20 minutes goes by pretty quick…sorry I couldn't get more answered…but maybe next time!!!
Listen to the whole interview at Askarsgard.com
The London Evening Standard has 10 Minutes with Alexander Skarsgard-
You've spent the past two months shacked up with Andrea Riseborough in a bomb shelter for the film Hidden, how was that?
Intense: we were surrounded by soot, dust and ash, and living on a diet of kale salad, a bit of protein and water. I'm pretty thrilled to be in New York now, eating like a horse.
The advert you've done with Lara Stone for the new Calvin Klein fragrance is very sensual, did you enjoy filming it?
It was wild and very gripping. We filmed in this weird dungeon with lots of sweat and leather, so it was very sexy and film noir.
Talking of sweat and leather, you've been identified as a potential Christian Grey in the film version ofFifty Shades of Grey, are you flattered or offended?
Of course it's flattering, but I haven't even read the novels so I don't know whether I'm interested in doing it or not. I am interested to see what the hype is about.
Which smells remind you of your childhood?
It's not very sexy, but there was a sausage factory near my house in South Stockholm so I remember the foul smell going to school every morning. It wasn't the smell of a nice cooked sausage. More at link.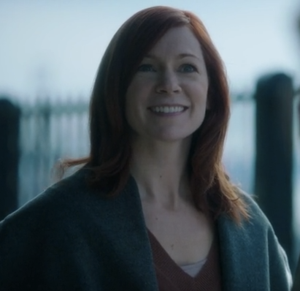 This week's Person of Interest featured Carrie Preston as Grace (again), from io9's recap of the episode-
We go back to 2004, when Finch was first training the Machine. He's showing Ingram how he's trained the Machine to find "anomalous" people, or "outliers." ("Should an introvert like you really be teaching a Machine about human nature?" Ingram wonders kind of rudely.) After singling out a few unusual people in the park, the Machine highlights a woman who is painting nearby. It's Finch's future wife Grace (played by Michael Emerson's real-life wife Carrie Preston)! There's nothing unusual about her, other than the fact that she seems extremely nice, so Finch assumes it's a bug. But then, a year later, the Machine singles her out again when Finch is teaching it to find connections between people.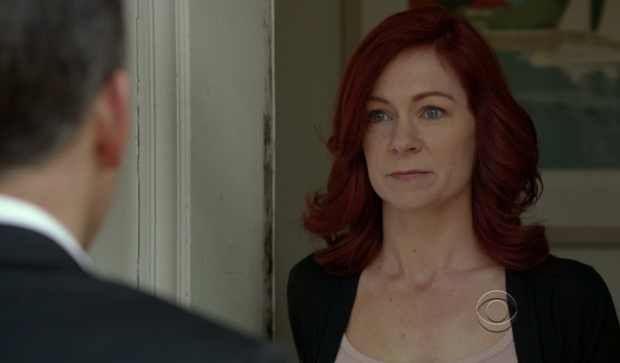 By now you've figured out that the Machine played matchmaker between Finch and Grace. Which is kind of awesome. Eventually, a year after the Machine points out the connection between Finch and Grace, Finch finally gets up the nerve to talk to her. I think by now we have ample evidence that not only is the Machine a sentient creature, but it also cares deeply for Finch and probably knows him better than any human. It knows and loves him enough to introduce him to a woman it has picked out as anomalously connected to Finch in some way.
The very talented Audrey Fisher has her own website now, featuring her costumes through the five seasons of the show as well as other work she's done. If you need a reminder (as if, right?) of the varied personalities she dresses in such a perfect way the gallery will bring all the good memories rushing back.
Fisher finds designing for Lafayette (Nelsan Ellis) inspiring, as almost anything goes, especially the color palette. Equally enjoyable is Pam (Kristin Bauer), who she dresses in dramatic, sexy shapes to fit the story line that this fashion-forward vampiress has personal shoppers at her disposal in Los Angeles and New York. Fisher is most energized, though, when creating period costumes for the show's flashbacks that in past episodes have included the 1920s, 1930s, 1850s, Vikings, fairies and even goblins. "If we were just doing rural Bon Temp all the time, that would get a little tedious and this allows me to do crazy, weird," she laughs. She thrives on the change-up because it jump-starts her creativity within a restrictive set of boundaries in terms of budget and prep time. Where some designers may find this process nerve-racking, she finds it exciting. SOURCE
Photos by John P. Johnson of HBO.
Nelsan Ellis is in Oz for the Supernova Festival via Brisbane Times,
Filming HBO vampire drama True Blood may look like a lot of fun, but it turns out there is a downside.
"The consensus on our show is that everybody hates the f---ing blood," says the Nelsan Ellis, 34, who plays flamboyant clairvoyant Lafayette Reynolds.
The series, which eschews the twinkly bloodsuckers of Twilight in favour of rip and raw tactics, is infamously bloody.
"It's sweet and sticky and we hate it, because once it gets on the skin it dries," he said.
"But our boss is our boss," he grins. "We can suffer in silence and with each other, but we can't do anything about it. So we just deal with it."
Ellis is in Brisbane for Supanova, the annual pop culture pilgrimage for geeks, nerds and fanatics of all kinds.
more pics on Tumblr from Supanova.
True Blood has featured vampires, werewolves, shape-shifters, fairies, and witches. But are fans as out there as the show itself?
"Yes," Ellis replies immediately.
"The sci-fi fans in America ... they are die-hard. They will follow you to the ends of the Earth.
"Once they attach themselves to a show, and believe in the show and love the characters, they're there forever, and they're unshakeable."
Ellis expects to meet similarly obsessed Australian fans as part of the weekend event at the RNA showgrounds, although you'll have to forgive him if he's still a bit jet-lagged.
Ellis left Los Angeles as results from the US election began flowing in, and was relieved to find out mid-flight that Barack Obama had been re-elected president.
"The best person for the job is Obama," he says. "And Obama needs to finish what he started.
"Rebuilding the middle class is the most important thing for our country, because the middle class supports everything else, the rich and the poor."
True Blood's creator, Alan Ball, is a supremely adroit observer of the middle class, from his Oscar-winning American Beauty, to Emmy-winning Six Feet Under.
And Season five of True Blood (which screens in Australia on Showtime) has a definite political bent; with in-fighting at the vampire Authority, and a bunch of Bon Temps rednecks hiding themselves behind President Obama masks to target so-called "supes".
"When you deal with Alan Ball, you're dealing with a person who is a genius in terms of how art imitates life," says Ellis. "I think he makes a statement, and I think it's bold in season five."
Carolyn Hennesy's photo
By Carolyn Hennesy @carolynhennesy
An overlooked photo from last Weds.' Drag Queen Bingo evening with Kristin Bauer. Now this is what I call a good sport!
A richly-illustrated adaptation of Anne Rice's Interview with the Vampire, told through the eyes of the vampire Claudia, who was just a little girl when she was turned by the vampire Lestat. Though she spends many years of happiness with her two vampire fathers, she gradually grows discontent with their insistence upon treating her like a little girl, even though she has lived as long as any mortal man...and her lust to kill is certainly no less than theirs. Available now at Amazon, link uptop.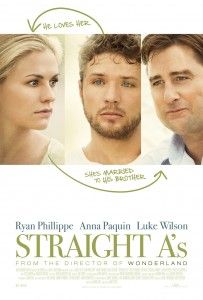 The poster for one of Anna's new movies is out, no trailer yet. Source and info
We salute our Veterans, the Vampire ones also.
The Making of Not Suitable for Children
Kristin Bauer on the Sundance Channel's The Mortified Sessions-