That Rene, he was a serial killer but he sure made Arlene happy in season 1, and he could dance. Michael Raymond-James is a busy actor, he can be seen currently he's Baelfire on Once Upon a Time.
Photo Prashant Gupta/HBO
Our very own True Blood Oscar Winner.
Janina Gavankar, Luna (for how long?) talks about her role on Arrow, Wednesday's at 8pm on the CW. Zap2It also has a video.
"True Blood" star
Janina Gavankar
's McKenna Hall is another example an empowered female on the show. McKenna, a vice cop with the Starling City police force, was recently introduced as a returning face from Oliver's past.
In tonight's new episode, "Dodger," Oliver gives their romance another go when he asks her out on a date. Things are complicated (to put it mildly) by McKenna being assigned to the task force out to apprehend the vigilante, but she's willing to give Oliver a chance.
"She's had this wild past, but she's a grown up," Gavankar told us when we visited her on set recently. "By the time they reconnect, they're both in very [different] places than who they were in the past. I think that's why they have an understanding. She's an incredibly intuitive girl; there's a reason why she's a detective. She's an observer, which tells you that Ollie is incredibly good at staying undercover, for this girl not to notice that he happens to be the vigilante. That's what I really like about her. She's a strong, independent, grown lady." More at the source.
She talks a little bit about flying back and forth between LA and Vancouver for TB.
RY
AN KWANTEN ATTENDING 2013 G'DAY USA BLACK TIE GALA - ARRIVALS at JW Marriott Los Angeles © Andrew
Evans
/
PR Photos
He is charming.
Look who's back in a Vampire flick, Peter Petrelli! Beautiful vampire Djuna (Josephine de La Baume) tries to resist the advances of the handsome, human screenwriter Paolo (Milo Ventimiglia), but eventually gives in to their passion. When her troublemaker sister Mimi (Roxane Mesquida) unexpectedly comes to visit, Djuna's love story is threatened, and the whole vampire community becomes endangered…More at Movies.com
Ryan at PUMA's Motorsport Launch of New Partnerships at Performance Motorsports Garage in Las Vegas Photos by Justin Paludipan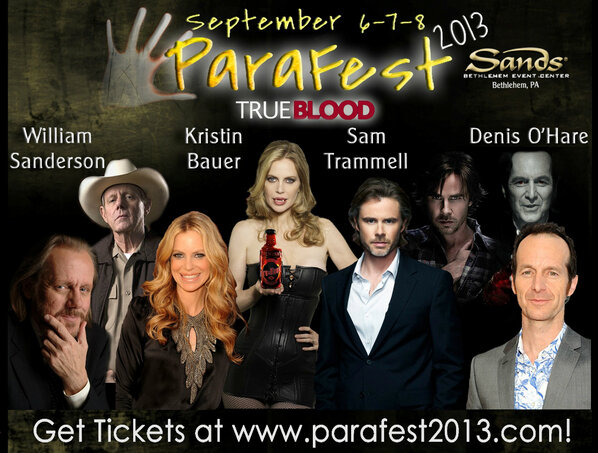 Parafest 2013 is COMING! Kristin Bauer, Sam Trammell, William Sanderson and Denis O'Hare will be guests!
Are you ready for the BIGGEST and BEST paranormal & horror convention the world will eversee? Paradox Entertainment, LLC is about to rock you with the biggest names in Paranormal, Horror, Cryptozoology and Ufology. Come out to the Sands Bethlehem Event Center and join us as we bring you celebrity guest speakers, vendors, exhibits and film screenings. If you love ghosts, the supernatural, the paranormal, horror and the just plain weird, then this is your chance to meet your favorite celebs and learn from the experts! Save the date: September 6,7 & 8. Tickets are on sale now!
From Rutger Hauer, he posts sometimes on his site's guest/messageboard
Working on "True Blood" is a very wonderful experience which i was hoping for but did not expect to become true.
The crew is an extremely hardworking professional group and it seems many of them know what to do fast without so many words and i have seen this

rarely.The different directors who i get to work with keep me extremely on my toes and constantly challenge me.
The readings of each episode are a crowded room,writers,director,producers,actors and all the people involved and i have never seen a room with fifty or more people trying to get a sense of where the overall story of the series will take them.
Part of the nervous excitement is that noone knows,until that moment, what is up.
Some twenty five actors then give it there first read voice.

These readings are the only place where they all meet and then it is off to work.
Last week we were in -2 C every night from sundown until dawn in the coldest hills of the Californian mountains.
As you may know the work started,for most,just before christmas.And as you may sense,this is a handful and more.
xxx.
Anna Paquin and Stephen Moyer attend Tom Ford's cocktail event in support of Project Angel Food in Beverly Hills, California.
Source: Angela Weiss/Getty Images North America, more at ZIMBIO
Anna Paquin attended the Tom Ford cocktail event in support of Project Angel Food at TOM FORD in Beverly Hills, California on yesterday. She wore a black TOM FORD dress with cut-outs on the side styled with simple black peep toe pumps. Anna opted not to wear any accessories so that this hot dress can take center stage.
Espresso smokey eyes, a sleek pulled back straight cut and nude shiny lips completed her look. Her monochromatic look was a hit. FashionistaBlog
Good to see Anna Paquin out again, she has been so busy being a mom and out running nasty paps.
Anna with Jason Isaacs, I am jealous.
Never heard of this movie, maybe I forgot but I see from the trailer that Denis O'Hare and Carrie Preston are in it.
Thanks to Stef for this