Photo: John P. Johnson HBO
Waiting for more casting news, new, new showrunner news, the usual for any cable show lately.
Hope everyone is having a good week, or at least scraping by, and again, thanks to all who stop by this lowly little blog place.
EW has the video of Charlaine reading the SVM overall synopsis. Ready your tissues, Sookie Stackhouse fans! Though True Blood is still going strong (hey,Billith!), Charlaine Harris' long-running book series chronicling the adventures of a mind-reading barmaid and her (many) supernatural lovers is finally coming to an end this May withDead Ever After. We spoke to Harris about her future plans, saying goodbye to Sookie, and, most importantly (for this reporter anyways), what's been going on with the Viking Vampire God known as Eric. But before you read our interview, check out an exclusive trailer for Sookie's 13th and final outing, narrated by Ms. Harris herself!
EW didnt get the memo he is Niall and is saying this is the new baddie for season six-
that's Rutger Hauer, (look at that hair!) who will join the HBO vampire series this summer as a scary baddo name Macklyn who has mysterious ties to Sookie (Anna Paquin) and Jason. I bite my tongue at the whole look, did any writer ever read a SVM book? Only hoping that Jason has recovered from his head trauma, and that grandpa isn't just in his mind like the parents were.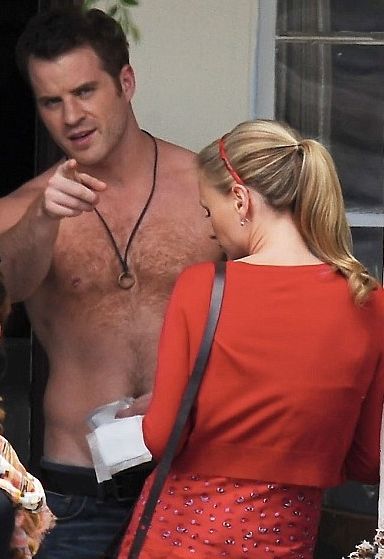 The Dailymail was snooping onset too and got pics with Sookie and Ben, played by Rob Kazinsky.
More on the spoilers part 2 page. More Ryan photos @ContactMusic
Ryan Kwanten hit up the Los Angeles Lakers Casino Night held at Club Nokia on Sunday . Justjared
Last night, Roundabout Theatre Company presented its annual 2013 Spring Gala "A Celebration of Your Favorites" emceed by Alan Cumming
at the Hammerstein Ballroom. source He said this to Vanity Fair, lulz!
Denis O'Hare was in the Cabaret production with Cumming, and recalled moving the show to Studio 54 after a building collapsed on the original venue. "We got to sort of creep around those hallways and look for, you know, Liza's other hip, and other detritus and things like that,"he said. "And there was this safe, the famous safe, which is still in Studio 54. It was in Blair Brown's dressing room, and we couldn't get into it. No one's gotten into it to this day—we don't know what's in there. Who knows? It's probably condoms, nothing good."
From the Boston Globe-
A heavy-hitting lineup — Amy Ryan, Kate Burton, and Denis O'Hare — will give two performances of "Selected Shorts on Tour: Tales of Springtime, Sex & Baseball'' June 8 at the Boston University Theatre.
"Selected Shorts'' is a popular weekly public radio show, ordinarily recorded at Symphony Space in New York and heard locally on WGBH, in which actors from the worlds of film, television, and theater read short stories. In the touring program, Ryan, Burton, and O'Hare will perform stories by Dorothy Parker, Aimee Bender, N.M. Kelby, and W.P. Kinsella, author of "Shoeless Joe."
Janina at Monster-Mania
With Jim Parrack, sound is low
Kristin at EECC, finally a video (thanks to I'mhereforSookie), nice interview.
Via Alexskarsgard.net from April's InStyle Mag.
Ausiello also says another triangle, blechhhhhh!
Question: I long for hot weather when vampires and werewolves take their clothes off! Any True Blood scoop? —JenileeAusiello: Yep — I can tell you with whom those vampires and werewolves will be stripping down! She's Violet, a hot-as-hell, tough-as-nails blood-sucker in, give or take, her 600s (though she'll look about 25). Not only do I hear that she'll be mixed up in a major love triangle, the role will go from recurring this season to series regular the next.
OK I'm calling it, Violet (if this is correct) coming between Pam and Tara.
Still from "Disconnect".
Thanks to Rib Cage Hat on Tumblr for the GIFs from Hell's Kitchen.