Photo HBO, it's from Season 2.
Seems like the last week we are getting more casting news, so I will be updating as the news comes in. Stay Tuned Truebies.
HBO confirmed the premiere date to be June 16th, only 10 episodes as previously reported.
Episode 6.06 of True Blood will be called, "Don't You Feel Me," and a nice, gay male vampire is being cast (a guest star). Source: SpoilerTV
TVLine has some casting news!
- Spending a year married to Gregory House can turn a woman into a real bloodsucker. Case in point:
Karolina Wydra
,
w
ho played Dominika, the
convenient bride of Hugh Laurie's titular doc
on Fox's House is joining
True Blood
's sixth season as a badass vampire, TVLine has learned exclusively. Wydra's recurring character, Violet, is described as a strong, sexy, possibly dangerous vamp on par with the Eric Northmans and Bill Comptons of the world.
True Blood has tapped Brothers & Sisters alum Luke Grimes play the recurring role of James, a circa '70s-made vamp who is smart, spiritual and emotionally deeper than any other bloodsucker we've seen before, TVLine has learned exclusively. Picture a cross between Jim Morrison and Gary Clark Jr. with even more of a poet's edge. The dude's every women's dream come true, and he doesn't even know it. He is said to debut at the midway point of season 6.
The first-ever charity sporting event, sponsored
by THR
, saw agencies, studios and stars hitting the field to fight cancer and HIV. The Los Angeles Film and Entertainment Soccer Tournament was held Saturday, March 23, at the Home Depot Center in Carson, Calif.
Sam Trammell at the Mad Men Premiere.
Mad Men's
Sea
son 6 Premiere Featuring:
Sam Trammell - WENN.com
Thanks to Ann Marie for letting me know Ryan updated 2 pics on his Facebook
Tweeted by Denis O'Hare while filming finale for The Good Wife.
Arianna Huffington did a panel for Disconnect, she has some good observations about the timeliness of the film.
The film, written by Andrew Stern and directed by Henry-Alex Rubin, is called Disconnect, and when it opens on April 12 I urge everybody to go see it. I found Disconnect incredibly compelling -- a perfect use of storytelling to vividly dramatize an issue that permeates our lives to such an extent that it's hard to even see. As well as Frank Grillo and Marc Jacobs, the cast includes Jason Bateman, Hope Davis, Paula Patton, Alexander Skarsgård, and Michael Nyqvist.
Disconnect -- I'll try to avoid spoilers -- interweaves three stories, each involving characters whose lives have reached a crisis exacerbated by their dependence on technology at the expense of real human connection. There's a couple that has recently lost a baby. Instead of grieving together, they turn away from each other, and lose themselves in online distractions. There are two boys who use the power of social media to take advantage of another boy's loneliness and isolation -- itself partly caused by his father's obsession with work and email. And there's a woman reporter who becomes involved with a 18-year-old webcam porn performer who lives in a house run by a porn kingpin played by Jacobs. Now do you want to see it? MORE
People Magazine-You can now get a glimpse of Alexander Skarsgard shirtless – without waiting for the next season of True Blood.
In Disconnect, a thriller about ordinary people struggling to connect in today's wired world, Skarsgard, 36, stars alongside Jason Bateman, Frank Grillo, Paula Patton and more. Designer Marc Jacobs also makes his film debut.
Caught in the whirlwind of ever changing technology are Skarsgard and Patton, 37, who play a couple drawn into a dangerous situation when their secrets are exposed online.
Another still from Disconnect-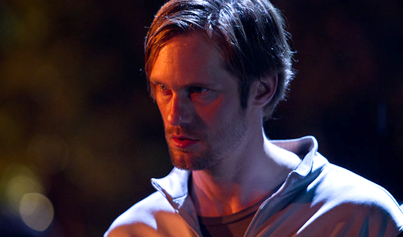 I remember posting pics of this interviewer with the cast of The East at SXSW then forgetting all about the interview that was done. Thanks to Skarsgardfans for finding it.
MORE
Kiss of the Damned Featurette, you can watch the movie on Itunes!