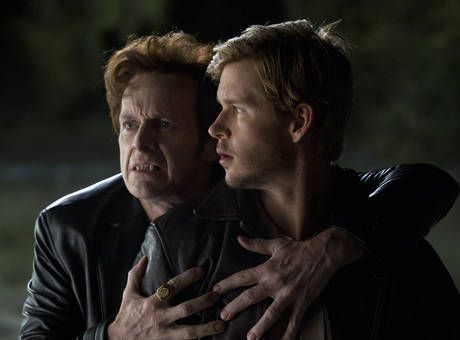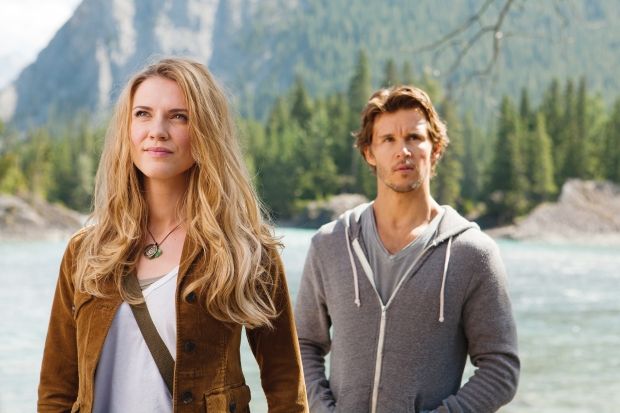 I was thinking our 'Hiatus Support Group' needs some therapeutic Jason to get going this week. Ryan Kwanten is always working on one project or another and he just finished another movie. He's rumored to be cast in Five Good Years next as a boxer.
The wind is unusually calm. The sky is a cloudless blue. Cows are roaming nearby and actress Sara Canning has spent the better part of the morning punching her leading man in the face.
The action may seem a little out of place given the glorious surroundings. But that's the point.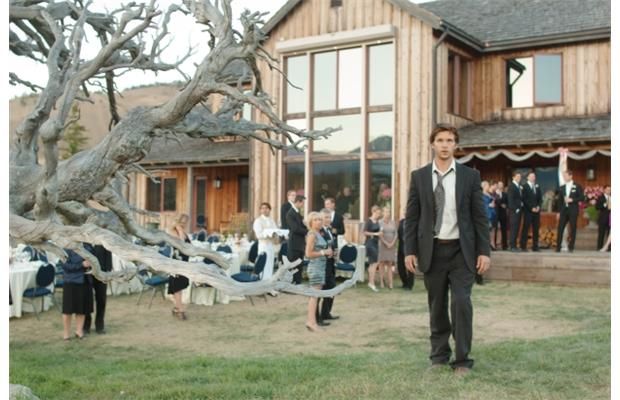 Today's scene, without giving too much away, involves a wedding, a wedding crasher, a reluctant bride and, finally, that surprise right hook. But it's not as easy as it sounds.
"It's funny, throwing punches on film," says the Edmonton-raised Canning, still sporting a wedding gown while on a lunch break from shooting. "Not that I walk around punching people every day. But there are a lot of specifics (on film). Certain camera angles will sell things differently and at different speeds. It gets very technical."
So the scene is done over and over, all under the watchful eyes of Alberta stunt co-ordinator Guy Bews and director Jeremiah Chechik. Our leading man, Australian Ryan Kwanten, takes it all with good humour, slipping in and out of a flawless American accent as the cameras start and stop.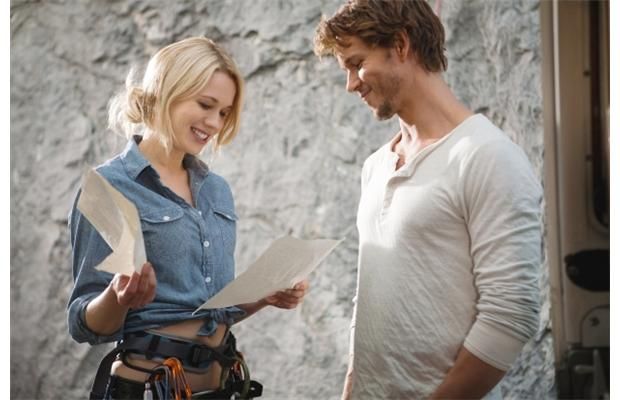 Ryan Kwanten on the set of
The Right Kind of Wrong
currently filming in the Canadian Rockies. Formerly titled Sex And Sunsets, director Jeremiah Chechik's The Right Kind of Wrong began filming in Banff, Canada. I'mhereforsookie
Denis O'Hare, always a professional always a gentleman- Some things he said to The Clicker on his too quick demise-
"You know, there's no good way to really end with these kinds of things," O'Hare told The Clicker. "But I really thought the show did a good job in elegantly ending me. I thought it was really beautiful. In a way, Russell is such an amazing character. How are you going to feasibly kill him? It had to be a surprise. You kinda had to be quick. So I think it was a good way to do it," he said. "He's really dead. You just can't come back from a exit like that!" the actor said. "Although with this show, you just never know -- I could be in dream land, in flashbacks and that kind of thing, but I'm pretty sure I'm dead!" he quipped. "It would be great to have two vampires adopt a baby," he suggested. "I think it would be really funny to see them go through the process at the adoption agency! And there are already four babies on the show, so it could be the start of a hilarious story line! (edit:as long as it isnt Nigel!)
HBO's Carnivale's creator to run NBC's new Dracula seri
es, from Deadline
-
EXCLUSIVE: Dan Knauf, creator of the cult HBO series Carnivale, has joined NBC's upcoming 10-episode series Dracula as showrunner/head writer, working with series creator Cole Haddon. Jonathan Rhys Meyers is set to play the iconic vampire in Dracula, which is being produced for both NBC and UK's Sky Living by Tony Krantz's Flame Ventures; Colin Callender's Playground Entertainment; Universal TV; and NBCU International Prods' Carnival Films & Television, the company behind phenom Downton Abbey. Based on an idea by Krantz, Dracula is set in the 1890s and is described as "Dangerous Liaisonsmeets The Tudors."
In it, Dracula (Meyers) arrives in London, posing as an American entrepreneur who maintains that he wants to bring modern science to Victorian society. In reality, he hopes to wreak revenge on the people who ruined his life centuries earlier but falls hopelessly in love with a woman who seems to be a reincarnation of his dead wife. Krantz and Callender are executive producing the series with Knauf, Gareth Neame and Anne Mensah. Haddon and Flame's Reece Pearson co-executive produce.
I
nterview with Kristin Bauer from Germany via The Courier, True Blood's Season 5 starts October 18 in Germany on
Syfy and Syfy HD

.
She's been on
"Two and a Half Men," "Star Trek," "Desperate Housewives." Kristin Bauer (45) tried many TV series, in 2008 she finally made it - as villainous vampire "Pam" in "True Blood."
COURIER: Hi Kristin, tell us about Pam.
K
ristin Bauer: "She's sarcastic, obscure, sharp. They do not care what others think about them. A tough character. "
And a vampire ...
"Yes, a very, very wicked ...
How of Pam much is in you?

"Some say I'm cold and jaded. I don't feel like that. But it gives me a lot of fun, my being able to turn out my inner bitch 'in the role and be able to tell everyone what I think.
Would you do it otherwise?
"No, I make very sure I'm coming over and what others think about me. I want to be liked.
What do you think, what fascinates us vampires?
"They show us an escape into another world. A world in which the plays, what do most of us thought the whole day, does not matter. "
And that would be?
"Vampires have never worry about money, illness, death, old age - Vampires set to address it not only because of their invulnerability.
How long it actually takes to put on the fangs?

"These are personal specials. It's quick. But the costumes, the makeup and the hair may take several hours. "
Martha Bozeman done made a new movie! Dale Dickey is a fearless actor, along with Beth Grant and Olivia Spencer in Blues for Willadean.
Charlaine Harris will be at the West Virginia Book Festival,
Charleston Civic Center,
Oct. 13, 9 a.m. to 6 p.m.; Oct. 14., noon to 5 p.m. Go to the link for all the details, and here too.
ETonline scored an exclusive clip from
The Barrens
, which hits DVD, Blu-ray and VOD on October 9!
Review of the Barrens from Besthorrormovies.com-
It's about time the public received a well-made flick based on the infamous Jersey Devil myth. This is a beast that's been severely underrated in horror's landscape. There aren't too many motion pictures crafted around the concept, and when they are, they tend to be stinkers. Enter Darren Lynn Bousman, who just changed everything with his psychological frightener,The Barrens.
The film tells the story of Richard Vineyard and his family (wife Cynthia, son Danny and teenage daughter Sadie) vacation into the Pine Barrens. Richard hasn't been feeling well as of late, both physically and emotionally taxed due to the recent passing of his father. This trip that should by all means be smooth sailing, if not a bit melancholy, takes a disastrous turn early, when campers in the area begin going missing, only to resurface: mauled and disemboweled. It isn't long before Richard becomes convinced that the Jersey Devil is indeed real, and he's roaming the Barrens offing folks one by one. But Richard is an ill man. His health falls into a drastic downward spiral over the weekend and he's begun to be plagued by hallucinations and extreme paranoia. Could the Jersey Devil be alive, well and in these woods feasting, or has Richard completely lost his marbles?
That question is what drives the picture, and it drives it straight into a highly rewarding climax.
This film is predictable on all fronts. That's really my only complaint about The Barrens, and even that is a minor complaint, because Bousman throws viewers a curveball in the final moments of the film that only a diehard Bousman fanatic will spot and call accurately (I nailed it). Darren is a very visceral filmmaker, and the buildup created during the picture really only fueled my belief that he planned a big, unhappy sendoff. Despite seeing this conclusion from a distance, it still proves to be a highly rewarding finale that is indeed pretty bleak, but pretty damn wicked as well.
Stephen Moyer makes for an impressive lead, and works dramatically different ends of the performing spectrum with conviction and ease. It's not hard to buy into this man's spin, and that's only possible because Moyer turns in such a stellar offering. Rarely does a film truly thrive on one single character, but when they do, they either tend to soar or kamikaze outright. Moyer is so refined in his delivery (thank you god, and casting director) that this one flies high. This is a piece of art that while not completely without fault, works as an endearing and engaging mind bender. It's even got replay value! I've watched it twice already, and I absolutely love the film. This is camera harmony right here, and it ranks amongst Darren Lynn Bousman's absolute best.
But Moyer isn't the only one that exhibits some impressive acting chops. In fact, part of the icing on this cake comes with the fact that every key player is awesomely lifelike. These aren't cardboard cutouts brought to life with awkward animation. These are very impressive thespians proving their worth in a talent rich field. I can't imagine anyone involved in this ensemble having difficulty in gaining future employment after this treasure. Mia Kirshner is terrific as Cynthia, the wife who may be worthy of suspicion, Allie MacDonald is damn proficient as Sadie, Richard's rebellious teen daughter and Peter DaCunha, who portrays Danny, is functioning with the prose of someone far, far more experienced. It's about as close to the ideal group as one can conceive of.
The Barrens plays out like a modern monster movie mixed with a vintage, almost David Lynch-like measure of mental terror. The script is strong (sans a silly line or two that just feels as though it kind of comes with the territory), the characters are terrific and brought to life by a team of actors fit to accompany the best the industry has to offer, and visually, The Barrens is surprisingly gratifying. Again, I believe this to be one of Bousman's best, if not the best on his ledger to date. Take into account the fact that he's the man responsible for the best of the entire Saw franchise (parts 2-4), Repo! The Genetic Opera, The Devil's Carnival and Mother's Day (to name just a few), and you'll realize that's a pretty powerful statement. No matter what, see this film.
The legend Stan Lee talks to Joe M-
More scans of this article at Askarsgard.com
Interview about Janina's music and acting at BuzzineBollywood
It's official! We've confirmed theaters and "That's What She Said" will open in NY and LA on Friday, Oct. 19. Watch the very R-rated redband trailer below. Our favorite part? Might have to be Dee Dee's (Anne Heche) air-humping. What's yours? SHARE this if you're excited to see the film!