AW, remembering when they were besties, will they ever get back to that place again? Photo by Prashant Gupta/HBO
December 17th freeshipping at the HBO Store, link above,
with code NATLSHIP
More gorgeous Pam costumes from the talented Audrey Fisher! More at HuffPo
From the DailyMail-She boasts looks that have won the attention of Hollywood - and now it seems that Simon Cowell is also taking notice of True Blood beauty Janina Gavankar.
The 53-year-old X Factor mogul took the 32-year-old actress to his favourite LA haunt Cecconi's on Saturday night after the pair publicly flirted over Twitter - with the multi-millionaire nicknaming the brunette 'Trouble'.
And as they left the trendy restaurant in West Hollywood in the back of a chauffeur-driven car, Janina - who bears an uncanny resemblance to Cowell's ex-fiancée Mezhgan Hussainy - could not keep the smile off her face.
OK, the DM is a tab first of all and we know that they make mountains out of molehills. I think this is more about her music since Randy Jackson of American Idol released her last recording on his label, so I see a business connection. Hey, I don't know maybe she likes hanging with Simon .
Updates to Season 6 Casting Calls
NAACP Image Awards are this Friday, nomination list is from LATimes- A huge omission is
the genius that is Nelsan Ellis.
Drama Series
"Boardwalk Empire" (HBO)
"Grey's Anatomy" (ABC)
"Scandal" (ABC)
"Treme" (HBO)
"True Blood" (HBO)
Supporting Actress in a Drama Series

Archie Panjabi - "The Good Wife" (CBS)
Joy Bryant - "Parenthood" (NBC)
Loretta Devine - "Grey's Anatomy" (ABC)
Lucy Lui - "SouthLAnd" (TNT)
Rutina Wesley - "True Blood" (HBO)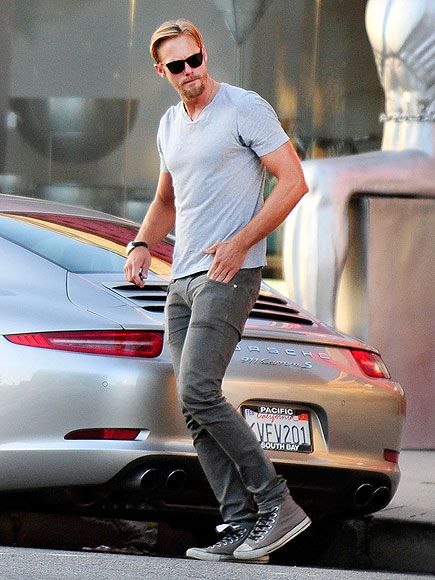 I hate these pap pics but since this has been posted all over I'm putting it here after cropping it.
Sundance Institute-
If you are in Michigan, "The East" will be coming to the Michigan Theater on Jan. 31. In it, a female operative for a private spy firm goes undercover to investigate a group bent on attacking big corporations. It stars Brit Marling, Alexander Skarsgard of "True Blood," Ellen Page and Patricia Clarkson.
Other cities in the initiative are Boston, Brooklyn, Chicago, Houston, Los Angeles, Nashville, Orlando, San Francisco and Tucson.
Sundance Institute founder Robert Redford described the program in a statement as a way to "create a larger shared experience and dialogue around the issues of our time, as explored in these films."
Tickets for the screenings will be sold through the individual theater box offices. The festival itself runs Jan. 17-27 in Park City, Utah.
The East synopsis-
Someone is attacking big corporate CEOs and forcing them to consume harmful products they manufacture. An elite private intelligence firm is called into action and contracts ex-FBI agent, Sarah Moss to infiltrate a mysterious anarchist collective, The East, suspected to be responsible. Skilled, focused, and bent on success, Sarah goes undercover and dedicates herself to taking down the organization. She soon finds, however, that the closer she gets to the action, the more she sympathizes with the group's charismatic leaders.
After the warm reception he received for 2011's Sound of My Voice, director Zal Batmanglij returns to the Sundance Film Festival with this stunning sophomore effort, which marks his second collaboration with the irresistibly alluring, multitalented Brit Marling. Featuring a fantastic supporting cast, including Patricia Clarkson, Ellen Page, and Alexander Skarsgård, The East is a taut and timely thriller that resonates deeply with the complexity of today's explosive socioeconomic landscape.
"The entire cast, from Alexander Skarsgard to Ellen Page and Patricia Clarkson, have put their everything into the movie and will be "unrecognizable" when compared to the characters they typically play. I think everybody's going to be surprised to see everyone in this. The characters and the world are very extreme. I don't think anyone is recognizable, if that makes sense." [...] "Everyone in the cast has thrown themselves entirely into their roles. Since none of the actors are extremist anarchists, they all had to put a lot of research into making sure their performances were believable and accurate." [...] "I could not possibly express to you how amazing the cast on this movie is. Alex and Ellen and Toby, they work so hard. They have done so much preparation, it's like we all come to work every day and you feel everyone's devotion to the material. It's a hard shoot. It's an ambitious movie. And it's being shot very quickly. Their work on it is astounding. It really is inspiring." (writer, producer and actress Brit Marling on the cast; Source: www.ifc.com) Sundance Festival Info
True Blood made Rolling Stone's list of 10 Most Shocking TV Deaths-
Deaths on

True Blood

are so commonplace, the only way to shock the fans at this point is to kill off a major character as soon as he or she is introduced. That's exactly what happened to megalomaniac vampire Roman Zimojic, whose storyline came to a screeching halt after just five episodes at the hands of the diabolical Russell Edgington – proving once again that no character, however powerful, is safe on this show. This rule of thumb re-emerged at the season's end, when we bade a blood-teared adieu to Russell himself (staked by Eric Northman, settling a 1,000-year grudge), and when, after downing a vial of vampire goddess Lilith's blood, Bill Compton was reborn an indeterminate hybrid the interwebs have unofficially dubbed "Billith."
Seana Kofoed and Chris Bauer star in "What Rhymes With America" at New York's Atlantic Theater Company. The new play was staged by Daniel Aukin. Photographer: Kevin Thomas Garcia/Boneau/Bryan-Brown via Bloomberg more on the play HERE
Janina tweeted this pic of her and a very hot guy, who is he?