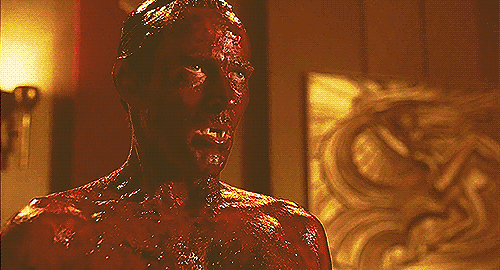 The most final, sad ending to Marcellus and Ike, oh yeah, Bill and Sookie too. The rise of the almighty blood clot, Billith. After talking about this messy creation last night (you can almost hear the cleaning crew muttering not %$&* again), I got to wondering where this can possibly go in season 6. I was surprised so many fans think this is the end of the road for Bill, and short of it being a dream (thank you Ann Marie) it could be.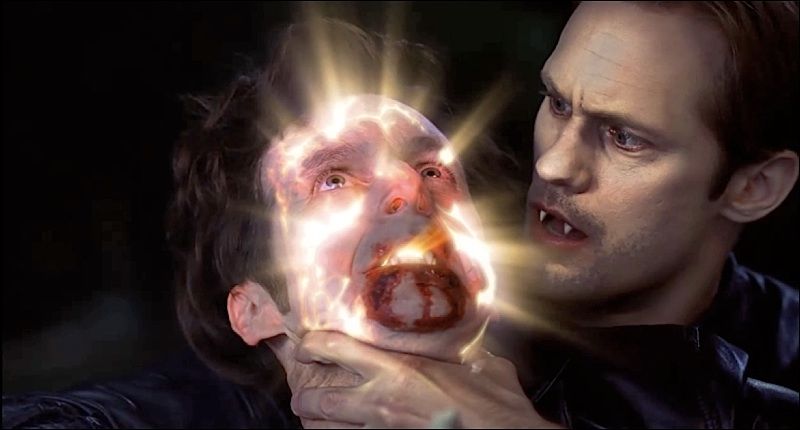 He could go out as quickly and unceremoniously as Russel did, I didn't expect that either. Maybe as season 6 begins, shawty runs into Eric, who still has his wooden stake handy, and SPLAT goes the weasel. He could even take the messiest shower ever and just be Bill again (a super bitched out Bill but still Bill), arrogant Authority head doling out orders to whatever guards are still alive. Even Jason could take him out in his Rambo mode from the finale.
He could do the Lilith screech and tell Eric to "Drink, drink all of me", I can think of a couple of people that would love that fanfic come to life. We don't know if Lil is going to pop up again, maybe Billilith will sink down into that big dark pool of bloodmuck from whence it came. Sookie could always come running back with an economy sized bottle of peroxide and end this whole steaming piling of bukake, hey it could happen (no it can't).
I forgot all about what Ball said right after the season finale-
End of Season Interview with Alan Ball from TVLine-
TVLINE | So, is Bill God now?
I don't want to say if he is or he isn't. Who's to say what Lilith really is? He is still Bill but he is something different.
TVLINE | So there is some of the old Bill in there?
It is Bill, but it is a transformed Bill. He is not a completely new person. It's not like his memories or his experiences have been left out and he's just a baby.
TVLINE | Can he revert back to the old Bill?
Well, that's the question: Is he going to be evil? What does he want? What is he going to do? Will he be able to revert back to Bill? That's for future seasons. The implication, certainly, is that he is more ferocious.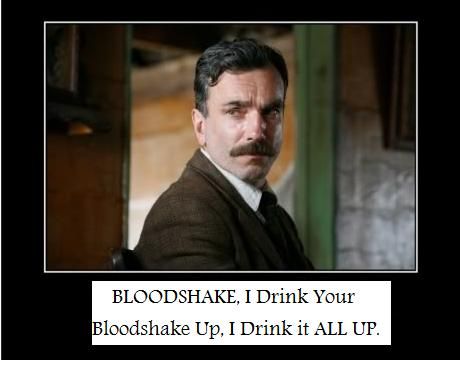 I just don't know what road the writers will take, they made so many wrong turns the last couple of seasons. I'm sure no one forgets Fairyland and light fruit eating or Coocoo Coco Fairy Elder dancing. This GIF still brings the LULZ.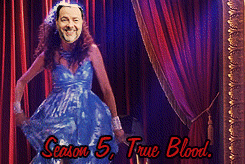 Will this be the last shot of Bill with clothes on?
wait for it…. wait for it……true blood season 6…billith is coming to get ya. Source: imhereforsookie
Somethings to look forward to: M. Warlow! I really hope that Rutger Hauer is all I could hope for as Macklyn and he is a bad, bad fae like Breandan. That Ben is not another love interest for Sookie, ugh just no. Maybe he is more like book Claude or even Colman, Claudine's mate, secretly looking for revenge for her death. There's lots of speculations and ever changing ideas at this link for Warlow, read the comments too, some great thoughts from you readers.
Audrey Fisher's costumes are always a visual treat and they sure come in handy to distract from the things that irk. The Fae might have been ridiculous but were always well dressed.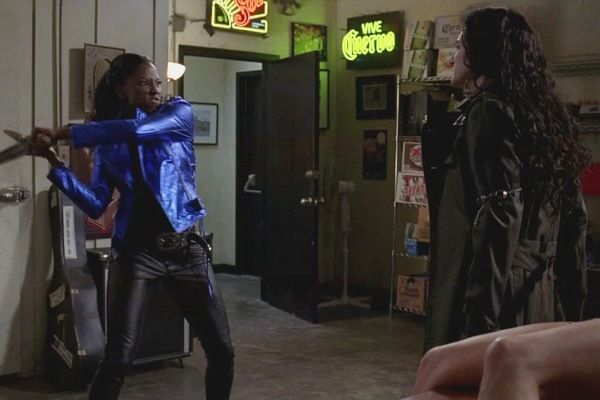 Also hoping we keep this fierce Tara, finally not a victim. I was hoping that Pam could turn into a mother figure not the lover that seems to be the route they are taking. I'll take what I can get and just hope Tara doesn't get abused anymore, she does badass so much better than victim. What will happen with concussed dead-aim Jason, dude didn't miss once as he stalked though the Authority headquarters? Will he stop seeing people that aren't there and be our lovable beefcake ever again?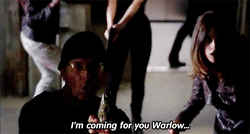 You know I really hope they don't fug up our boy or kill him off. What the hell ever happened to Crystal and those would-be werepanther babeeeez anyway? Will she ever be seen again, is Hotshot just a (bad) memory? After what was done to noble Calvin maybe that's best, turning them into hillbilly meth heads was a huge disappointment to a bookie.
Speaking of babies, how is Holly going to take to having Quads to care for if her and Andy stay hooked up? He's the town sheriff so how will he explain the sudden large family or will they even bother to?
I welcome any thoughts on what's to come, please speculate away in comments.
Reposting this from last month since Alexander will be at the Sundance premiere, January 20th. So there will be piccies soon.
Sundance Institute-
If you are in Michigan, "The East" will be coming to the Michigan Theater on Jan. 31. In it, a female operative for a private spy firm goes undercover to investigate a group bent on attacking big corporations. It stars Brit Marling, Alexander Skarsgard of "True Blood," Ellen Page and Patricia Clarkson.
Other cities in the initiative are Boston, Brooklyn, Chicago, Houston, Los Angeles, Nashville, Orlando, San Francisco and Tucson.
Sundance Institute founder Robert Redford described the program in a statement as a way to "create a larger shared experience and dialogue around the issues of our time, as explored in these films."
Tickets for the screenings will be sold through the individual theater box offices. The festival itself runs Jan. 17-27 in Park City, Utah.
The East synopsis-
Someone is attacking big corporate CEOs and forcing them to consume harmful products they manufacture. An elite private intelligence firm is called into action and contracts ex-FBI agent, Sarah Moss to infiltrate a mysterious anarchist collective, The East, suspected to be responsible. Skilled, focused, and bent on success, Sarah goes undercover and dedicates herself to taking down the organization. She soon finds, however, that the closer she gets to the action, the more she sympathizes with the group's charismatic leaders.
After the warm reception he received for 2011's Sound of My Voice, director Zal Batmanglij returns to the Sundance Film Festival with this stunning sophomore effort, which marks his second collaboration with the irresistibly alluring, multitalented Brit Marling. Featuring a fantastic supporting cast, including Patricia Clarkson, Ellen Page, and Alexander Skarsgård, The East is a taut and timely thriller that resonates deeply with the complexity of today's explosive socioeconomic landscape.
"The entire cast, from Alexander Skarsgard to Ellen Page and Patricia Clarkson, have put their everything into the movie and will be "unrecognizable" when compared to the characters they typically play. I think everybody's going
to be surprised to see everyone in this. The characters and the world are very extreme. I don't think anyone is recognizable, if that makes sense." [...] "Everyone in the cast has thrown themselves entirely into their roles. Since none of the actors are extremist anarchists, they all had to put a lot of research into making sure their performances were believable and accurate." [...] "I could not possibly express to you how amazing the cast on this movie is. Alex and Ellen and Toby, they work so hard. They have done so much preparation, it's like we all come to work every day and you feel everyone's devotion to the material. It's a hard shoot. It's an ambitious movie. And it's being shot very quickly. Their work on it is astounding. It really is inspiring." (writer, producer and actress Brit Marling on the cast; Source: www.ifc.com) Sundance Festival Info