Oh yeah, didn't he make a hot Dracula? It sure got Gerard Butler's career off to a good start (at least with me) and he will get us off...to a good start week in 3 of TB withdrawal.
From Sydney Morning Herald, and I swear I posted this weeks ago, even with a video but the SMH has today's date on it so here it is, an interview with Alan Ball.
Is it true you sought out Kwanten to play Jason Stackhouse?
It is. I went to see this movie called

Flicka

, a family movie about a brother and sister and a horse, and he was the handsome, charming, not-so-intellectually developed brother. He was Jason. I called my casting director that day.
So Kwanten is particularly good at playing dummies?
Ryan is tremendously underrated. I think that because he is so good at portraying Jason, who is not the brightest bulb in the drawer, people tend to think that that just must be who he is
…
Ryan is actually really intelligent. He's a really eloquent, deep, smart guy but he doesn't have the vanity to feel like he has to let us know that he is not as dim as Jason. I also admire Ryan's ability in a very clean, very economic way to let you know exactly what his character is thinking.
How do you explain the popularity of vampires?
Somebody asked me, ''Why do people like vampires so much?'' This was right after Obama had been elected and I said, ''Because we just spent eight years being sucked dry by one.''
Tara Buck, our Ginger, has a website, http://www.tarabuck.com/
WMagazine has a current interview with Rutina-
Fans of "True Blood" were probably shocked by the recent season finale's closing minutes when they watched Tara, played by Rutina Wesley (
above
), get shot in the head, causing an online rumor mill to surge as to the fate of her character. While they'll have to wait until season five to find out, they can get their Wesley fix now by heading to the Lucille Lortel Theater in the West Village where the actress is starring in the MCC Theater production of Jeff Talbott's play "The Submission" opposite Jonathan Groff, Eddie Kaye Thomas and Will Rogers. Wesley is Emilie, an actress, whom the playwright Danny (Groff) hires to pretend to be the author of his latest work, a racially charged piece he doesn't feel he can own up to as a gay, white writer. Needless to say, things get messy—and heated.
You trained at Julliard and the Royal Academy of Dramatic Art. Did you originally have a theater career in mind before "True Blood" came along?
I wanted to do it all. I think every actor's dream is to be a working actor, whatever that means. For me, that doesn't mean the fame and fortune of it all; it just means putting food on the table and telling good stories and working consistently. It's tough because you can get caught up in the Hollywoodness and fame of it all. I don't consider myself a celebrity. I'm like, Hey, I'm still Rutina Wesley, from Las Vegas, I'm happily married and I'm very happy to be working, thank you whoever is watching my movies. And I'm very lucky to be with Jeff Talbott and this incredible cast.
It is a pretty amazing ensemble.
And I love being the only girl, which is kind of a bonus.
Why?
Well, I get treated like a little princess. I get to be a little princess and then I get to be one of the boys in the locker room. It's hilarious.
There was also a scene in the third season of "True Blood" that got a lot of attention, you were duct-taped to a toilet and spoke afterwards about how vulnerable that made you feel. How does this compare to that?
They're both hard in their own ways. I think they're both degrading, but I think in a play like this, seven shows a week, it's a lot harder. Because I'm doing it every day. Whereas that was just a day's worth of shooting. We may do more than one take, but once it's done, it's done, it's in the can. But I have to go through this every night.
"True Blood" does really challenge you to go to some pretty crazy places, though. Has there ever been anything where you've thought, "I draw the line here"?
I'm pretty game for anything as an actor and that's because I trust them. The one thing I did get was the orgies and being duct taped to a toilet and the black eyes and all that and I was like, What's going on? Okay. I trust you. This is "True Blood." This is fantasy. So you gotta mix it up a bit. It reminds me a lot of theater because you get to play with these fun props and do these cool things, so it's actually been a lot of fun.
You just got your brains blown out in the season finale a few weeks ago. Was that fun?
That was awesome! (
laughs, ruefully
) It was bittersweet. It was a very hard scene to shoot. There wasn't a dry eye in the house. But it was really cool, because I was like, This is awesome because I get to do all this stuff like blood and yay…and then it was like, What's happening to my character? Am I alive or am I dead? So it's a very scary place to be in, but it's awesome.
A Late Birthday Wish to Stephen Moyer! All the Best!
Season 1 memories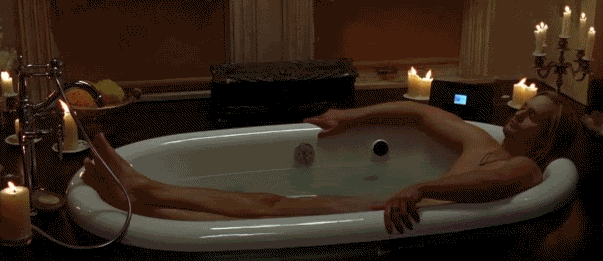 Clip from American Horror Story with Denis O'Hare
From AMNY, used to read it on the train every morning when I had gainful
employment, sigh.
Juilliard School grad Rutina Wesley — who plays Tara Thornton on HBO's "True Blood" — is back in New York starring in the play "The Submission" at MCC Theatre.
Q: How are you woken up in the morning, and how would you like to be woken up?
A: I wake up to my alarm clock, but I would rather wake up naturally.
Q: What's your favorite breakfast food?
A: Kellogg's Almond Cereal with vanilla almond milk.
Q: What's the first thought you have when you wake up in the morning?
A: "Ahhh, another day. I'm alive and healthy."
Q: What is the first thing you do when you get out of bed?
Q: For a vampire visiting New York, how do you think they'd start their "day"?
A: With a nice drink of New Yorker blood.
You can buy Trublood in 19 oz. bottle here, Bevmo.com, 2.99 a bottle.
Joe talks to Access Hollywood
Joe Manganiello is taking a break from his role as the often-shirtless Alcide Herveaux on "True Blood" to play another shirtless beast of a man – stripper Big Dick Richie in "Magic Mike.""[It's] so much fun," Joe told Access Hollywood at the "Rage" video game launch party on Friday in Los Angeles.The actor told Access that playing a man who takes his shirt – or sometimes, a costume – off for the ladies has created some surprising reactions."I've had several requests to save the firemen costume since I started shooting," he admitted. "So if that one disappears at the end…"Before "Magic Mike," which also stars Channing Tatum, Matthew McConaughey and Joe's old Carnegie Melon classmate Matt Bomer, hits theaters next year, Joe will be back on the small screen, this time on "Two and a Half Men.""It was a blast," Joe said of playing Ashton's love rival on the CBS sitcom in an upcoming episode. "Ashton was super cool. I'm a big fan of [creator] Chuck Lorre, and he called me up and wanted me to be on the show. He was really excited, so I said, 'Of course — I'm there.'"And in just over a month, Joe said he'll return to the set of "True Blood.""November," he said of his upcoming "True Blood" shooting schedule. "I'm going to sit down with Alan [Ball] in a couple of weeks and find out what's going on in Season 5."
Chris Bau
er goes Hawaiian! From NY Mag's Vulture Blog
Hawaii Five-0 is starting to turn into something of a destination for actors from supernatural-tinged TV shows. Daniel Dae Kim has been with the rebooted series since the start, and this season has been joined by fellow Lost-ie Terry O'Quinn. Now Vulture hears a regular from HBO's True Blood is planning to spend some of his hiatus time in the Five-0. Specifically, we can report that Bon Temps sheriff Andy Bellefluer's alter ego, actor Chris Bauer, has signed on for an upcoming episode of the CBS Monday night crime drama. He'll play the manager of an off-shore oil rig who finds himself coming face-to-face with Danny and McGarrett when one of his men is murdered. (No word yet on whether the crime is V-related.) In addition to Bauer and O'Quinn, Five-0 has been loading up notable names for its guest gigs this season: Billy Baldwin begins an arc on tonight's episode, while Tom Sizemore, Jimmy Buffett, Robert Englund, and Peter Fonda are all set to visit the island in coming months.
Sweet video with Kristin about her pets, got to People to view it.
This week

Fresh Ink Online host Blair Butler is joined by actor Michael McMillian, who you know as vampire-hating evangelist Reverend Steve Newlin from True Blood. You might also know him from his writing work on Lucid and the True Blood comic series. Here, he and Blair run down their top picks of the week, including The Flash, All-New Spider-Man, Aquaman,Secret Avengers, The Ultimates, Brilliant, and Teen Titans.
Happy Birthday to the numero uno writer of the genre-ANNE RICE, the queen.
From The Melancholia showing at the Lincoln Center NY Film Fest Monday night.
Is this for real? Vamp Cruise w/Nelsan?