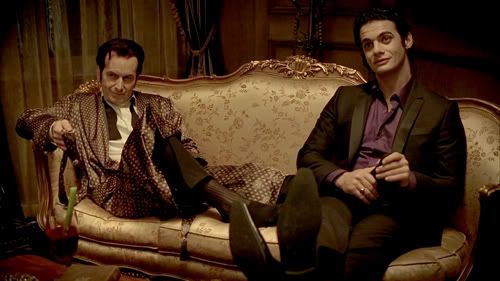 Who better to host our Halloween Weekend than the one, the only recently excavated King of Mississippi?
Russell is a bit of an eccentric (hey, I don't want him ripping out my spine), but of all the Vamps on True Blood he is/was the most elegant. Poor Talbot, cut down in his prime (700 years is considered prime in a vamp's life I'm told), just when he was hoping to get that "Cooking with Talbot" TV show. Russell never felt a wound so deep than losing his life partner and love of his loooooong life.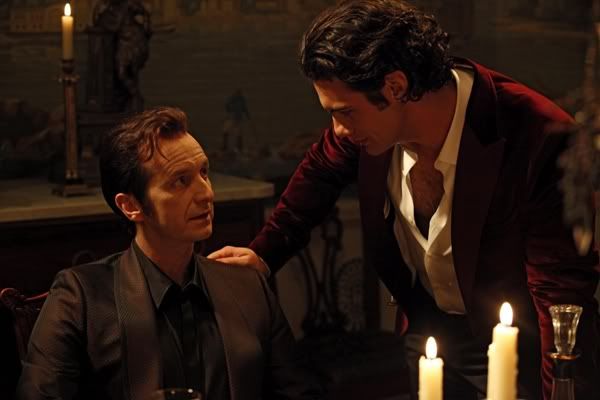 I still miss those two crazy kids together and Talbot sure was pleasing to look at.
Let's see what we have to catch up on, Joe sure isn't letting moss grow on his stones, here he is in Vegas judging a Halloween contest. He is living the life, pics from HauteLiving.com.
10/30 AMERICA IN PRIMETIME
is a four-part miniseries that features in-depth interviews with television's brightest minds. Episodes focus on four archetypes — "Misfits," "Independent Woman," "Crusaders" and "Man of the House" — that shape television's scripted primetime series. Interviewees include Larry David, Alan Ball, Diablo Cody, Alec Baldwin, Steven Bochco, Hugh Laurie, David Chase, Matt Weiner, Norman Lear and more.
(Sundays, October 30 – November 20, 2011, 8:00-9:00 p.m. ET)
HBO's
True Blood
made an appearance at ZomBcom 2011with shape-shifting character Sam Merlotte,
Sam Trammell
, who posed with fans and hosted a Q&A. Slideshow here. Fan write up HERE, pic below.
These get funnier towards the end, love that Sam.
Joe at another Vegas event,
A "True Blood" werewolf was in the house when Joe Manganiello hosted a Howl-O-Ween party at Moon Nightclub inside the Palms on Thursday night. Manganiello sat at a VIP table with his friends and enjoyed the sounds of DJ Mark Stylz and DJ Exodus. Earlier in the evening Manganiello along with some friends enjoyed dinner at Nove Italiano inside the Palms. Manganiello had the veal Nove for his entrée.
More photos at the link for Haute Living above.
Denis talking about American Horror Story, no spoilers-
From the Vault's youtube channel-
Kristin Bauer accepts Best TV Actress Award at Beverly Hills Film, TV & New Media Festival.
From Access Hollywood,Kristin talks about "Once Upon A Time"-
She plays the blood sucking vampire Pam on "True Blood," but this Sunday night, Kristin Bauer van Straten has a new nemesis to tackle, as she heads to ABC's "Once Upon A Time" – and it isn't a fairy named Sookie. As "Sleeping Beauty's" Maleficent, Kristin is set to match wits with an equal – Lana Parrilla's Evil Queen. "The Evil Queen needs to do evil and here and there she has to get the ingredients for this evilness and she's got this frenemy, Maleficent, and they've been kind of helping each other and playing this chess game for years," Kristin told AccessHollywood.com of how she figures into the freshman drama's second episode. "She needs a little bit of help to really wield her power, so she's gotta be able to figure out how to get that from Maleficent."
Kristin explained that the Evil Queen will need her character's help after the plot twist in Episode 1 that sent a baby Emma Swan (Jennifer Morrison) into the real world. "[At] the end of the pilot, [Snow White] has her baby and she puts it in a wardrobe and the baby is safe and that's where, then, the Evil Queen comes to me and she's gonna take it a step further because now she's really pissed," Kristin explained.
The actress headed up to Canada to film her so-far one-episode arc and she said putting on the regal gown and headdress was a magnificent experience. "[I've gotten] a lot of help from costuming in the last couple years," she giggled. "There's no way to not feel slightly evil putting on this purple robe and holding a staff, with an orb.
"I just loved it," Kristin said of her "Once Upon A Time" costume. "I started walking around the wardrobe room already like figuring out. It just gets in your body. It's unbelievable how much help you get from getting dressed up and looking like somebody else."
Beyond "Once Upon A Time," the actress and activist (she's currently working on a campaign to protect chimpanzees —

click HERE

for more information) is heading back to the set of "True Blood" shortly for Season 5, where fans will finally learn about Pam's back story.
"The door is open and it would be really fun to come back [to 'Once Upon A Time']. So we'll see because I'm kind of back in the Pam world and it's going to be amazing," she said. "I just read the first script.
"I can't wait to find out more about Pam and I can't wait to actually keep investigating this world and see how they weave this storytelling and these fairytales and these iconic characters together," she added.
From THR, more at the link
Once Upon a Time
made a splash
with its premiere episode on ABC and the show has only just begun to reveal what's in its bag of tricks.
True Blood's
Kristin Bauer van Straten
guest stars on Sunday's episode as one of the queen's oldest frenemies,
Sleeping Beauty's
Maleficent, and she says that will definitely stir the witch's brew.
How would you compare Maleficent to your other current role, that of Pam on TRUE BLOOD?
I'm not exactly sure yet. But so far there are a couple of difference in how I played it. Pam is very sarcastic and what you see is what you get. Pam to me is one of the only people who always tells the truth at this point, doesn't suffer fools and doesn't worry about being liked at all. When we get into the fairytale world with Maleficent it feels like we could have a bit more game playing and a bit more things are not as they appear.
Does the episode leave things open so that you might return?
Having just recently received the script for [TRUE BLOOD] episode 501 in my inbox, it will just depend on the writers and the shooting schedule. But there are a few months of the year when TRUE BLOOOD is not shooting and ONCE UPON A TIME is so I'm hopefully. I think i've found a niche for the moment that I just love and it's called bitch… and also evil!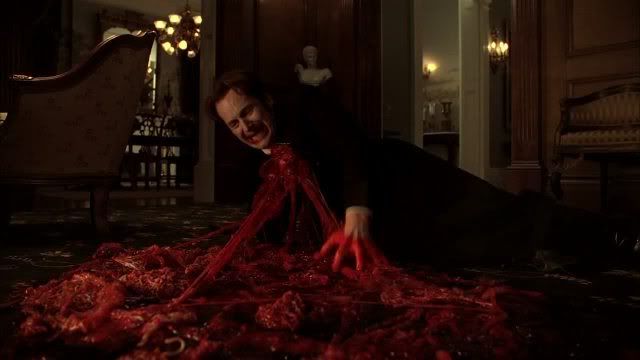 New True Blood season 5 hunters,vampires,werewolves & more arriving on the scene. Alright guys. I told you we had some more True Blood season 5 spoilers,and I'm just going to cut right to the chase because there's a lot going on here, via casting
calls
.
First up, is Rikki who's in her mid 20s, a dirty-beautiful werewolf that demands to know what's become of the pack leader. The role is recurring. Next is J.D. who's in his 50s,and a particularly large Marine-type werewolf that refuses to bow down before the new pack leader. Role is recurring.
Annie In her late 40s, maybe 50, and a powerful, respected werewolf within the pack due to her late son's position. She will be determined to perform a particular ritual. Role is recurring. Judge Clements is in his 50s,and is corrupt. He's also a former athlete whose

body

has been neglected. He radiates power and uses his position to get a speeding ticket for his son fixed. Role is possible recurring.
Rocky is 16 years old and Caucasian. He's a hunter, and Holly's eldest son who doesn't think very highly of Holly. Role is possible recurring. Wade is 14 years old. Also Caucasian, a hunter, and is Holly's youngest son who is still willing to give Holly the benefit of the doubt. Role is possible recurring.
Danielle is a female werewolf that wonders how much longer a prisoner is going to last under interrogation. Role is possible recurring. Kenneth is a male werewolf that thinks a prisoner is stubborn and may not crack soon. Possible recurring role.
Cat is 40, and a vampire with no sense of

humor

. She's part of an underground railroad for vampires. Role is possible recurring. Cammy is a sorority girl with an especially hot body,and takes a liking to Jason at a party and assumes they'll be having sex. It's a guest role,meaning she'll probably get killed fast.
Zander is a particularly handsome frat boy,and feels an instant attraction to Jessica at a party. They enjoy playing Rock Band 3 and singing a

Jimi

Hendrix

song together. Frat boy number 1 is a dude that enjoys playing drinking games at a party.
Sorority girl number 1 attends a house party and declares Jessica the coolest vampire she's ever met. Hayes is a large vampire of Eastern European descent, and is dispatched by the Authority to give the True Death to some other vampires.
Buddy is in his early 20s, and is a road crew member and a

friend

of Hoyt's. He mocks Jason with the other guys. Donnie is team captain number 2,and is seen in a flashback. He's a 6th grade boy that bullies Sookie and is very angry and disturbed when she reveals something private about his life.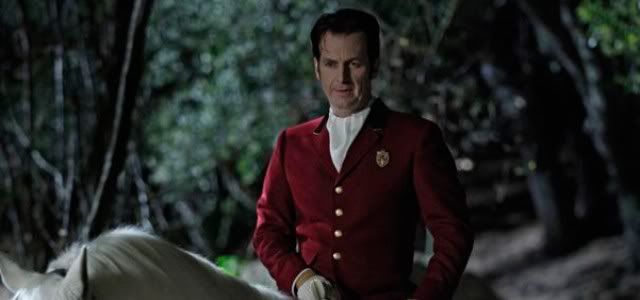 IDW Announces True Blood Ongoing, it's a longer read at the link, ComicBookResources
Since the first issue launched in July of 2010, the TRUE BLOOD comic books have become one of IDW Publishing's most popular titles. Fans of the hit HBO show were excited to have new, unique stories featuring their favorite characters. In an e
ffort to give Truebies what they
crave
– more Sookie, Bill and Eric – continuously through the year, IDW and HBO will launch the first-ever ongoing TRUE BLOOD comic series in spring 2012, featuring new series installments each month.
So just how does "True Blood's" Stephen Moyer spend Halloween? Sometimes, he takes his work home with him...
"For the first year of the show, because the show wasn't massive at the time, I just thought that it'd be funny to dress up and do that," Moyer tells PopcornBiz of dressing up as his "True Blood" alter ego Bill Compton for a round of parties in Los Angeles. "You do get people going, 'That's good – you look just like the guy!' You go, 'Oh, thanks.' So I did do that – I wouldn't do it now, but it was funny at the time."
Despite being surrounded by vampires, werewolves, shape-shifters, fairies and other supernatural beings on a regular basis while filming the show, Moyer says he and wife Anna Paquin still get excited around Oct. 31.
"One of my favorite things every year post-Halloween is that we get sent pictures [from HBO] of all the Bills and Sookies that go to Halloween parties around the country," says Moyer. "I've seen hundreds and hundreds of them. It's very funny. Of course the ultimate sort of I suppose compliment is that Ed Helms played Bill in an episode of 'The Office.'"
Moyer, who last year dressed as

Playboy

publisher Hugh Hefner, says he'll be hitting a favorite Halloween party – but without his wife. "There's a good friend of ours called Michael Dougherty, who wrote 'X-Men 2' and is a great filmmaker in his own right – he did a film called 'Trick 'R Treat' with Anna. He's a very clever boy, and he has this amazing Halloween party where everyone dresses up. We're not going to be together this year because my company and myself are producing a film that Anna is working in right this second down in Florida. So I will be going with my daughter. She will by my scene partner this year, as she always is at Halloween."
The actor next has his own non-"True Blood" role ahead, in the spy thriller "The Double" opposite Richard Gere and Topher Grace. "It has a lot of homage to a certain style of filmmaking from the '70's and espionage thrillers John Le Carre and everything from the '39 Steps' to 'Spy Games,' or my favorite, 'Three Days of the Condor,' that kind of thing," the actor says. "And there's a lot in common with this and a film called 'No Way Out,' one of Kevin Costner's early movies. It's a fantastic film, and in fact they showed, Michael showed 'No Way Out' to the crew the night before we started shooting because he wanted to give everyone an idea of the color that he was trying to paint with."
Until then, if he ever decides to go trick or treating in character as Bill again, Moyer wonders about the response he'll get. "Maybe they'll say something like, 'Oh, you look like Ed Helms from "The Office."'
HollywoodLife.com chatted with Pam herself about next summer's big premiere — find out what made her gasp!
True Blood's fifth
season premiere
is still more than six months away, but
Kristin
says the first scripts have already been sent out — and they're good. "I just read the script, we got it yesterday," Kristin told
HollywoodLife.com
on Oct. 26 while promoting her appearance on the Oct. 30 episode of ABC's
Once Upon A Time
. "I saw it come into my
email
and it said
'
script 501
′
and I literally [gasped.]
"
News of the premiere's title, "Turn, Turn, Turn," broke that same day — and Kristin says it couldn't be more appropriate.
"After I read it twice, I noticed the title and thought, 'Oh my God, that's perfect!'" she told us. "It's so brilliant how each story line, from where it left off at the end of last year, hits a major fork in the road that we're launched into for the first episode of the new season. It's very exciting."
Of course, Kristin couldn't reveal

exactly where those forks will take us, but when I asked if there were some major changes in store for Pam, she literally responded with an evil laugh. And it was amazing.