The weeks turn into months, this is only the first one. Katerina welcomes you and will be our host therapist for week 4. Vamp was a perfect showcase for the brillance that is Grace Jones.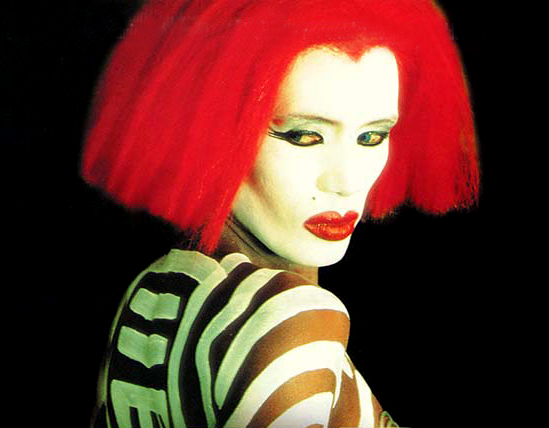 This is labeled as a spoiler, it's really isn't as we fans could figure it out easily. According to Hollywood Crush, Skarsgard said the following about the potential for season five: "That's been fun. Stephen is awesome. I love working with him. It's an interesting dynamic between those two guys, those two characters. I could see that. I don't know. I haven't read—they're breaking season five now, so I don't know what's going to happen, but I'm sure there's going to be some nice Bill and Eric moments."
There's an article at Moviefone about "Mulholland Drive" 10 years later where they ask different people in the biz of show about what they thought of the movie. They asked Askars and this is what he said-
Alexander Skarsgård -- ('True Blood,' 'Melancholia')
I saw it in the theater ten years ago. I remember I was very moved by it. And like, "What the fuck just happened?" -- that kind of thing. "What did I go through? What was that? What's he trying to do to me? David, why are you fucking with my head? What's going on? Get out of there!"
Does Denis O'Hare look snazzy or what? Much better than as Larry the Burn guy on AHS.
The last time you appeared on stage was in Winter Miller's In Darfur at the Public Theater in 2007. Why such a long absence?
Rutina Wesley: I haven't really been available, or I would just miss out on plays because of date issues. The Submission is really, really, really exciting, and it fits into the "True Blood" hiatus perfectly. I've been itching to get back on stage, and I'm especially excited to be doing a brand new play.
Now that you're returning to the stage with a new level of notoriety thanks to "True Blood," do you feel any added pressure because of extra scrutiny from critics and fans that might only see the play because they love Tara?
RW: I do feel a little added pressure because now I have fans and yes, some people will come because of "True Blood." But that's not a bad thing. I like that maybe I can bring people into the theatre who wouldn't normally come, and I like that people will be able to see me do something other than Tara. I have had people come up to me and say, "You're nothing like Tara and I was watching for it!" That's a great thing to hear.
Tara was shot in the head in the final moments of the recent "True Blood" season finale cliffhanger. Considering that half of her head is gone, is it safe to say that you might have more time for theatre opportunities next year?
RW: I will be back to "True Blood," but I just don't know in what capacity. No matter what, I will always try and come back to the theatre, because it's what I really love.
If there's one thing we love here at heatworld, it's a photo of a nice sexy man in a tight T-shirt. Thank God, then, for True Blood hottie Ryan Kwanten being signed up as the new face of clothing brand Mambo. While we actually prefer Ryan sans all his togs, this picture does at least give us an opportunity to have a nice Sunday-afternoon ogle and subsequent drool.
Ryan, who is an Aussie and lifelong surfing fan (hence the hot bod), says he's been wearing Mambo stuff since his childhood, so it makes sense for him to represent the brand. But where are the photos of him actually in the surf, eh? That's what we want to know!
The former Home And Away (he was Vinnie) and current True Blood (he's the naughty and often-naked Jason Stackhouse) star is currently working on comedy Not Suitable For Children, about a guy who finds out he has testicular cancer and only has two weeks to get a lady pregnant. Talking about the role to Men's Health recently, the actor revealed, "My character is a free-spirited rogue who holds crazy parties every Saturday night. At one party we see my character enjoying himself with a young lady. She discovers a lump - and it turns out he has testicular cancer. It explores the male biological clock, and how we too have a clock that's ticking. We want kids, too, as much as our bravado and our ego won't allow us to admit it."
This comic plot, French Quarter Issue 3, sounds better to me that season 4 of the show's.
Bill Comption is on his own, investigating the recent Hep-D outbreak in New Orleans' vampire community—and the only link between the victims of the debilitating blood disorder and an 800-year old vampire serial killer is a New Orleans police detective who hates vampires. But it's Eric Northman who makes a discovery about the serial killer's identity that blows the case wide open. And Sookie Stackhouse is in the middle. Again. Back in Bon Temps, what happens in Fangtasia stays in Fangtasia, especially when Lafayette's behind the bar
This is from the weekend's Spooky Empire, the TB Panel, thanks to SpiritoChris of Youtube for uploading it! It's in 5 parts, here's just a couple.
Celebuzz has photos of Joe Manganiello from his Extra appearance.
Alex is on the November cover of Out Magazine
Alexander Skarsgård vs. Jonas Åkerlund
What is it about Sweden that is making this far-flung country of less than 10 million people so culturally relevant right now? From Robyn and the Knife to the The Girl with the Dragon Tattoo, Sweden has leaped ahead of its European neighbors and infiltrated America's mammoth entertainment machine. We invited Alexander Skarsgård, best known for his role in HBO's lusty drama True Blood, to sit down with director Jonas Åkerlund -- whose seminal videos have included Madonna's "Ray of Light," Christina Aguilera's "Beautiful," and Lady Gaga's "Paparazzi," (which starred a then–largely unknown Skarsgård as Gaga's paramour) -- to help answer the question.
Out: As Swedes abroad, both working in the entertainment industry, you must feel like the go-to spokespeople for Sweden.
Alexander Skarsgård: I love my country. I always love talking about it, especially as an expat. When you live there you bitch about everything, but when you move away, all you remember is how amazing and wonderful it is. You remember all the sunny days and forget the rainy days. Read the whole thing here, it's 3 pages.