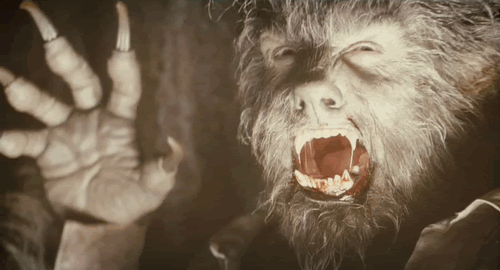 I like werewolves who are more than just wolves myself, though I am a doggie lover. Let's give the old timey werewolves of cinema some love as we go into week 6 of TB withdrawals.
Joe is on Two and a Half Men Monday the 24th of October.
The Vault has a scan of the TV Guide article on Joe HERE and more.
Syfy uber Deutshland has some good interviews up that they made at Ringcon on youtube HERE.
There are more of Sam, Nelsan and Blondie Allen at the youtube link, and an Askars one (from last year) is on their site.
MTV's Hollywood Crush is talking to Joe about Magic Mike and nudity, what else, right?
"[Everyone is] pretty damn naked, and probably more naked than in 'True Blood' even, if you can believe it," Joe told us. "There are some dicey, dicey scenes in there. A lot of girls get naked too.
"It's unbelievable, and it's so funny. It feels like 'Animal House.' It's hysterical, it's like a great guy, buddy movie but it's also got a lot of stuff for the ladies," he said. "It's got a little bit for everybody. It's hysterical, like laugh-out-loud screaming funny."
True Blood Fan Source has an interview with Denis, he talks about AHS and much more, it's all at the link.
W
ere you a fan of True Blood before you landed the role of Russell?
Completely. I fell in love with it when I watched the first 4 episodes in a burst. A friend had a boot-leg and my husband, Hugo, and I tore through them one night.
How did you get involved with True Blood?
I got a phone call out of the blue. I was in Budapest filming a movie called The Eagle with Channing Tatum and Donald Sutherland when I got a call from my agent telling me that they wanted me to play Russell. It was thrilling.
Russell Edgington is one of the most popular characters in the True Blood series in part because of the way you played him. In the season 4 finale, Russell was freed from the concrete. What are you looking forward to or hoping to doing when filming resumes for season 5?
We have great writers on True Blood so I know I'm in good hands. Anything I could come up with would pale in comparison with what they'll invent.
The scene where Russell killed the television anchorman made a number of top 10 lists for television that year. Which scene was the most fun for you to film on the show?
Believe it or not, that scene was not all that fun to shoot. I took that scene very seriously and the experience of doing it was a painful one for the character of Russell – the state he was in and the state I had to get myself in was fairly brutal and intense and it was exhausting. For me the most fun scenes were the scenes in my house with Bill (Stephen Moyer) andSookie (Anna Paquin). There was some really great writing and I remember really enjoying being on that set.
You worked with quite a few cast members during Season 3 but is there anyone you would really love to have a scene with on the show?
I never got to have a scene with Sam Trammell (Sam Merlotte) or Nelsan [Ellis] (Lafayette Reynolds) or Carrie Preston (Arlene Fowler) or Chris Bauer (Andy Bellefleur) and I'd love to work with all of them. Who knows?
You can vote for True Blood HERE for a People's Choice Award, listed under favorite cable tv drama.
From Dog Soldiers, I watched it because I am a Jason Kidd fan and was delighted it turned out to be a werewolf tale too!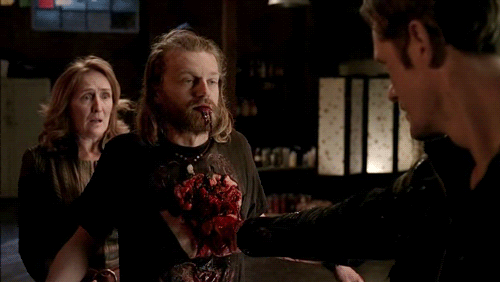 Some old photos for us to remember some other seasons of TB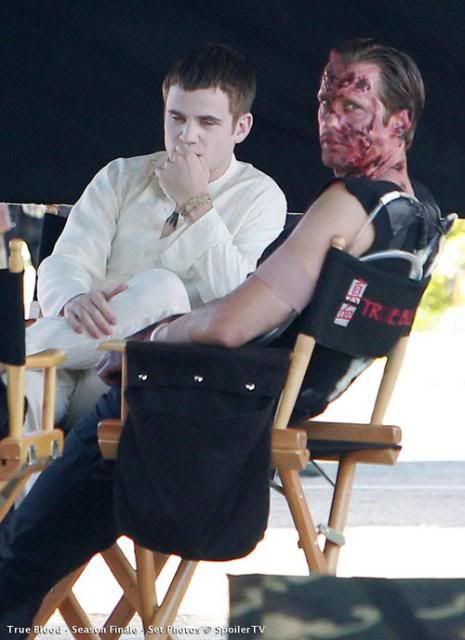 Still looking for the perfect Halloween costume? Let True Blood® inspire you. Shop now.
As he did last year Joe is doing Halloween events.
Saturday, October 29th
9:00pm
The Shops at Mohegan Sun
FREE EVENT!
Tis the season for vampires and werewolves this Halloween weekend, as Mohegan Sun's Signings & Sightings presents an event you can sink your fangs into. Joe Manganiello, star of True Blood, takes part in a free signing event as well as a special appearance at the Diva Days & Diva NightsCostume Dance Party. Don't miss your chance to get up-close-and-personal with this charming werewolf heartthrob.
Video preview with Denis OHare for the next AHS, I tried but couldn't embed