It's only week six of our truebloodless vacation, we deserve something hot and sexy, we deserve some Spike! Talk about missing a TV show, I still miss me some Buffy and I think I always will.
Remember the lovely twisted Drusilla? Wouldn't she be a splendid addition to Bon Temps society? Pam and Dru could shop till they dropped some poor fool who dared to look their way. I can dream, can't I ?
Speaking of Miss Pamela, here is Kristin Bauer in her role of Maleficent coming up this Sunday on "Once Upon a Time" from EW. Beautiful as always. This sure would be a great Halloween costume.
WOOOTTT! Thar Be Spoilers! Thank you Rhoswen7, you come through for us all again
.
Holy casting notices! Here are a bunch for episode #501, and we also have a title: "Turn! Turn! Turn!":
TRUE BLOOD, Episode #501, "Turn! Turn! Turn!"
Director: Daniel Minahan
Writer: Brian Buckner
Start Date: November 28
Location: L.A.
[RIKKI] In her mid 20s, a dirty-beautiful werewolf, she demands to know what's become of the pack leader. Recurring.
[J.D.] 50s, a particularly large Marine-type werewolf, he refuses to bow down before the new pack leader. 1 scene. Recurring.
[ANNIE] In her late 40s, maybe 50, she's a powerful, respected werewolf within the pack due to her late son's position. She's determined to perform a particular ritual. Recurring.
[JUDGE CLEMENTS] 50ish, corrupt, a former athlete whose body has been neglected, this judge radiates power and uses his position to get a speeding ticket for his son fixed. 3 speeches & 2 lines, 1 scene. Possible recurring. [ROCKY] 16, Caucasian, a hunter, he is Holly's eldest son who doesn't think very highly of Holly. 7 lines, 1 scene. Possible recurring.
[WADE] 14, Caucasian, a hunter, he is Holly's (Lauren Bowles) youngest son who is still willing to give Holly the benefit of the doubt...5 lines, 1 scene POSSIBLE RECURRING (22)
[DANIELLE] This female werewolf wonders how much longer a prisoner is going to last under interrogation. 1 line, 1 scene. Possible recurring. [KENNETH] This male werewolf thinks a prisoner is stubborn and may not crack soon. 1 line, 1 scene. Possible recurring.
[ CAT] 40, a vampire with no sense of humor, she's part of an underground railroad for vampires. 2 lines, 1 scene. Possible recurring.
[CAMMY] This sorority girl with an especially hot body takes a liking to Jason at a party and assumes they'll be having sex. Guest star.
[ZANDER] A particularly handsome frat boy, he feels an instant attraction to Jessica at a party. They enjoy playing Rock Band 3 and singing a Jimi Hendrix song together.
[FRAT BOY #1] This frat boy enjoys playing drinking games at a party. 3 lines, 2 scenes.
[SORORITY GIRL #1] She attends a house party and declares Jessica the coolest vampire she's ever met. 3 lines, 2 scenes.
[HAYES] A large vampire of Eastern European descent, he is dispatched by the Authority to give the True Death to some other vampires. 3 lines, 2 scenes. [BUDDY] In his early 20s, a road crew member and a friend of Hoyt's, he mocks Jason with the other guys. 2 lines, 1 scene.
[TEAM CAPTAIN #2 / DONNIE] Seen in flashback, this 6th grade boy bullies Sookie and is very angry and disturbed when she reveals something private about his life. 3 lines, 1 scene.
[TEAM CAPTAIN #1] Seen in flashback, this 12-year-old boy is a bully who doesn't pick Sookie for his kick ball team. 1 line, 1 scene.
TVLINE has some goodies too! I also would love to see Alcide's sis again too, the actress is no longer on Vampire Diaries, she got killed.
The fifth season of

True Blood

promises to be a hairy one — the show is hunting for actors to play werewolves galore, including one who sounds suspiciously like he could be Alcide's father!
The lycanthrope in question, J.D., is said to be a hard-bodied fiftysomething who isn't likely to share a water bowl with the new pack leader anytime soon. And since 1) that sounds a lot like Alcide to begin with, and 2) his pop features prominently in Charlaine Harris' fifth Sookie novel, well, you can do the math!
My picks to play the part? Maybe Andy Garcia? Mitch Pileggi, who just took another recurring role in the

Dallas

reboot… or what about Mr. Intensity himself, Vincent D'Onofrio?
We'll also be meeting: former pack leader Marcus' mother, Annie; a hot young she-wolf named Rikki who's determined to sniff out the deceased's fate; a couple of beta dogs charged with interrogating someone (my guess? Sam); Holly's teenage sons, Rocky and Wade; a corrupt judge (aren't they all?); a humorless vamp named Cat (to… balance out the canine/feline ratio?); and a couple of sexy spoilers for Jason and Jessica's romance.
Add all that to what we already knew — that Salome (yes,

the

Salome) will feature prominently in the season, and so will Eric's vamp sis, Nora — and it's obvious that we're in for another jam-packed season.
Teeny bit from Eonline's Kristin
Reagan: Any True Blood scoop? I am missing Alexander and his hot shirtlessness.
Wait, Alexander has gone shirtless? When? A source tells me Alan Ball is tearing down the Moongoddess set right now, so witches are definitely out for the upcoming season. We happy about this?
Stephen Arriving at the Halo Awards
Hope some duo does up Halloween as Terry and Arlene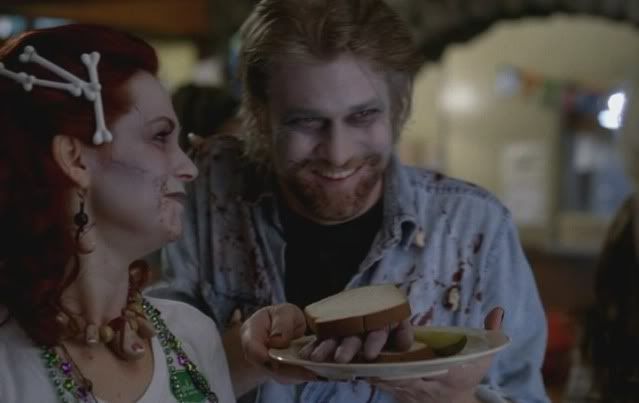 The Vault interviewed Dale Raoul and she wishes us all Happy Halloween
Stephen and Topher Grace talk about their new movie, "The Double".
Trailer from Alexander's movie "13"
This one is from MTV, with the wonderful Michael Shannon of Boardwalk Empire