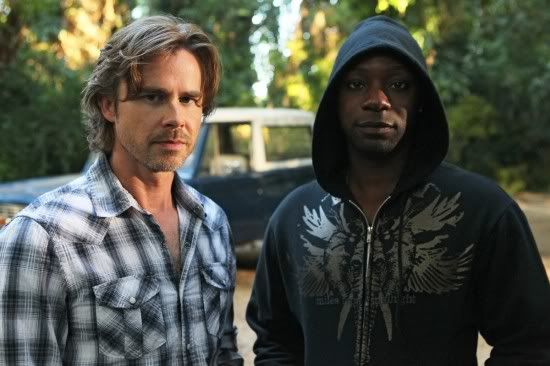 Wonder if Lafayette will ever cook at Merlotte's again?
Starting a new week with new hopes and dreams, what else can a human do?
Why didn't Sookie let Jason shoot? Oh Sookie sometimes I want to bamzoom to the moon with you. Stephen directing, nize.
Sam Trammell and City Year Los Angeles AmeriCorps members attend the City Year Los Angeles' Spring Break: Destination Education at Sony Pictures Studios
Source: Jonathan Leibson/Getty Images North America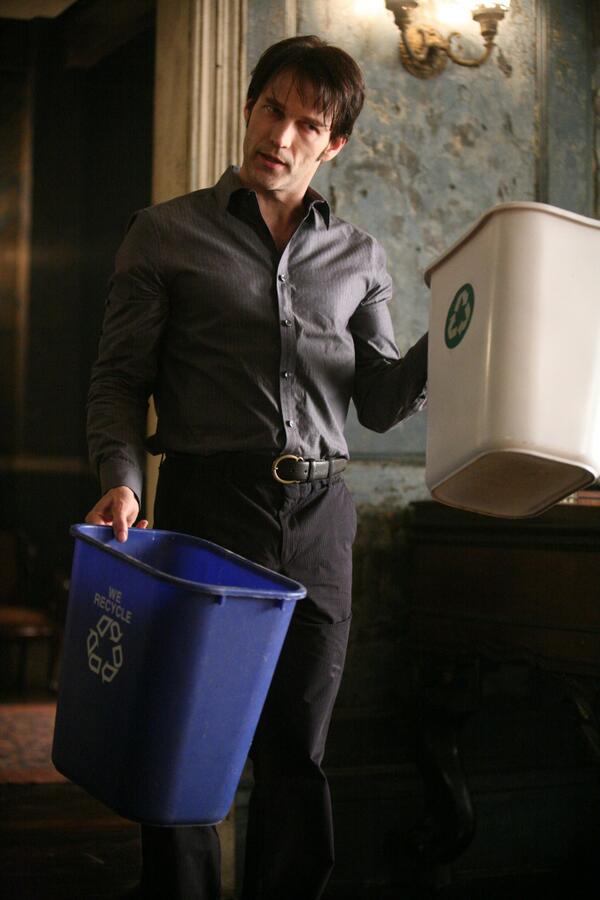 The best Bill, the one with Civil War era sideburns teaching recycling this Earth Day.
Joe Manganiello has been acting for a long time, but his role as Alcide Herveaux on HBO's "True Blood" catapulted him into success -- and garnered the 36-year-old A TON of female fans. Still, the Hollywood heartthrob doesn't seem fazed by fame. To be honest, it sounds like he works hard for each and every role he gets and hopes to perform to the best of his ability. Come on, this guy works out twice a day, six days a week! Now that's dedication.
Manganiello chatted with HuffPost Celebrity as he celebrated the U.S. launch of Magnum Gold?! Ice Cream at the premiere of the short film, "As Good As Gold," during the Tribeca Film Festival in New York City on April 18.
What's the craziest thing a fan has ever done to get your attention?

I think you have to just look at my Twitter! But [one time], I was in the Sistine Chapel and you're instructed before you walk in to stay quiet, don't talk, don't take pictures. And of course I'm in there, you know, looking at the ceiling and someone runs up to me and starts screaming at the top of their lungs, 'Can we take a picture, can we take a picture!' And the security guard started walking over and I'm literally going into this mind sign language act of like 'I can't take a picture with you.'
Embarrassing or no?

Umm, for them!
What's your guilty pleasure?

Magnum Gold bars! No, I'm a big ice cream fan. I do [eat ice cream a lot] when I'm not training for various figurines of nudity.
What shows are always on your DVR?

Other than "True Blood," I'm a huge "Breaking Bad" fan. I love "Breaking Bad." I like "Mad Men." I'm a huge football guy, so I'm just football all day, every day when I'm in season. And I just started watching "Magic City," I just watched the first eight episodes and they're fun. It's a good show.
If you weren't an actor, what would you be?

Well before the acting bug hit, I was getting ready to play college basketball and study to go into the FBI. I was going to go into Federal Law Enforcement. But I just did a movie, coincidentally, where I got to play a DEA agent, so I got to live out a bit of that, which was great.
What's always on your nightstand?

As a wrap gift two years ago, [someone] got me a little wooden statue that someone made in Ohio … he mailed away for it. It's a little wooden Alcide statue with a little flannel shirt and the jeans and the beard, so I have that sitting right on my night stand.
And then you nabbed the role on "True Blood," and then you played a stripper in "Magic Mike." What would be your dream role?

Like I said I just filmed this movie with David Ayer and Arnold Schwarzenegger and Terrence Howard and Sam Worthington and I got to play a federal DEA agent and that was awesome, that was great. And aside from that, I'm in talks, well depending on my schedule, I have this football movie coming up that I've been offered a part in. But we're trying to work my schedule out, so that would be awesome.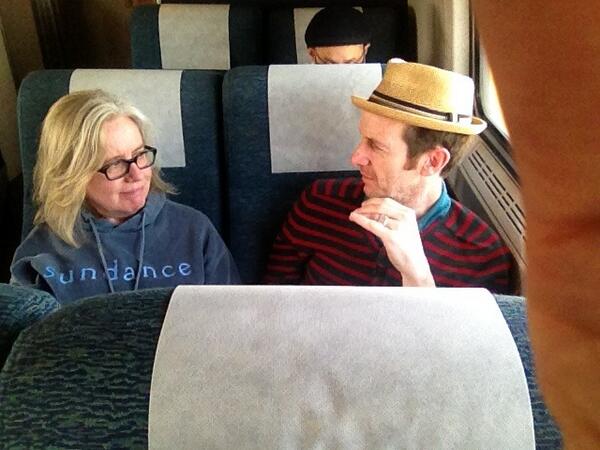 My co-writer Lisa and I on the train to Boston.
SHOW INFORMATION- APR 27 - MAY 04, 2013ArtsEmerson & Homer's Coat
present AN ILIAD
Location Paramount Center Mainstage, By Denis O'Hare and Lisa Peterson
Based on Homer's Iliad, Translated by Robert Fagles, Directed by Lisa Peterson
Starring Denis O'Hare
Denis is in Boston and tweeted this photo
Carrie talks about Season 6 with ET, I forgot about the smoke monster storyline so didnt realize they had to wrap it up. Ok, I blocked it all out but Arlene and Terry got dragged into the storyline and I love their characters. The whole interview is at the link.
ETonline: Lots of behind the scenes changes coming into season six, with the exodus of showrunner Alan Ball and a shortened episode order. How do you think all of that has played into what we'll see on screen?
Carrie Preston: There's a different energy without Alan, but the showrunner now has been with us from the beginning, so there's a solid continuity to the storytelling. But I do think both of those things have given us a new spring in our step. All the actors are reinvesting in the show. As for the 10 episodes, I think it makes everything tighter. They still have to get everything they wanted to do into two less episodes, so it's got a real breakneck speed this season.
ETonline: She also represents the human element in Bon Temps. Do you still stand by your statement that Arlene should never become a supernatural?

Preston: Oh yes. And with people dying or leaving the show or being turned into supernatural creatures, there's fewer and fewer humans by the episode, so I feel like I'm now the special one on the show because I don't have any powers.
ETonline: What can you say about season six?

Preston: We pick up right where we left off, and then a million other storylines get introduced. Every time I come to the table read there are 15 people I've never seen before ... and will never work with [laughs]. But I'll see them at the wrap party.
ETonline: So Arlene and Terry will very much be dealing with the murder of Patrick at the start?

Preston: Yes, there are major emotional ramifications for what went down. I mean, we killed somebody. MORE
You can read the Prologue to Dead Ever After HERE, here's a tidbit, Warning Book Spoiler, reading the whole thing, it sounds pretty devilishly good.
"So Amelia had been talking to someone about a cluviel dor," the devil said. "That led her to bring it up with you. How interesting. No one's had one for . . . well, in my memory. A cluviel dor would have been made by the fae . . . and you understand, they are not tiny, cute creatures with wings."
Carmichael nodded. "I'm astounded to discover what exists out there," he said. "I have to believe in fairies now. And I have to consider that maybe my daughter isn't such a screwball after all. Though I think she's deluded about her own power."
The devil raised his perfect eyebrows. There seemed to be more than one deluded person in the Carmichael family. "About the cluviel dor . . . the fae used them all. I don't believe there are any left on earth, and I can't go into Faery since the upheaval. A thing or two has been expelled out of Faery . . . but nothing goes in." He looked mildly regretful.
"There is one cluviel dor available, and from what I can tell, it's being concealed by a friend of my daughter's," Copley Carmichael said. "I know you can find it."
"Fascinating," the devil said, quite sincerely. "And what do you want it for? After I find it?"
What Maisie Knew
is coming to Vine! Be sure to follow us @Millennium_Ent for exclusive mini-videos from our cast and crew!
Want a truly incredible way to get closer to your favorite True Blood star Ryan Kwanten? Forget autographs and vampire slaying memorabilia, here's something more, saaaay...supernatural (almost). From a lock of Ryan's hair,
SKY and LIVI
has created a stunning 0.76ct blue diamond set in an 18K white gold pendant to benefit Look Good Feel Better and it could be yours! Incredible, indeed! BID HERE
Yes, in honor of his mom, who battled and survived breast cancer, Ryan has created a SKY and LIVI personal lab-grown diamond. SKY and LIVI is dedicated to helping women experiencing the hair loss side effects of chemotherapy by creating, just for them, a real, lab-grown diamond from the hair they've lost in chemo.
Ryan tweeted last week that he would be on Dan Dunn's (The Imbiber) Happy Hour show on Siriusxm, now Dan has posted some photos to his facebook. They were at the Basement Tavern in Santa Monica.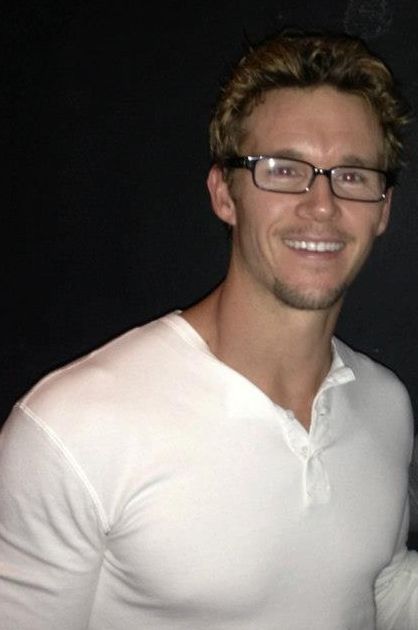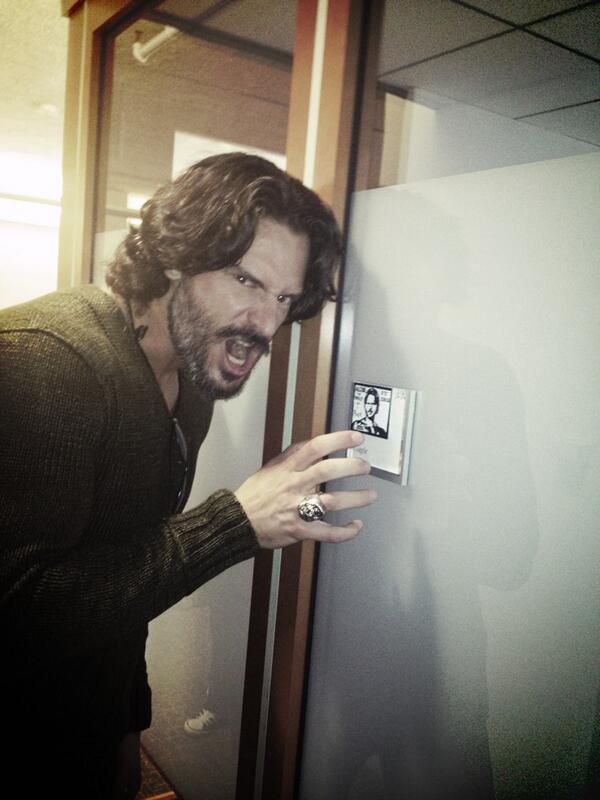 EW tweeted this pic of Joe in their offices.
Last night on TMZ I saw Jim Parrack ex-Hoyt in a video, they didnt seem to notice him at all.
'Hunger Games' Star-No Sequel Payday