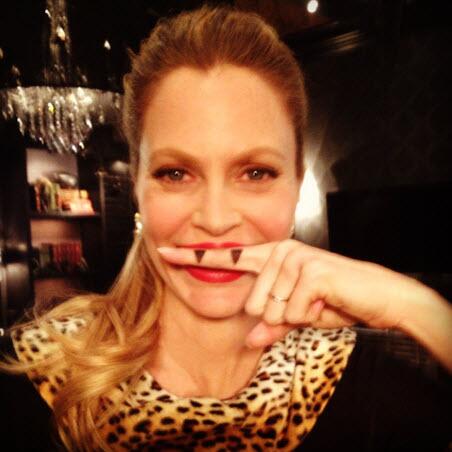 ETonline has an interview with Kristin about Season Five, it's all about the DVDs.
ETonline: You spent a large chunk of season five working with new actors, was it odd not to share all your scenes with Alexander Skarsgard, Anna Paquin and Stephen Moyer?
Bauer van Straten: Very! I loved working with new people, but I did miss my usual crowd -- especially Alex. I would visit The Authority set when I was done filming my day just to hang with my peeps. I had so much fun with Alex and Stephen and Anna. I mean, that's who I started the show with. The first episode I ever did was us four, that's what feels like home to me. So I really missed them, but I loved getting to know Rutina [Wesley, who plays Tara]. MORE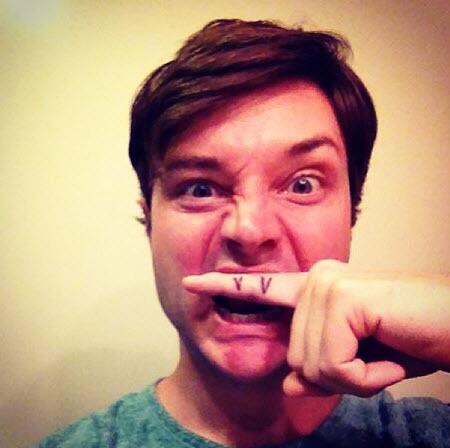 Extended Season 5 Recap, some of the best bits.
New promo, some scenes we've seen before but a bit more framage, now I can see it isn't Tara being dragged by rednecks. My town had a black out at 3:15 today just as I started a new post, dang, I was in the middle of a few chores that required electricity. I called friends in NYC, after I pulled the old landline phone out of the closet because I was fearing the grid went down again but they all had power. What a relief and then it was nap time till it came back a bit ago.
New website as well showyourfangs.com. Fangs out, Truebies
The battle begins on June 16th at 9PM, when True Blood Season 6 premieres. Tweet or Instagram a photo of yourself using #ShowYourFangs to tell the world that you stand with the vamps.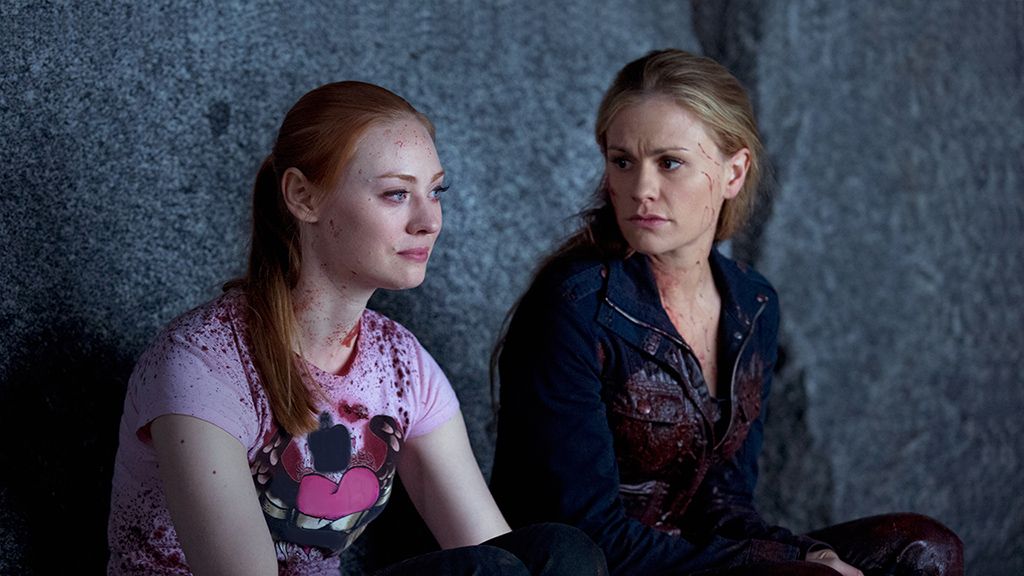 in the promo Jessica's shirt is partly ripped down the front, so this must before she's tortured or interrogated. From HBO.com
True Blood': Alan Ball, Set Designer Reveal Vampire Authority Secrets (Exclusive Video) More at The Hollywood Reporter.
Steaming ahead in season six of True Blood and appearing in the upcoming X-Men: Days of Future Past, Anna Paquin has never been hotter.
"Sleep's not a very big part of my life right now," admits Anna Paquin, star of HBO's sexy sensation True Blood, who is surprisingly clear-headed, given that she's spent the bulk of her day working on the series' set, breaking somewhat late in the evening to speak with me before turning her attention back to her husband, co-star Stephen Moyer, and their 9-month-old twins at their home in West L.A. "But that's fine. It's kind of part of the deal."
The demands of Paquin's career, which has hit a highly productive sweet spot, stretch her waking hours thin, maybe even more so than the requirements of first-time motherhood. But from the sound of it, she wouldn't have it any other way.
"This is one of the jobs where you don't get to pick the timing, and when it rains, it pours," explains the actress, who at age 30 is one of television's most popular stars, with a film career on the upswing. "When there are interesting things happening and interesting people you want to work with, you kind of jump on it and figure out the details, which thankfully have all kind of fallen into place. And then I've had a really, really awesome last few months."
First and foremost, there's True Blood, the show that, even after her steady career as a child actress, made her a bona fide star. She returns for the soaplike series' sixth season, debuting this month, to play out the continuing saga of Sookie Stackhouse, the pert and plucky roadhouse waitress whose beguiling faerie ancestry serves as a sort of sexual catnip for a variety of vampires, lycanthropes and other hunky members of the supernatural—and usually shirtless—cast.
Building on the blueprint of the heroine provided by novelist Charlaine Harris' Southern Vampire Mysteries series and transfused to TV by Six Feet Under creator Alan Ball, Paquin deftly delivers Sookie as simultaneously strong-willed and vulnerable, sensual and sweet, exotic and down-to-earth, keeping her Golden Globe-winning performance rooted to what's written on the page. "I read the books and obviously that was very helpful, but [TV's] Sookie was created by Alan and our writers—the way she has grown has felt like a natural and collaborative process," says the starlet, who loves the character's fearlessness and strength. Longer interview is HERE