Come sit and have a drink with us, hasn't this been the least dry spell as far as hiatuses go? Not only has the cast kept busy though it but the casting calls look good, the new guest actors are primo and hot, Rhoswen7 is on fire, Barbara is sleuthing locations. I'm content and look forward to S5, so far.
Carrie Preston tweeted this article from Salt Lake's Tribune about her film, "That's What She Said", it's showing at this season's Sundance Film Fest.
Congratulations to Anna for her Best Actress Award from the London Film Critics Circle, she share the award for "Margaret" with Meryl Streep. From Deadline.
Re-posting this from Tuesday's blog-
Another interview with Valentina Cervi-
Starting today the American Journal of Valentina Cervi, the first Italian actress to play a leading role in a U.S. series, the cult

hit

True Blood
.

Daughter and granddaughter of artists, Valentina will be busy filming in Los Angeles for the next six months and speaking exclusively on our site about meetings, anecdotes from the set. Photo by Fabio Lovino
1 -

Table read

,

This is the first meeting with my new team.

About thirty actors listen to the brilliant producer, Alan Ball, giving information on new episodes of True Blood

.

At his side, the director and writer of the episode.

Start reading, am a little 'scared.

It's always the same the first time: it is still a beginning, a start.

Listening with curiosity to the voices of my "fellow vampires."

"How good they are," I think I recognize the characters, the shades, "feel" the characters.

It is an easy read, but there is already clearly the flavor of the series.

It is a united team, working together for several years: I tremble at the thought of my speech ...Then I look up and, before me, at the other side of the round table, I see

Anna Paquin

, protagonist of the previous four seasons of

True Blood

.

I get distracted for a moment: I remember her first film, the child of

The Piano

, and I think that - in the space that divides us and brings us together - there's

Jane Campion

, the director with whom I also I made ​​my debut (in

Portrait of a Lady)

: we both are deeply indebted to her.

Funny, I relax. This strange
coincidence somehow reassures me and gives me the courage to go ahead.
It's up to me to read: "Welcome."
I'm glad, not bad for the first line ...
The site did this interview with her also, just posting the goodies from it.-
She talks about her previous roles and they say she is Queen of the Vampires to which she answers:
Yes, I am Salome, Salome of the Gospels, who has traveled ove
r the millennia, has landed in Louisiana and has been reincarnated.

Powerful, yet fragile and emotional, capable of falling in love.

They compare the huge success of Twilight and True Blood, and this is the time for all things vamp.
True Blood
has a huge following because it is the response to

Twilight

:
there is sex and blood galore, it is not conformist ...

Vampires, I think, take us back to our primal instincts that is within each of us, but was quieted by the conventions. People have wanted to explore that without limits or rules.
There is a lot of sex in True Blood, are you embarrassed?
There is nudity

...

Anyway, I never feel I have to tell half a story.

In the TV series the vampires claim that human beings talk about sex every six seconds, then they are afraid to do so, to get dirty ...

funny.
They ask if she is like that too.
She replies-

No, I'm pretty free.

Although I have some taboos, I'm "classic" in my sexuality, I'm without strange fantasies.

It is erotic to be faithful, erotic to make love with the same person.

It's erotic if you like your partner, not to invent who knows what.
They ask if she ever had a partner who was like a vampire (ED.what strange questions) She answers that she has suffered but it was her choice, she knew what she was getting
into and the experience helped her recognize true love later.
They ask if she has that today. She replies that yes, she found the right man. Everything comes when you live long enough.
Even though we cannot see what they're all looking at, it's a safe bet that everyone in this latest still from
7500
is face-to-face with something truly bad. I mean, come on, have you ever seen Turtle from "Entourage" scared of anything?!?
He says the movie is based on true events in the vid below, whaaaaaa?
Name: Audrey Fisher,
Title:
Costume Designer
What you've been up to this week:
Knee deep in fabulous costume research for Season 5! I'm getting up to speed on what's in all the stores, making contact with all the companies that we work with, and getting in touch with the actors. But most importantly I'm prepping for a costume meeting with Alan to talk about the look of the season and get his take any exciting new characters and flashback or historical scenes with lots of costumes… That meeting provides the backbone for the start of my season in terms of costumes, and I can use all the information I get from him to move forward with all my designs.
Weirdest thing you've had to do for True Blood:
Feed an actress a sandwich! When Michelle Forbes was the Maenad Bride during the climax of Season 2, she was wearing her giant 3 fingered claw hands and this giant 1940s bridal gown and floral headpiece, and the poor dear was so hungry but couldn't hold her own sandwich… so I fed her. It was very intimate.
Your favorite episode or scene:
I'm partial to the historical flashbacks because it's so fascinating to see the characters in that new environment, watch the actors be transformed in their period costumes and witness it all unfold in the gorgeous sets that Suzuki creates for those scenes. I think it's a lot of fun for everyone. I especially loved Season 2's 1920s flashback, when we get to see Lorena and Bill in seductive, murderous action, and then their 1930s lovers' spat with Lorena in her emerald green bias cut sheath, throwing lamps in Madonna's old Spanish house in the Los Feliz Hills! But there are so many contemporary scenes that immediately come to mind: I loved those Season 2 scenes when Sookie went to Dallas with Bill, their first big trip together, with all her special travel outfits, from the yellow rose cardigan with gingham skirt to her festive red-handkerchief halter dress… She was cute as a button, a wide-eyed, flirty small town girl stepping out with her handsome Vampire Bill. I also adored that lush feast at Russell's mansion during Season 3—you know with the blood gelato—because the men all looked so elegant in their posh evening wear.
But as you can imagine choosing a favorite scene is almost impossible because there are so many stories behind each costume, and every character and every element of their costume… I'm almost like our telepathic Sookie when I watch the show because I'm so deeply aware of all the little stories behind each costume piece that made it on screen in that scene.
Missing Stephen Moyer news, let's rewatch this Jonathan Ross' show interview from 2010.
Hmm, wondering who Meloni will play, seems it is some one we would know from the books seeing as how the cast list still has his character empty.
This is Holly's older son Rocky, Aaron Christian Howles,you might remember him from United States of Tara.
From a previous post this is Brandon James, who we think is his bro Wade, there is a resemblance, no?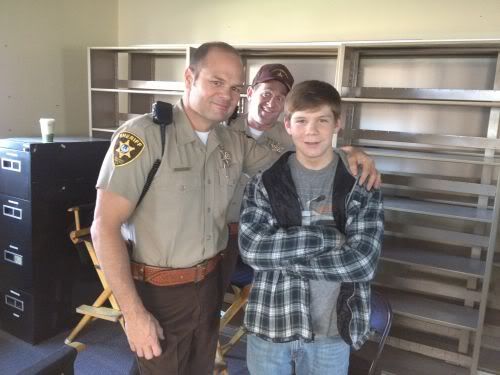 Ryan at the Sundance Film Festival (Zimbio)
The Nest has lots of pics up from Sundance also.