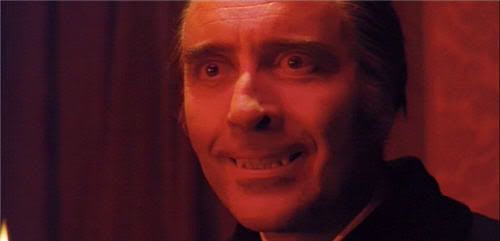 Christopher Lee's Dracula looks like he's channeling Nic Cage, I love this expression.
This is from the Hammer classic, "The Satanic Rites of Dracula", seems like a good flick to start a new Hiatus Support post with and as a bonus there's young Joanna Lumley (Patsy from ABFAB). Watch it in it's entirety HERE, if you dare, bwahahahahaha!
In London in the 1970s, Scotland Yard police investigators think they have uncovered a case of vampirism. They call in an expert vampire researcher named Van Helsing (a descendant of the great vampire-hunter himself, no less) to help them put a stop to these hideous crimes. It becomes apparent that the culprit is Count Dracula himself, disguised as a reclusive property developer, but secretly plotting to unleash a fatal virus upon the world.
Update on the Casting calls as posted by Rhoswen7, adding to my malaise over a new Claude-
NOTE SEASON 6!
[CLAUDE] Early 20s. Very attractive, omni-sexual guy (with and without a shirt) A mysterious young man who speaks with a British accent and catches Jessica's attention and curiosity. Recurring. Must have a British Accent. (41) Possible series regular season 6
LeDeax, the insane vampire killer has Sookie Stackhouse trapped - will Bill Compton and Eric Northman be able to rescue her in time? And will Bill find the clue that links LeDeax's killing spree to the local Hep-D epidemic? And when Sookie returns to Bon Temps, who is sitting at her kitchen table? For the answer to these questions - and for some good old-fashioned blood and guts - you HAVE to read this issue! The new original comic book story based on HBO's super successful vampire series, TRUE BLOOD, reaches its hemo-fueled conclusion!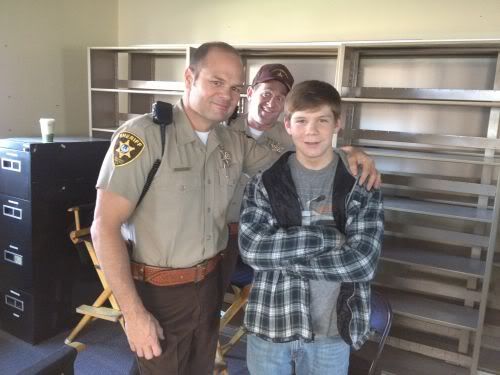 From Brandon James twitter today, the spec from a few of us is that he might be Holly's son Wade, if you remember October's first casting calls-
EW has an interview with Carrie Preston and Michael Emerson, it's so romantical!
New Inside True Blood Blog
-

In the first episode of this season, you will be introduced to new character CAT INGERSLEV. The writer of the episode, Brian Buckner, took the name from some lovely ladies in our art department: Art Director

Cat

Smith and Production Designer Suzuki

Ingerslev

. This isn't the first time a writer has taken liberties like this. Can you find any other names in our credits from previous seasons that may have inspired characters?
Thanks to the Randyreport Blog for this Photo of Joe in Flaunt mag.
From TVGuide.com's article about Ryan's appearance on the New Girl-
The nights will be far steamier for Mr. Kwanten this summer when True Blood returns for its fifth insane season. "I'm already back shooting," he says. "Jason is definitely treading into uncharted territories with Jessica. For once, his one-track mind is focused on love." Wouldn't it be a shame if his ex-flame — Reverend Newlin's wife, Sarah — were to reappear in Bon Temps and mess everything up?
Kristin from Eonline has bitsies but I'm still ticked off about this new Claude crap-
Ben: Any True Blood scoop?
Watch out, Alcide (Joe Manganiello)! Debbie Pelt's (Brit Morgan) mom and dad are coming for answers about the whereabouts of their daughter, and they don't appreciate anyone speaking ill of their baby girl.
Taylor: I'm going through serious True Blood withdrawals. Got anything to hold me over until summer?
Jessica (Deborah Ann Woll) might be getting a new love interest who has an advantage over Jason (Ryan Kwanten) and Hoyt (Jim Parrack): he's British and very attractive. Plus, his name is Claude. Try competing with that.
Join tens of thousands of fans as they converge on the Pennsylvania Convention Center at Philadelphia Comic Con Wizard World Convention to celebrate the best in pop culture. Philadelphia Comic Con brings it all - Movies, Comics, Toys, Video Gaming, Games, TV, Graphic Novels, Horror, Wrestling, MMA, Original Art, Collectibles, Anime, Manga & More! Philadelphia Comic Con is brought to you by the group who produces the most widely attended Comic Con tour!
Sam and Denis! CHICAGO COMIC CON AUGUST 9-10-11-12, 2012 THUR-FRI-SAT-SUN Donald E. Stephens Convention Center (Rosemont)