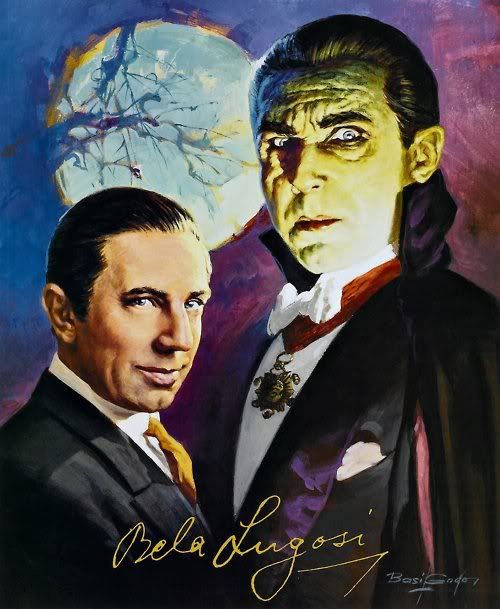 I guess I'm pretty much of a lone wolf. I don't say I don't like people at all but, to tell you the truth I only like it then if I have a chance to look deep into their hearts and their minds."
--Bela Lugosi
Artwork by Basil Gogos
More from the Flaunt Magazine article on Joe Manganiello-
You have to read the whole article at the site, it's written like True Blood is Euripides lost work.
Manganiello speaks with a sophisticated and spherical understanding of his character that extends far beyond his personal role and into the overall cultural significance of True Blood. After having argued the case for his expertise and in returning to the social context of the show, I too am at the edge of my seat. "Honestly," he says, "it might be the fact that we're in a global economic recession, and people need this kind of fantasy to get far away from where they're at." In a recent and shockingly eerie coincidence, he recalls speaking candidly with a friend in England and discussing how vampires represent the upper class and, historically, werewolves become popular in times of recession. "When finances are down," he recalls discussing, "werewolves embody people's fears that the masses are going to turn animalistic—a fear that the have-nots will attack the haves." Two days after having this discussion, as if by premonition, he opened the paper to riots occurring all across London.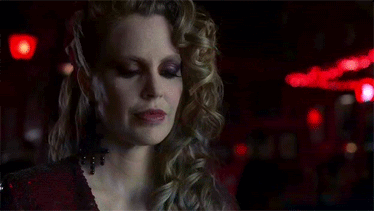 Yes Pam, I know.
My favorite SGU Wraith is coming to TB!!!! From Deadline-
EXCLUSIVE:
Christopher Heyerdahl, who plays an ancient vampire in the
Twilight Saga
movies, will now play one in another screen adaptation of a popular book series — this time on TV. Heyerdahl is joining HBO's hit vampire drama
True Blood
in a recurring role. He will portray Dieter Braun, an ancient, powerful vampire who plays a large part in the intelligence of the Authority and especially enjoys enhanced interrogation. That is
familiar territory for
Sanctuary
alum Heyerdahl, who played the ancient Volturi vampire Marcus in three of the Twilight movies:
New Moon, Breaking Dawn Part 1
and the upcoming
Part 2
(photo on left). Additionally, he played a demon in an arc on the CW's
Supernatural.
Heyerdahl, repped by Open Entertainment's Lesa Kirk, currently co-stars on the AMC drama series
Hell On Wheels
playing Norwegian badass The Swede.
I have missed John Druit on Sanctuary so this is extra goodness.
More Casting Spoilers from Rhoswen7! Today has been busy.
Here's casting info for episode #504, "We'll Meet Again":
(We're getting flashbacks of Terry in Iraq, Jason and Andy in a limo, and a fangbanger/Pam scene.):
TRUE BLOOD, Episode #504, "We'll Meet Again"
Director: Romeo Tirone
Writer: Alexander Woo
Start Date: Approx. January 26, 2012
Location: L.A.
[TODD JEFFRIES] Seen in flashback to Iraq in 2003, this U.S. Marine joins his squad (which includes Patrick and Terry) on a trip to a small village, where their plans to party and wreak a little havoc go tragically awry. 5 lines, 1 scene .
[JEMARCUS KESSLER] Seen in flashback to Iraq in 2003, this Marine Lance Corporal is traveling into a town with his squad (which includes Patrick and Terry) and is preparing for a night of partying and mischief-which goes tragically awry. 7 lines, 1 scene .
[IRAQI BOY] YOUNG LOOKING ARAB 18 YEAR OLD. Seen in a flashback to 2003, this Iraqi boy whose village is being blown up by American soldiers speaks out in Arabic to the soldiers. 2 lines in Arabic, 1 scene MUST SPEAK ARABIC OR BE FAMILIAR WITH IT.
[IRAQI MAN] Seen in a flashback to 2003, this Iraqi man whose village is being attacked by American Marines as a lark speaks out in grief and rage after they murder a 12 year old Iraqi boy. 1 line in Arabic, 1 scene (29) MUST SPEAK ARABIC OR BE FAMILIAR WITH IT.
[IRAQI WOMAN] Mother of the Iraqi boy seen in a flashback to 2003, wails with grief. Recurs in episode 505. [Non speaking in episode #504, recurs with lines in episode #505] MUST SPEAK ARABIC.
[ANGELA, LILIANNE, DELILAH] These three impossibly gorgeous, flirtatious, charming women in cocktail dresses greet Judge Clements (an old customer) and Jason and Andy as they take them on a limo ride to a mysterious destination where they find a sensual party in an exclusive club. 4 lines, 2 scenes; 3 lines, 2 scenes; 3 lines, 2 scenes respectively .
[LEDA] This radiant, beautiful woman with just a hint of sadness in her face is in the exclusive club. She beckons to Jason and freaks him out a bit by seeming to know a bit too much about him. 6 lines 2 scenes.
[DANCER] FEMALE, SCANTILY CLAD. This beautiful dancer in a very exclusive, secret nightclub recognizes Judge Clements and goes off with him. 1 line, 1 scene.
[MELANIE] 20s, this female fangbanger goes with Pam to entice a young vampire to feed on her. 2 lines, 1 scene
Rhoswen has made this the best hiatus evah!
This old WWII song (by Vera Lynn) this version by Johnny Cash (Dr. Strangelove's ending used it too)
Yesterday was Denis O'Hare's birthday, with the Golden Globe hubbub I missed it, mea culpa. He inspired this blog and Urno is ever grateful.
Hope he had a great day as he get's ready for his play "An Iliad" , opening February 15th.
Another bitsie from TVGuide's Mega Buzz
Is there still hope for Sookie and Eric on True Blood? — Alexis
NATALIE:
Considering that Sookie swore off both Bill and Eric in the season finale, it'll be a while before we see any movement on that front. "The feelings are still there for both Eric and Bill,"Alexander Skarsgard
tells us. "The attraction is still there, but they're preoccupied, and so is she." Instead, look for Bill and Eric to team up while the vampire world begins to both expand and collapse in the coming season. "The guys have usually tried to kill each other and now suddenly have to learn to become friends and protect each other and work together."
From ET- video HERE
The latest member of
Blood'
s brood to moonlight on a different series is Janina Gavankar, who plays Sam Merlotte's sexy shape-shifting love interest Luna.
On January 18, she heads to
The Exes
, playing Phil's ex-wife Carrie, who he runs into during a particularly awkward dinner "date." Check out an ETonline exclusive sneak peek from the episode and be sure to tune in to
The Exes
every Wednesday at 10:30 p.m. on TVLand.
You can buy this lil bit of cuteness on Etsy, it's Alcide, go to the link for more Truebie dollies.
MTV has more at the link but here's the video, I hate these ads they all have but what canyado? They all talk about what's coming up!
The Nesters have scans of the SciFi Now True Blood article, several more at the link.
For their 63rd issue, SciFiNow magazine caught up with Anna Paquin, Stephen Moyer, Alexander Skarsgard and Deborah Ann Woll for a chat about what's to come in True Blood. Unfortunately though, since this is a British magazine, they are discussing season four, which is yet to air here (5th of February on FX, UK Trubies!).
io9.com has an article of Vamps, TB is part of it too, fun read for fans.
Another interview with Valentina Cervi-
Starting today the American Journal of Valentina Cervi, the first Italian actress to play a leading role in a U.S. series, the cult

hit

True Blood
.

Daughter and granddaughter of artists, Valentina will be busy filming in Los Angeles for the next six months and speaking exclusively on our site about meetings, anecdotes from the set. Photo by Fabio Lovino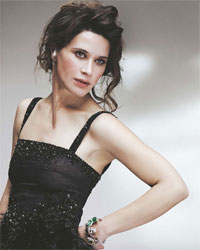 1 -

Table read

,

This is the first meeting with my new team.

About thirty actors listen to the brilliant producer, Alan Ball, giving information on new episodes of True Blood

.

At his side, the director and writer of the episode.

Start reading, am a little 'scared.

It's always the same the first time: it is still a beginning, a start.

Listening with curiosity to the voices of my "fellow vampires."

"How good they are," I think I recognize the characters, the shades, "feel" the characters.

It is an easy read, but there is already clearly the flavor of the series.

It is a united team, working together for several years: I tremble at the thought of my speech ...Then I look up and, before me, at the other side of the round table, I see

Anna Paquin

, protagonist of the previous four seasons of

True Blood

.

I get distracted for a moment: I remember her first film, the child of

The Piano

, and I think that - in the space that divides us and brings us together - there's

Jane Campion

, the director with whom I also I made ​​my debut (in

Portrait of a Lady)

: we both are deeply indebted to her.

Funny, I relax. This strange
coincidence somehow reassures me and gives me the courage to go ahead.
It's up to me to read: "Welcome."
I'm glad, not bad for the first line ...
The site did this interview with her also, just posting the goodies from it.-
She talks about her previous roles and they say she is Queen of the Vampires to which she answers:
Yes, I am Salome, Salome of the Gospels, who has traveled ove
r the millennia, has landed in Louisiana and has been reincarnated.

Powerful, yet fragile and emotional, capable of falling in love.

They compare the huge success of Twilight and True Blood, and this is the time for all things vamp.
True Blood
has a huge following because it is the response to

Twilight

:
there is sex and blood galore, it is not conformist ...

Vampires, I think, take us back to our primal instincts that is within each of us, but was quieted by the conventions. People have wanted to explore that without limits or rules.
There is a lot of sex in True Blood, are you embarrassed?
There is nudity

...

Anyway, I never feel I have to tell half a story.

In the TV series the vampires claim that human beings talk about sex every six seconds, then they are afraid to do so, to get dirty ...

funny.
They ask if she is like that too.
She replies-

No, I'm pretty free.

Although I have some taboos, I'm "classic" in my sexuality, I'm without strange fantasies.

It is erotic to be faithful, erotic to make love with the same person.

It's erotic if you like your partner, not to invent who knows what.
They ask if she ever had a partner who was like a vampire (ED.what strange questions) She answers that she has suffered but it was her choice, she knew what she was getting into and the experience helped her recognize true love later.
They ask if she has that today. She replies that yes, she found the right man. Everything comes when you live long enough.
Giving a big SHOUTOUT to Ilaria of Bookies and to all the cool Bookie Peeps!