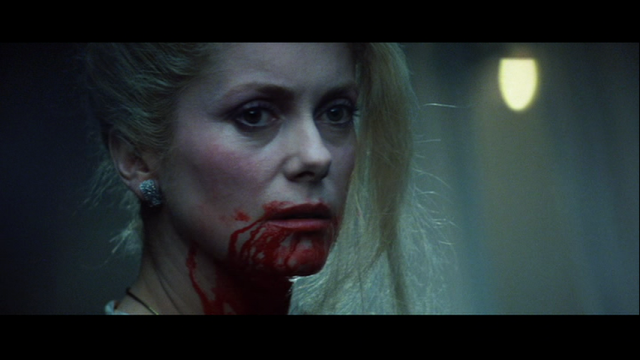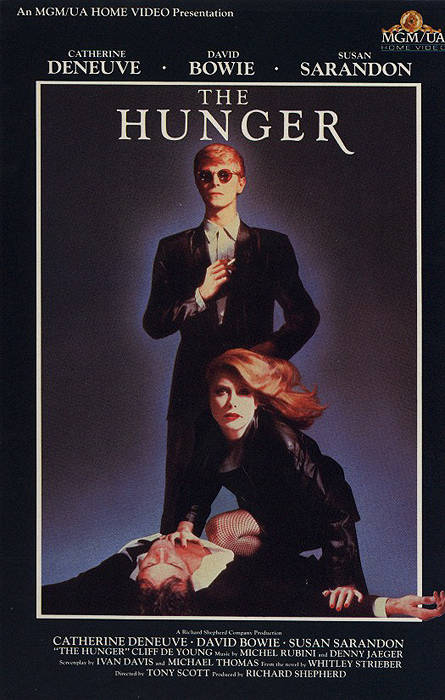 "The Hunger" stands out as a vampire film for a few reasons: they have no fangs, Miriam (Deneuve) is the original vamp, and it has David Bowie, Catherine Deneuve and Susan Sarandon as leads, the first scene has Bauhaus singing "Bela Lugosi's Dead", perfection.
Miriam is an Egyptian vamp, her current lover/progeny is John (Bowie) but it seems like she has a few skeletons in her closet, or in this case her attic. It seems after a few hundred years her children start withering away but not dying, so she just boxes them up and puts them away from her sight. Now it's John's turn and Susan Sarandon's Sarah has become Miriam's new fixation. The movie was written by Whitley Strieber whose tales of UFO abductions and alien encounters (Communion,Transformation) have been a favorite of mine. Now let's move onward with our Hiatus Support Group's meanderings.
An old Phineas and Ferb, that is Anna and Stephen doing the voices.
Rhoswen7 has new casting spoilers, Thanks as always or as Lucretia might say, Gratitude-
Here are casting notices for episodes #505
AND
#506!!
TRUE BLOOD, Episode #505, "Boot N' Rally Ally"
Director: Michael Lehmann
Writer: Angela Robinson
Start Date: 2/10/12
Location: L.A.
[SCRAWNY MAN (JIMMY)] In his 30s, very skinny, babbling in terror, he's found in a padded cell. RECURRING (Ed.sounds like Renfield)
[KATE] Late 20s-early 30s. Skinny, unconscious, Kate is one of the prisoners with the Scrawny Man in the padded cell. No lines in this episode, RECURRING
[KATHY] 20s. This pretty brunette fangbanger is more friendly than slutty. 4 lines, 2 scenes (10)
[BEVERLY] This plump, good-natured family friend of Luna's has been babysitting for Emma while Emma is out with Sam. CO-STAR
[BURLY VAMPIRE] This burly vampire at the bar asks for a Tru-Blood. CO-STAR

TRUE BLOOD, Episode #506
Director: Dan Attias
Writer: Alan Ball
Start Date Approx. 2/29
Location: L.A.
[VIVIAN] Female, Caucasian, early 20s to late 20s. She is radiantly beautiful and British. RECURRING
From the urban dictionary- Boot N Rally-
The laudable act of binge drinking to the point of vomiting, then coming to and regrouping to drink more and further partake in the festivities of the night. Such a feat is only ever performed by seasoned experts and should not be attempted if one is not endowed with a strong will and/or is not prepared to dread waking up the next morning.
Listen here:
True Blood's Joe Manganiello, a die-hard Steelers fan, shows off his Terrible Towel and black and yellow sneaks on the red carpet of the 2012 NFLPA PULSE Awards outside the Nokia Theater at L.A. Live.
Trailer for The Double's coming out on DVD January 31st.
"True Blood" Star Ryan Kwanten joined the rest of Oakley's Star Family at Oakley Learn to Ride at Sundance Film Festival 2012.
From the Belfast Telegraph, it's actually part of the SciFiNow article-
Anna Paquin is careful of the "outlandish" things
she says around the
True
Blood writers as they sometimes end up in the show.The actress is famed for her role as Sookie Stackhouse in the HBO series. True Blood follows the co-existence of vampires and humans in a fictional town in Louisiana. Because of the fantasy content, Anna has to bite her tongue with discussing far-fetched ideas around the production team, as they sometimes end up working them into the script. "Sometimes I pitch things that are a joke. There was a scene in episode nine [of season four] with me Steve [Moyer] and Alex [Skarsgård] that I pitched, which I can't you about, but was sort of a joke, but not really," she explained in an interview with SciFi Now.
"Sometimes I wonder if I say things that are really outlandish and because of the nature of our show, they actually end up in the show." Anna's character Sookie has a complicated relationship with vampire Bill. The star likes to get her teeth stuck into the intricate romantic storylines. "I'm totally happy for our characters to be as sad, distraught, messed up and hating each other as they like," she said.
"We don't really have everything be perfect or happy for too long. It's not interesting television if everything works out for Bill and Sookie, and then they adopt five babies and live happily ever after."
Undead, undead, undead.
FYI Andrew McCarthy former Brat Packer/John Hughes favorite, is directing.
Wetpaint has some speculations about the Scott Foley character's motives, what do y'all think? I think maybe Terry saw them shift and maul civilians and he has been damaged ever since. You can post your thoughts there or here in comments.
This was my first TB community,
http://truebloodwiki.wetpaint.com/
as well as
http://true-blood.net/
they are still rocking and deserve a view
.
Buried -Season 5 Promo!
from Eonline's Kristin