The King Speaks with Access Hollywood! More at the link.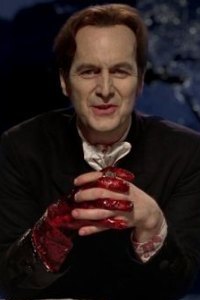 "True Blood" creator Alan Ball has said he'd like to bring Russell Edgington back to Bon Temps in Season 5, but Denis O'Hare expects a different sort of former Mississippi vampire king when his ancient character returns.
"The trick is — and these guys are better at it than I am — but the trick is to reinvent [Russell], because he can't come back and be the same guy," Denis told Access Hollywood on Saturday. "He's gotta come back transformed in some way and in a surprising way and I look forward to whatever they're choosing to do with him."
Denis, who stars in Ryan Murphy and Brad Falchuk's "American Horror Story" on FX, which premieres on Oct. 5, said it's all in the "True Blood" writers' hands regarding his return to the HBO show. But, when asked if he, personally, expects Russell to come back from his cased-in-concrete Season 3 ending, bent on avenging the staking death of his longtime love Talbot, Denis said he thinks his character would return with a much more surprising set of motives.
"The thing I love about him is his dreams aren't petty. He's never motivated by anything petty, so I can't imagine if he came back he'd be motivated by simple revenge," Denis said. "I think he's always out for something bigger. "
While Talbot's true death occurred after he was staked by Eric Northman (Alexander Skarsgard), Denis said Russell's experience across the centuries is likely to make his return more complex.
"There are dreams that are bigger than that, there are ambitions bigger than that. And he's been alive 2,800 years, he was with Talbot for 700 years. Not to say that it was only a short period of time, but he'll do his grieving and he'll move on," Denis noted.
So perhaps a turn in politics then?
"Politics sounds great
," he smiled.
Although he's had roles across film and television, playing Russell — and in particular the scene where the then-king took over a national news broadcast and gave a speech that upset vampire-human politics — has fans begging the actor to repeat his lines in public.
"I get people who want me to say the last line, 'Now time for the weather. Tiffany?' I get a lot of that," he smiled. "But it was a brilliant monologue that ['True Blood' writer] Alexander Woo created and I was so happy to be able to do it. It was the kind of meat that as an actor you dream of getting. And I was so lucky to be able to get that."
The last time fans saw him, Bill (Stephen Moyer) and Eric (Alexander Skarsgard) sealed Russell in a cement grave, but he vowed that he'd be back.
"He's been locked away," executive producer and writerAlexander Woo told The Hollywood Reporter earlier in the season. "So he's kind of a time bomb. He could come back in any moment."
THR caught up with Denis O'Hare Saturday at the Television Critics Association (TCA) Press tour where he was promoting his new FX series, American Horror Story. We had a moment to speak to him about whether the return to the HBO series will actually occur.
THR: True Blood fans have been waiting eagerly for Russell Edgington's possible return. Here we are halfway through Season 4 and nothing. Did that ever come to fruition?
Denis O'Hare: I think [series creator] Alan Ball was asked recently about Russell's return and he said, 'Russell's not dead.' And I can't do better than that. So, I'll just reiterate what he said. Russell is not dead.
THR: So, fans shouldn't give up hope?
O'Hare: Never give up hope. Never give up hope.
THR: What do you think Russell's unfinished business is?
O'Hare: It's a great character and I feel he hasn't been able to completely express his dreams yet. I think more than any of the other vampires that season, he has ambition and huge dreams, an incredible life force. I'm still attracted to that and I think he needs to fulfill whatever it is the thing is he's aiming for and go out in a blaze of glory in whatever it is he needs to do. He's not just a passive character. He's charging forward with a plan and I think we need to see his plan.
THR: In many ways Russell shapes the events of this season with his actions. Did you expect that when you took on the role?
O'Hare: No. I think it's really interesting, because I think with True Blood it's the strongest when it talks about the interaction between vampires and humans. And so any way that the show can bring that in, then the show gets a real spine. Pardon the pun.
From TrueBlood.net
The Sookie/Eric scene fans have been waiting for and Alan Ball has been promising is almost here. Per Jace Lacob, a TV critic who has seen the next couple of episodes of True Blood, the infamous shower scene takes place in episode 4.08, "Spellbound", which airs Sunday, August 14. It appears Jace has not read the books, so after querying Twitter about the scene from the books, he had this to say:
Just so there isn't any confusion, #TrueBlood's shower scene plays out *very, very, very differently* than in the books. Very.
Obviously Sookie & Eric's relationship on True Blood is far enough along that the shower scene must play out differently than it did in the books. So what do we know about episode 4.08? The only hint we have of the pair comes from the official synopsis: Sookie and Eric pledge their allegiance to their king, aka Bill. So they are still together in some capacity. From the 4.09 synopsis, we know that Sookie is nearly killed in episode 4.08 (she's described as convalescing in the next episode), but at whose hand?
The teaser reel shown at Comic Con ended with Sookie lying on the ground in the cemetery, bleeding from what looked like a gunshot wound. Does Eric find wounded Sookie and take her home, putting her in the shower to tend to her? Then remember that vampire blood heals and give her some?
Jace's other tweets
televisionary
Jace Lacob
Again, I haven't read the Sookie Stackhouse novels, so I'm only comparing it via description rather than first-hand reading experience.
For those asking, a variation on the infamous "shower scene" is in episode 408 of

#

TrueBlood

. That's all I'm saying.
Jason thinking, "I Wish I was The Moon"
io9's Meredith (her weekly pros and cons for the TB eps are linked here weekly) interviewed Deborah and Kevin at SDCC, video at the link-
Video editing and additional reporting by Jonathan Wilkins.
It's no great secret actress Deborah Ann Woll's character Jessica is one of our favoriteTrue Blood characters. Except for when she's running around on her boyfriend Hoyt! So when we caught Woll on camera, we had to ask "What are you thinking?"
On the red carpet for Entertainment Weekly's Comic-Con bash, we chatted withTrue Blood castmembers Woll and Kevin Alejandro (Jesus). Watch what they had to say about the future of their characters on this season's True Blood.
I think I speak for all True Blooders everywhere when I ask: What are you doing? What are you doing!
Deborah Ann Woll: I know! Everybody is really angry at me for what's happening this season. I just think Hoyt and Jess moved into this really quickly. And I think it's maybe [that] Hoyt wants a wife, and Jess cannot be a wife and she really can't give him what he wants, so she's a little bit stuck, and she's making some mistakes. But this season is going to sort of be about Jess figuring out who she is and who she wants to be, and we will find out whether Hoyt can stand that.
Your character is very young, was very sheltered. Does she still have a lot of growing up to do this season, and how will that happen?
Deborah Ann Woll: Absolutely. I mean we're a year later, so some maturing has happened. I think that she's learned more about herself, it's just whether she can accept it.
How did you feel when you saw the pages for this season for you guys? I was like: "they're going to get together!" And then they finally get together and you're immediately ripped apart.
Deborah Ann Woll: Well yeah. I mean, our goal is to torture you. That's the point of entertainment. [Laughter] And it is, it's more fun that way. I really love it and I actually love the direction of this season and where we go, so I really just want to ask fans to open their minds and try and go with it because, in my opinion, it's very rewarding by the end.
And you're a new character, so it's really fun to watch wild things happen to you because we have no idea what's going to happen next. So can you give us a little hint as to what the 'trash baby' is and what it's doing in your house?
Deborah Ann Woll: 'Trash baby'; that's the first time I've heard it called that. Well, the 'trash baby' does have something to do with our home. We've passed it off to Arlene and Terry and their child now, so we'll just have to see if the evil follows.
Did you feel bad about doing that?
Deborah Ann Woll: Well, I mean, I felt bad. I don't think Jess had any idea what she was doing. I think Jess was having it and went: "I guess I could give it to the baby and that's one way to get it out of the house." But I definitely, Deborah the actress, knew something was wrong and hopefully the baby will survive.
What is your other favorite storyline going on this season in True Blood?
Deborah Ann Woll: I love the witches. I mean Fiona Shaw is incredible and I think they really are a real threat to the vampires and that's scary. I mean all of our storylines are great, but our villains always excel.
It seems like Jessica's been a bit of a hero's sidekick last season, jumping in alongside to help out. Saving the day, but after someone else saved the day. Is Jessica going to become a bigger hero in this season?
Deborah Ann Woll: I think it's within Jessica to do that. She cares so much and that's actually why she makes so many mistakes. She's learning from every single one and definitely this season, she and Bill will have an opportunity to team up again and kick some butt.
Kevin Alejandro
You're the only one who hasn't taken off his shirt yet this year. What's going on?
"Kevin Alejandro: Oh, just wait.
Just wait?
Kevin Alejandro: Just wait. Yeah, I was in terrible shape, so no no. [Laughter] No, it just hadn't worked out that way, but I think you might see something like that. From what I remember, there's a little skin going on this season.
Did you know when you came on the show that you were going to be such a big part of this season?
Kevin Alejandro: I didn't. I didn't. I figured that there had to be something there, that they were going to do something with me because obviously Nelsan [Ellis] is one of the crowd's favorites and I was just like: "there's got to be something, right?" But no, this season it goes off in a direction that I didn't expect, that I don't think anyone's really expecting, but it's very good.
You seem like you're the cool head out of the trio that's following around Marnie and the witches. Why do you think that works? And why do you think Jesus stays so centered all the time?
Kevin Alejandro: I think Jesus is so well-traveled and has lived in so many different parts of the world, and you figure out who this guy is this season, and although that particular question is actually answered half-way through the season, you see him as a child and where he comes from in his life, and then you figure out a lot more about who he is.
Reposting Rhoswen's episode spoilers again
Episode #43 (#4.07): "Cold Grey Light of Dawn": With Marnie empowered by spirits of the dead, Bill issues an unpopular order to save vampires from the light. Eric embraces his amnesia; Luna discovers Sam's not the man she thought he was; Lafayette expands his consciousness; Pam gets a body peel; Andy's date with Holly doesn't go as planned; Jessica has doubts about her future with Hoyt; Alcide and Debbie join a new pack. Playdates: August 7, 9, 10, 13 and 26. Written by Alexander Woo; directed by Michael Ruscio.

Episode #44 (#4.08): "Spellbound": As Bill and Marnie brace for a dangerous midnight face-off, Sookie and Eric pledge their allegiance to the King. Jason is torn between friendship and passion, and Jessica is spurned from two homes. Lafayette becomes the pawn of a tormented spirit; Tommy takes a walk in someone else's shoes; Sam contends with yet another adversary in Marcus, Luna's ex and the leader of Alcide's new pack. Playdates: August 14, 16, 17, 20 and 26. Written by Alan Ball; directed by Daniel Minahan.

Episode #45 (#4.09): "Run": Convalescing after her latest near-death trauma, Sookie envisions a world where there's room for both Bill and Eric. Jesus tries to purge the restless spirit out of Lafayette; Marcus enlists Alcide to help him deal with the Sam situation; Bill and Nan Flanagan clash over their respective agendas; Hoyt asks Jason to make a delivery to Jessica. Despite Tara and Holly's misgivings, Marnie plots her next move against the vampires, during a "Festival of Tolerance" event at Shreveport. Playdates: August 21, 23, 24, 26 and 27. Written by Brian Buckner; directed by Romeo Tirone.

Episode #46 (#4.10): "Burning Down the House": As all hell breaks loose in Shreveport, Sookie summons her most potent powers yet to save Bill, in the process breaking a spell and leading Marnie/Antonia to re-evaluate her mission. Jason urges Jessica to glamour him for Hoyt's sake; Terry drags Andy to "Fort Bellefleur" for an intervention; Alcide reconsiders his allegiances after Marcus' fight with Tommy. Jesus, accompanied by Sookie, Lafayette and Jason, tries to breach the Moongoddess Emporium's defenses to liberate Tara and Holly, while Bill leads a brigade of vampires committed to blowing the place to kingdom come. Playdates: August 28, 30 and 31. Written by Nancy Oliver; directed by Lesli Linka Glatter.
She already has a casting call up for S5
TRUE BLOOD (New Series Regular)
Start Date: Mid-November
Location: L.A.

[NEW FEMALE VAMPIRE] 19 to 30s. A dangerous female seductress. Must be smoking hot! Nudity required.
Not much as far as spoilers so forgive my posting non-spoilies.
Post Peel Pam ironically dressed Like Mrs Peel From The Avengers