The women of horror are happy that June is so close at hand, just look at their faces.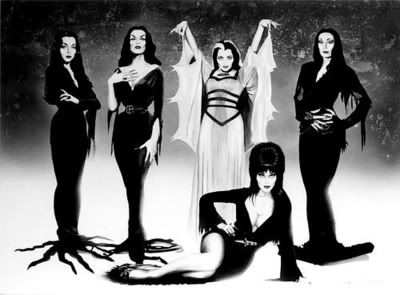 True Blood returns on June 10th
HollywoodCrush has an interview with Chris Meloni, (more at the link) they ask him if he keeps his clothes on while his daughter is standing there, OY!-
WTF? Ha, Ausiello got the casting notice for E9 all fugazi. (scroll down) Question: OK, I'm dying here. Can I please have some True Blood scoop! —Mariamne
Ausiello: Ever wonder what an eight-pack looks like on a teenager? There's a good chance you'll find out in this season's ninth episode, titled "Everybody Wants to Rule the World," which introduces us to an "innocent-faced" 14-year-old Alcide. That flashback sequence also features a young Debbie, so my guess is we'll probably see how that toxic relationship of theirs took shape. Speaking of TB, the show is also casting a Marilyn Manson-esque vampire who was once powerful and heroic but is now a sad old man.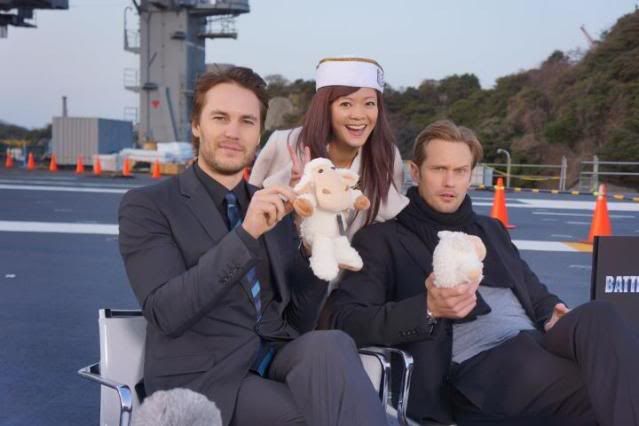 Bon Temps' newest magical resident tells HollywoodLife.com that season five will teach viewers 'more about what it means to be a fairy.'
The brand-new trailer for the fifth season of True Blood promises plenty of vampire, werewolf and shifter action — but what about Bon Temps' fruit-filled population? Don't you worry; not only will fairies play a major part in the new season this June, but HollywoodLife.com has learned "they're not like they were in any previous season." "It's so incredible," newbie fairy Camilla Luddington tells me. "I remember getting to set and being really blown away by what they've done this season, especially with the fairies. … I'm excited for people to see the re-vamped version of the fairies."
The latest S5 photos from HBO's True Blood page-
From the Battleship premiere, more at Skarsgardnews Tumblr and JustJared
Chapter One of Deadlocked posted online HERE, thanks to Bookies for the tip.
Tommy Lightfoot Garrett (more at the link) has some thoughts on the trailer for S5-
Without any further adieu, fans want to know, Is Tara dead? Well, that is the burning question, and we'll soon have answers to all of our burning question in June. So, if I know, I'm not telling! Last night's release of the new Season 5 trailer was something else. But my sources on the set of "True Blood" tell me, this week they are filming like mad, and that the trailer is only just that. "You can't imagine what the hell Alan Ball has going on this season, and even the actors are more excited this time around than ever! It's incredible stories going on, and things we never even knew Alan could invent and create!"
So, what the heck is going on with Jessica? She's obviously going to be on the wild side. And I suppose Reverend Steve Newlin is no longer a pastor, he looks like he plans to place a hickey on poor Jason's neck at any moment! When Newlin was last seen earlier in the series, we knew he was not done with Jason just yet!
Casting news from Rhoswen7- why a Debbie FB?
Here's a casting notice for episode #509. So, will it be the Tears for Fears song, or some other song with that title?:
TRUE BLOOD, Episode #509, "Everybody Wants to Rule the World"
Director: Dan Attias
Writer: Raelle Tucker
Location: L.A.
Start Date: Approx. 4/18/2012
[ELIJAH] Male, Caucasian. In his 20s to 40s, a very strong, cocky, Marilyn Manson-esque vampire. 2 episodes. Guest star.
[JACKSON] Male, Caucasian. 50s. Seen in flashback to the late 1980s, he's a giant of a man, powerful and inspiring and heroic. In the present, however, he's a sad, old man who's given up on life. Recurring. Guest star.
[LOCAL REPORTER] This reporter grills Andy outside the Sheriff's Station. Co-star.
[SEXY VAMPIRE] Female, 20s. This sexy female vampire is a customer at Fangtasia. Co-star.
[TEENAGE ALCIDE] Male, Caucasian, 14. Seen in flashback, he is Alcide (Joe Manganiello) as an innocent-faced 14-year-old. Co-star.
[TEENAGE DEBBIE] Female, Caucasian, 14. Seen in flashback, she is Debbie (Brit Morgan) as an innocent-faced 14-year-old. Co-star.
Krsitin's Husband Abri is on the Cave Chaos radio show, I believe Kristin's interview is archived.
Reposting the Promo for our pleasure.
Karin got to meet Dale Raoul backstage when she hosted
ACME Comedy's 'Hollywood Saturday Night',

she had a great visit with "Maxine".