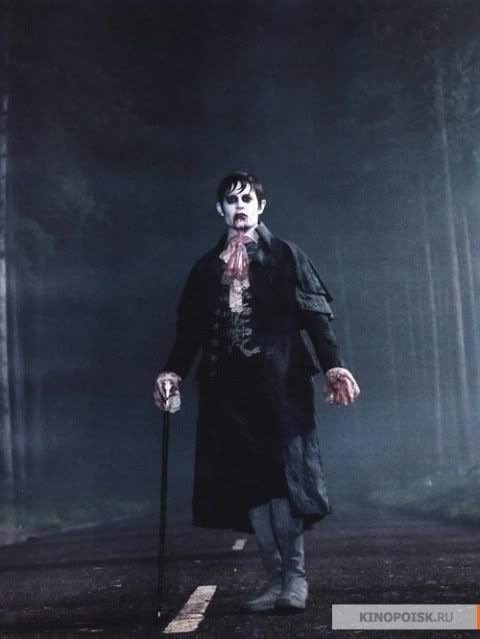 Too bad Sookie isn't driving by to pick up Barnabas, like she did poor Eric last season.
I've been waiting for Lena LaMoray's interview with Carolyn and it was worth it, I'll post just a bit. It is worth reading, Lena does THE best in depth interviews, I'm sure you will find some gold digging around her site.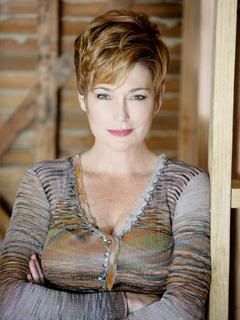 Lena
: I can't wait for season five. It's going to be fantastic because not only are they bringing in you but they are also bringing back Denis O'Hare (as Russell Edginton).
Carolyn Hennesy: One of the finest actors on the planet. Denis O'Hare is very liberated as an actor. I mean he's just fearless and as a result he inspires that in others around him, at least he does me. I like to think I'm fearless anyway but then when you see someone that makes it look so easy, it's really a joy.
Lena: You also have Chris Meloni coming in.
Carolyn Hennesy: Yes, Chris Meloni and you have to give a tremendous amount of credit to the writers. The writing on that show is spectacular. The material that they give us to work with is fantastic, no slouch there.
Lena: I can't wait to see Chris.
Carolyn Hennesy: Yes, I'll just give you one word and that's sexy.
Lena: Definitely! I'm excited for you and that you get to play a vampire because if I was an actor that would be my dream role.
Carolyn Hennesy: It is. I didn't realize how much of a dream role it was until I finally sunk my teeth into something. It really is tons of fun. You get to be on gorgeous sets, never go out into the sunlight, and really fight for your life as a member of the undead.
Lena: Season 4 ended with Sookie (Anna Paquin) deciding not to choose Eric (Alexander Skarsgård) or Bill (Stephen Moyer) but rather go it alone. Tara (Rutina Wesley) was also shot in the head, but I'm assuming that she recovers (or they work around that because it is True Bloodafterall).
Carolyn Hennesy: What I can say it this; the actress has not left the show at all (laughing).
Lena: It's a supernatural show so they can make anything work.
Carolyn Hennesy:
Yes, it's a supernatural show and the actor is still a member of the cast. I invite you to draw your conclusions, as you will (laughing).
Lena: What can you tell me about season 5 and of course, Rosalyn Harris?
Carolyn Hennesy: She's a vampire, very old, from Texas but Texas, in the timeline, is not very old. Rosalyn has come from somewhere else but we are just not quite sure where but she has made Texas her home for the past 100 to 200 years. She's one of those game gals that helped to settle the Old West. She's very comfortable branding a calf. She knows that pearls can go with anything, so she is always a lady. She can brand a calf in the morning and go to the opera at night. She's a man's woman. She's what we would call a great broad. She's very funny and very folksy, but if you cross her she will drain you on the spot. As they say with regards to Texas hair, big is just a place to start. Rosalyn has hair high enough to interfere with air traffic control.
Lena: I am looking forward to seeing that.
Carolyn Hennesy: She's a lot of fun. I'm not wearing a wig so somehow they were able to get my short bob up into the heavens.
Lena: How did she become an Authority Council Member?
Carolyn Hennesy: She was made an Authority Council Member by the Guardian, Chris Meloni's character (Roman). This happened centuries ago so what their relationship was like, we don't know yet. If the Authority has been around 2000 years then she has been a member for 1900 years. As long as the Authority has been around she's pretty much been a part of it.
Lena: What characters are we going to be seeing her with the most?
Carolyn Hennesy: All of my other Authority members as it stands now like Christopher Heyerdahl (as Dieter Braun), Peter Mensah (as Kibwe), and Chris Meloni. There are some huge, huge political battles being fought in the vampire world this season. There are a lot of heavy duty and very important council meetings.
Read it all here
Stellan Skarsgard is one of the stars of "The Avengers" and Askars came out to support his dad on Wednesday. Jared of JustJared twitted the first pic, others from Eonline, Tumblr.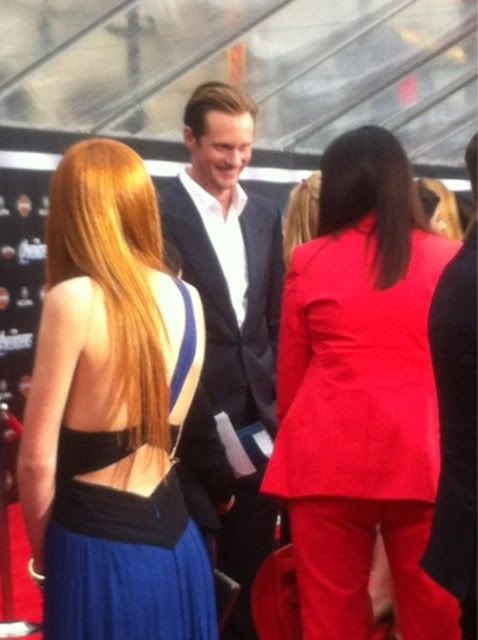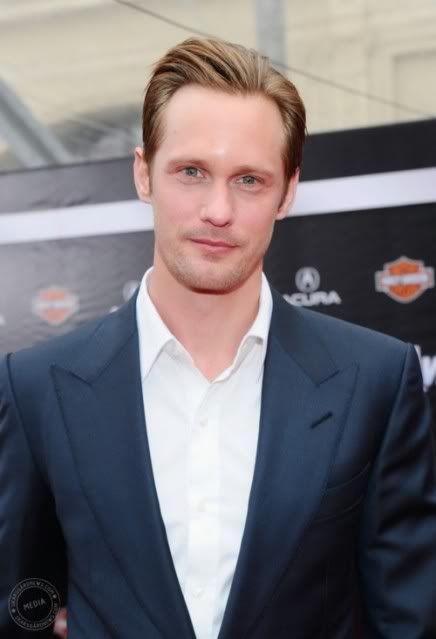 Janina tweeted this, have no idea what "gossip" refers to tho

.-

Giggling on set w

#trueblood

cast & crew about how inaccurate some of the "reported gossip" is.
Wetpaint has a longer interview with Carolyn Hennesy at the link, here's a bit-
Wetpaint Entertainment: Were you a fan of the show before?
Carolyn Hennesy:
I had actually not watched the show before. We didn't get HBO, so the day after I was cast, we got HBO, and I spent the 10 days before Christmas [watching] — 48 episodes in 10 days.
So what can you tell us about your character Rosalyn?

She is from Texas, or I should say, has been for maybe the last 200 years. She's very old as vampires go, so her history before that is all over the world. She has been a member of the Vampire Authority for a very long time.
That whole settling of the West is right up Rosalyn's alley. She's a very dame gal. She's a broad. She's a dame. She likes a good joke and a good cigar and a good roll in the hay.
And when she was alive, she enjoyed a good steak. E-A-K not A-K-E.
It seems we're going to learn more about the Authority this season. What can you tell us about this mysterious group?
There's a tremendous battle brewing. There's been hints about who's coming back on the show and all of that. We have learned in the past that there are those who thoroughly believe in mainstreaming and there are those who don't.
There are two main factions really of the vampire society — the mainstreamers and the fanguenistas. And Russell Edgington — we know he falls or where he fell: "we are vampires we will eat you."
The mainstreams, the Authority, sees the wisdom of assimilating with society. They outnumber us. They've made all these incredible strides in the last 2,000 years, not the least of which is creating drinkable blood, synthetic blood for vampires, well if they can do that, what else? What else can they do to help the vampire society?
And in order to be a part of that we have to assimilate and mainstream and let them know that we're not really a danger. And that's where the Authority is coming from.
Christopher Meloni has also been cast as someone in the Authority. Have you worked with him?
I have worked with him for the last two months. It has been like a gift. like a master class. when Christopher Meloni speaks we go, "Oh that's how it's done." It's just lovely working with him. He is very intense and rightfully so.
Can you tell me anything about his character??
He is the guardian. His name is Roman. He's one of the heads of the Authority. He's the one we look up to, and swoon over, and follow.
Pics from Magic Mike, this was the new one w/Joe in the dark on the right side. Source
This pic from a Scream Award of Manson reminds me of the casting for a Manson-type vamp.
Ryan floating in Zero Gravity- Stephen Boxall
Coachella obv very different than what I knew, co-opted by Hollywood into Vegas, the suck. Update-This might not be true, fingers crossed.
Skyy Infusions Coconut Escape Pool Party
"True Blood" hottie
Alexander Skarsgard
and Nikki Reed are set to attend one of the most exclusive poolside events for Coachella's second weekend, in conjunction with Spin magazine. A couple of surprise performances are in the works, including one by a hot Grammy-nominated band. April 21, invite only.
For constant updates on parties and happenings at Coachella, stay plugged into the L.A. Times' Pop & Hiss blog,
http://www.latimes.com/popandhiss
.
Janina is in Interview Magazine, much longer article at the link-
BROWN: Do they take you around and introduce you to everyone your first day on set?
GAVANKAR: No. I met a lot of people at the first table read, but it's funny in
True Blood
, because there are so many of us the only time we really see each other is at the table read unless our story lines intersect. I was sitting next to Rutina [Wesley], but my character Luna has never met [Rutina's character] Tara so we've never worked together, we've only sat next to each other and hung out in real life, but that's it. It's a funny little beast.
BROWN: Can you tell me a little bit about how you got your role on
True Blood
?
GAVANKAR: I was told that there was a role that might be good for me, but I wasn't immediately chomping at the bit, I had a whole bunch of conditions before I was ready to sign onto the show: One, I didn't want to be a vampire because vampire sex freaks me out and I know that everyone has sex and gets naked on the show. [
laughs
] Two, I didn't want to play a stripper or anything like that, not that I'm opposed to playing strippers, it's just that at that moment I wasn't really into it. And I didn't really want to audition if it was a small part. But it [the role] was a new series regular, a classy schoolteacher and she was a shape-shifter. Those three things made me go, "Huh. That's really interesting," so I auditioned the next day and they brought me back to have a chemistry read with Sam Trammell, who I got along with swimmingly, immediately, and it was straight to work.
According to Angela Robinson, "We're breaking the finale, but that's all I can say!"