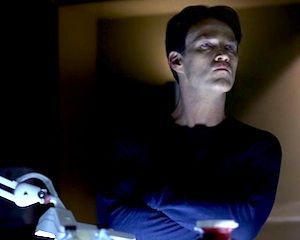 Harumph!
Don't forget to check the casting page for episode info, updated often, as well as HERE
John Cameron Mitchell and Wallace Shawn (6/3) & Denis O'Hare (6/11): A Good Read, June 3 & 11 at Joe's Pub. Ticket Price: $20.00 more info here.
Joe and Kristin filmed Extra on Wednesday, from Joe's twitter-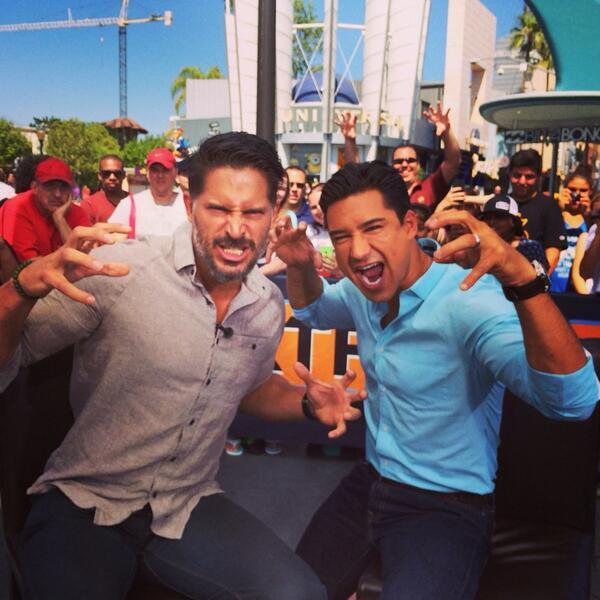 Adventure Man Ryan, from his facebook page.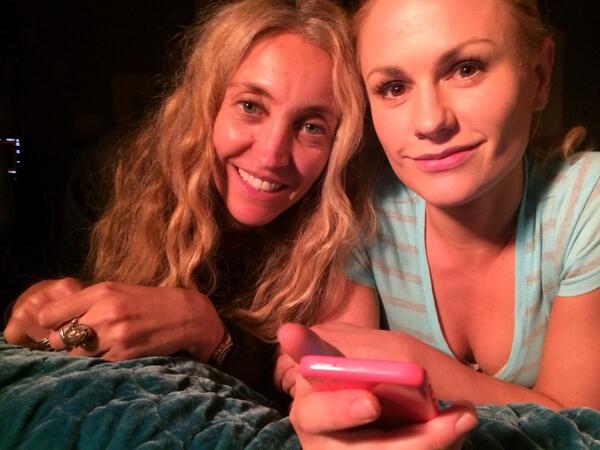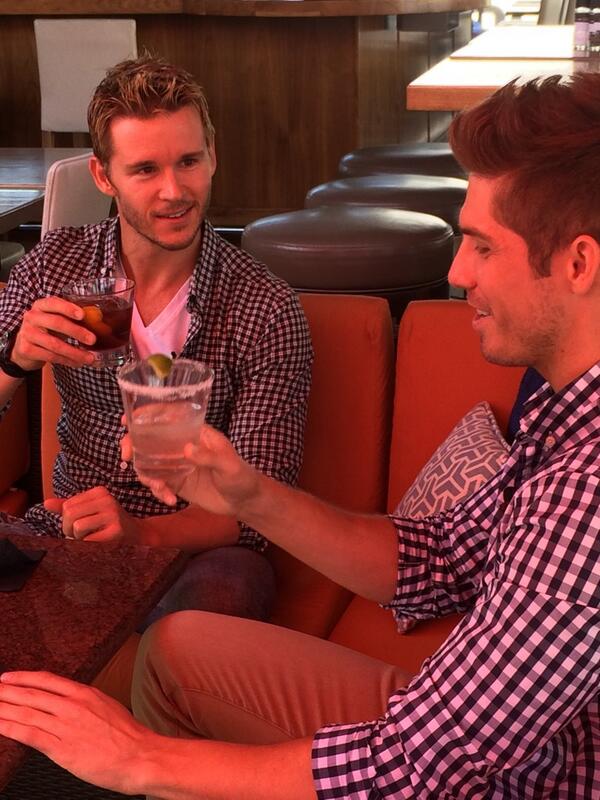 Video from Wednesday of Kristin, Joe and Ryan talking to The Wrap HERE, oops, looks like the Q&A isnt posted yet, will update when it is.
We JUST spoke with Alexander Skarsgard's agent and he says things aren't looking good in regards to Alexander showing up for the Red Carpet Premiere of True Blood on June 17th. We'll hopefully hear more as we get closer to the date
. From our friends
at AlexSkarsgard.net
AlexSkarsgard,net
Nice write up on Tara Buck on HuffPo, her background and other roles.
I wish we had some wine now as coffee doesn't aid my attempts at convincing Tara to reveal how Eric Northman survives being immolated upon that Nordic mountaintop at the end of season 6. Ginger is, after all, completely loyal to that powerful 1100-year-old vampire and his compelling consort Pam. "I'm their pet so I belong to them," she explains. Ginger has been "glamoured" (hypnotized, memory erased) so many times by the vampires that she is deranged. Tara Buck says, "I also think of her like a Tijuana stray dog, a Chihuahua. She just wants to be part of the group." Some of my favorite images of Tara are of her riding Pam's casket like a bucking bronco, and entering her room, the shrine of a vampire fangirl, Bela Lugosi posters and all.
Of her most unusual journey on True Blood, Tara Buck admits, "Every time I got a script, I would look through it and see if I died. When I didn't, I'd go back and read the script, and sort of breathe a sigh of relief. Oh, I've got another episode. So this year when they wanted to offer me a series regular, I was a little in disbelief. And thrilled, of course!"
She says, "It's the payoff for all the things you wondered about Ginger. What's she doing there? What keeps her there? Why do they keep her there? What is her relationship with Pam and Eric? I think the fans will be sufficiently satiated this season." MORE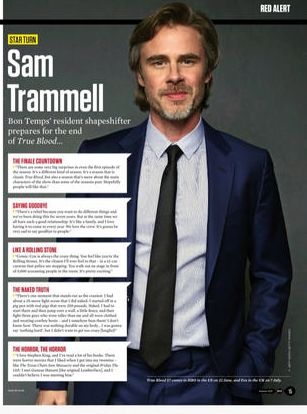 Sam in SFX Magazine downloadable here.
Now this is a good chop, from @bethanyhb retweet of Stephen's tweet
Joe video at the Maui Film Festival from KTLA
Photo:
Andrew Goodman/Getty Images North America via Zimbio. Glad everyone got leied.
True Blood HBO is posting some old clips for us.
and then he was vampnapped by Lorena, that bitch!
True Throwback: 7 Sensational Scene Stealers

by Tanner Stransky
There's nothing quite like a scene stealer in Bon Temps. You know, the personalities who waltz into a situation and effortlessly snag all the humor for themselves with a killer line of dialogue or a fearless act. We're talking folks like Lafayette, Steve and Sarah Newlin, Pam... and the list goes on and on. Today, as a continuation of our True Throwback series that's celebrating the best of 'True Blood,' we're honoring the characters who bring some levity and sass – and dare we say it... bite? – to the show.
Lafayette Reynolds, getting hands on with some disrespectful customers at Merlotte's:
Russell Edgington, famously initiating some spine-tingling action: