Barnabas wanted to host the weekend and he's not someone you say no to, worse than Uncle Karl!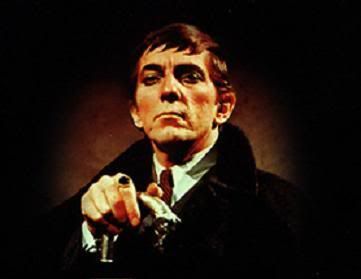 He seems to really like Joe Maganiello, who knew? It must stem from Alcide reminding him of hot stuff Quentin, can't blame him.
More photos of Joe from GQ Style UK, he needs Just for Men for Beards.
From CinemaBlend-
Joseph Gordon-Levitt, Ryan Gosling and
Alexander Skarsgard
: three of the most in-demand young actors working in Hollywood today. The first broke out in last year's Inception, is earning Oscar buzz for his role in the upcoming 50/50 and has a part in Christopher Nolan's final Batman movie. The second has been everywhere this year and his performance in Drive, which is set to premiere tomorrow, has earned the actor almost unanimous praise. The third is a star on HBO's hit showTrue Blood and, like Gosling, has a new movie opening tomorrow (Straw Dogs). You have to imagine that every casting agent in Hollywood wants at least one of them to star in their new project.
Gordon-Levitt, Gosling and Skarsgard are now being looked at for the starring role in Steven Soderbergh's The Man From U.N.C.L.E. Unlike Clooney, however, who was being looked at for the role of Napoleon Solo - the character originally played by Robert Vaughn- the three young actors are being looked at for the part of Ilya Kuryakin, Solo's partner (yes, I am aware how weird that sounds). The story comes from a source close to the production, who says that the three actors are just a few of the names that the studio is looking at, the full list including upwards of 20 actors.
From Shockya,com
True Blood's Stephen Moyer, known as Bill Compton to fans of the Allan Ball series, is now officially attached to star in director Darren Lynn Bousman's (Saw, Repo) devilish tale of a camping trip gone awry. According to Variety, Moyer has inked a deal to star in the movie titled 'The Barrens', where he will play a man who decides to take his family on a camping trip to the New Jersey Pine Barrens. Becoming "convinced they're being stalked by a legendary winged monster that looks like a deformed hybrid of several different animals," Moyer's character will undoubtedly go mad

Speaking to Variety, Bousman ensured the outlet that he plans to take the horror picture "another step further. I don't want to turn it into a cheesy creature feature. It's about the characters for me, and having watched Stephen for years on 'True Blood,' I have no doubt he's the right leading man.
From AfterElton, lol! I bet Harkness did tell him that.
This week saw the season finale of True Blood, and let's just say the show lived up to the "blood" part of the title as a lot of that sticky fluid was shed, including some belonging to characters very popular with AE readers. At the top of that list was Jesus (Kevin Alejandro), Lafayette's boyfriend. Also dying wasTara (Rutina Wesley) and Nan Flanagan (Jessica Tuck), all of whom were at the very least queer characters, if not actually gay
McMillian discusses his current writing project, "True Blood: Tainted Love," co-written with Marc Andreyko. The series deals with his character from the show, Steve Newlin. The story takes place between seasons 2 and 3, and McMillian teases the future of Newlin on the HBO series which just wrapped its 4th season. CBR
HBO has many new stills for each main character from season four up on True Blood's Facebook page. Terry in ginge sandwich look at him smiling.
This scene should be watched daily
Scans from the latest EW are at Skarsgard Source, this is only one of the pages there.
From
the Vault
Sookie with a wee Goblin, member of the Fae, lol.