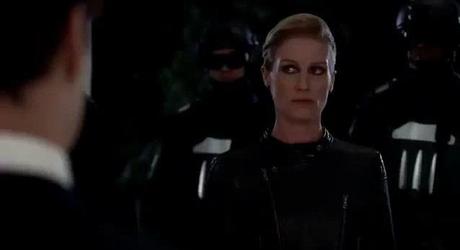 Who is across from Nan? Is it just Bill all dressed up to kill or is it someone we haven't seen because he's been missing and has posters asking if we've seen him? I can hope even if it seems like that isn't going to happen the more I read about this finale.
Nelsan is giving some good juice about the finale in some new interviews.
LA Times Show Tracker, more at the link-
"True Blood" is gearing up for the finale of its fourth season Sunday night, and actor Nelsan Ellis, who plays flamboyant, forthright medium Lafayette Reynolds, promises that it will be one to remember -- and not just in terms of momentous events for his character and his partner Jesus, played by Kevin Alejandro.
"The finale turns Bon Temps upside down," the actor said, speaking recently by phone from New York, where he was shooting a feature film tentatively titled "Gods Behaving Badly." "Lafayette and Jesus are directly in the middle of it, and it doesn't end well. No finale in the history of 'True Blood' has been worse than this one in terms of the cliffhangers. People are going to be [upset] because they're going to have to wait like seven months before they figure out what materializes after this finale."
By the end of last week's episode, "Soul of Fire," Lafayette found himself possessed by the spirit of the recently dispatched witch Marnie (Fiona Shaw), who's more than likely to use his body to her own evil ends as she seeks to eradicate vampires not just from Bon Temps but also from the world at large.
"I had to work with her to figure out what she was doing, and figure out how I was going to do what she was doing inside of me," he said. "It was a long discussion, myself and Fiona, we sort of did the same thing, figuring out how that's done. What we figured out is that there's a third person that's created. I didn't have to mimic Nondumiso, Mavis, rather I had to find out how she was in my body because she's coming into my mechanics, we had to figure out how that was.
From NY Mag's Vulture Blog-
As for his day job, Ellis claims that his current True Blood arc, where Lafayette finds himself possessed by the witch Marnie, wasn't an easy thing to film. "Alan Ball told me I couldn't try to talk like her, and I was like, 'Really?' So that was challenging. 'Who do I act like?' 'Not her.' I had to create something else ... We'll see what the fans say about it. The most exciting part of the episode isn't me, though — it's the cliffhangers."
But True Blood always ends its seasons with big cliffhangers! "No," said Ellis gravely. "This year, it's on a different scale. When we all read the script, we were like, 'What?!' The cliffhangers take it to another level." Are we getting something akin to the first season finale, where we thought that Lafayette had perished in the final minutes? "I can't give it away, but something like that, except, I can't say, but something really big on that level is going to happen." He laughed. "You'll see, and it'll throw you for a loop, and then you all will have to wait for eight months!"
From
TrueBlood.net, this is from June.
True Blood's season 4 finale, "And When I Die", comes the casting call for characters needed for this episode.
First
up is Doug, Alcide's foreman at Herveaux Construction. He's a schlubby guy with just a
couple of lines.
(edit-this is who I think will find Russell in some way).
The big news comes in the form of Patrick Devins, a tough, ruggedly handsome man in his mid-30s to mid-40s. He's an old military buddy of Terry's; in fact, Terry saved his life twice. Patrick will be a series regular in season 5 (that's right, they're already casting characters for season 5), appearing in 7 out of 13 episodes. Not sure if that means season 5 will have 13 episodes, or if they're counting 4.12 in that number.
(we now know this is Scott Foley)
So what do you think about Terry potentially having a larger storyline next season? Or is Terry possibly the object of the title and Patrick comes in to help out Arlene as a way of paying Terry back? And why are we only just now meeting Alcide's employee?
Some ideas for the finale, since I'm usually wrong, this is just for fun.
Would Patrick showing up after Marcus's demise have anything to do with an alpha dog show down coming up for pack master? Will any of the dead that arise be old Civil War mates of Bill Compton? Remember the Descendants of the Glorious Dead meeting where Bill talked to the living who had ancestors he knew during the war? Screencaps of the finale preview pretty much confirm that Red Riding Hood is Jessica making a booty call to Jason's, but is it before or after he's whooped by Hoyt? Ball's wording of someone meeting their "maker" still leads me to believe we'll have a new vamp, hoping so anyway. We need new blood in Bon Temps, a friendly vamp in the "Bubba" vein. Sookie, oh Sookie, has she been on my nerves this season. Her on and off again fairy powers that she forgets to use when needed most have been more annoying than her constant crying and screaming. I figure Alcide makes his move after both vamps say they need space so she can get their blood out of her system. We know that fairy boinking in the woods with Andy won't be going anywhere happy for him. The writers want a Holly romance so when that gets going, I'm horny fae girl will be back to mess it up, maybe preggers? Speaking of which, how many of Jason's swimmers were successful in Hotshot? Big Mama Kitty can't just disappear, no matter how much we want her to. So much to think about and so little time!
From Eonline's Kristin
Dear Sookie Stackhouse: On behalf of the entire female population, we kindly implore you to bottle up that fairy blood running in your veins and sell it to the masses. 'Cause if it's powerful enough to make the ridiculous hotness that is Alexander Skarsgård, Stephen Moyer and Joe Manganiello all fall in love with you and fight for yo ass, we need it. Don't be a selfish little fairy. Run along now.
Yep, believe it or not, it seems that in this Sunday's True Blood
finale, the love triangle is apparently back to a full-fledged rhombus, courtesy of Manganiello's Alcide getting back in the Sookie-seeking mix.
In this sneak peek of Sunday's season-four finale, Alcide makes a pitch for Sookie to "follow her brain" and stop making the same dumb mistakes over and over again. "People don't change," he tells her. "They just find new ways to lie."
See, Debbie is apparently now fully out of the picture, and so it seems Alcide is having a bit of an "Aha!" moment: let his werewolf GF go for good and hook up with the Sookster (a bad nickname, but fun to say, so just let it slide)
Joe himself told us he believes Sookie and Alcide would have already been living happily ever after had she not vanished at the end of last season. "I really believe that if Sookie wouldn't have disappeared he could have built that house for her, for the two of them," Joe insists. "[When she showed up], I think his heart got pulled in that direction. He's a good guy [but] he's also a character where he's had to push down a lot of his impulses—being a werewolf having to hide, not really being able to stand up fully straight and be who he really is, inhabit that power. And this is yet another thing he has [had] to push down. And like a pot boiling, when you push that lid down enough it's going to pop off. And that certainly happens."
I
f the writers throw a curveball into this Sunday's finale, and end things with a Sookie-Alcide hookup after an entire season of an in-your-face (rarely clothed) Sookie-Eric-Bill love triangle, what exactly are we gonna do? Riot in the streets? Bake big boss Alan Ball a thank-you cake? Submit our reel to be the new Bon Temps girl in town for season five to help Bill and/or Eric pick up the pieces...with some crazy hot rebound sex? (Don't steal that idea, it's mine.)
MSN's Wonderwall has a bit on Kevin Alejandro where he talks a little about the finale.
Wonderwall: What can fans look forward to from the season finale?
Kevin Alejandro: Well, actually last weekend's episode read as a season finale. It could have very easily been the season finale. It was so good. We all thought when we saw it, and then all of a sudden they gave us the script for the actual season finale and it blew us out of the water. So, you can expect to be completely surprised in all different angles of the show. It's more captivating and will leave you on the edge of your seats. And I guarantee you, eyebrows will be raised.
WW: Will we be left with a lot of questions or will things tie up nicely?
KA: A little bit of both. Definitely some things will get resolved and a lot of stuff is going to be left hanging in the air, where you're just going to be like, "What the hell?" Now I gotta wait all these months again; I gotta wait till next year to watch it. But that's what makes "True Blood" great, I think.
Not a spoiler but Interview Magazine has a good interview with Kristin Bauer!
The Lady is a Vamp!
Wetpaint is not afraid to go there, they are asking the big question. Will Lafayette kill Jesus?
Ghost Marnie is out for revenge, and now that she's inhabited Lafayette's fro-hawk, we're seriously concerned about Jesus' RIP status.
If Lafayette accidentally kills his lover while possessed with Marnie and her lame hippie clothes, we don't know what we'll do — and can you imagine Lala's guilt once he vomits Marnie up and realizes what he's done? It'll be like Eggs and Maryanne all over again, except with less bull sex and meat altars.
Let's take a moment to pour some out for Jesus, our soon-to-be fallen homie. Though, it's not like he won't resurrect next season.
Whew, they are making like it's a done deal.
Wetpaint also has the 12 Sexiest Moments of the season up, prepare to heat up!
Buddy TV has the previews up and some thoughts-
The True Blood season 4 finale promises a lot more death, but since we've already seen Tommy, Marnie and Marcus get killed, the show is going to have to get creative if it wants to kill more people.
But the real story of the True Blood season 4 finale is about the death or deaths. In this promo, we see the Population of Bon Temps ticking down at an alarmingly fast rate, so I'm expecting multiple dead people.
There are a lot of suspects not just for who might die, but who might do the killing. Marnie has taken over Lafayette's body, Nan Flanagan has vowed to get the Authority involved and the fairies came back into the mix. Any of them can do some serious damage.
As for who will die? Lafayette and Jesus seem like obvious targets given their current predicament. Hoyt seems expendable now that he's not with Jessica. The same goes for Debbie. Basically, there are too many options to count, but as long as Sookie, Eric, Bill and Jason make it out alive, I'll be happy
.