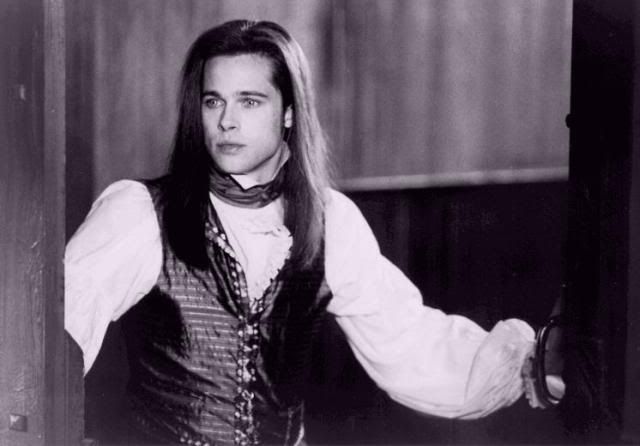 Louis opens the door for us lost Trubies, he's our host this first True Bloodless week. I felt we needed the pretty that is Louis de Point du Lac to help with withdrawal, tres beau. Louis is not happy that in all his years in New Orleans he's never been approached to run for any office by The Authority, he wouldn't accept of course but it is the thought that counts. You all know how sensitive he is.
Let's see how much we can add to this week's post before it blows up, can it last till Friday?
From Matt at TVLine, more Joe-
Will True Blood Season 5 be the season that Sookie's love life gets truly hairy?
Speaking with TVLine at our Emmy weekend kickoff reception at Levi's Haus, Joe Manganiello offered his thoughts on Alcide's season-ending reaffirmation of love for Sookie, as well as shared the "bare facts" about shooting Alcide and Eric's "naked showdown" at the lake.
"It was Valentine's Day, and there's me and [Alexander] Skarsgard naked, screaming that were going to kill each other, with Anna [Paquin] in the middle and my wolf Thunder a few feet away," he recalls. "There were a lot of 'Happy Valentine's Day, Anna' jokes going around."
Wetpaint has some S5 ideas from book 5, "Dead As a Doornail", read it in it's entirety HERE.
They are also guessing to who the wolf is that was snarling at Sam, HERE
Celebuzz has several photos of Anna and Stephen from the Emmys last night-
Matt Roush of TVGuide got a question comparing Torchwood Miracle Day to True Blood
Miracle Day has to be at least a peg or two underneath guilty pleasure True Blood, with its often maddening policy of equal screen time for every single regular cast member. I like the show the best when they get most of the characters in the same place at the same time, but they're lucky if they have two out of five good stories going on simultaneously. Andy's V addiction was the most annoying subplot yet. At least the majority of the heavily proliferated cliffhangers made for a mostly satisfying finale. I'm just wondering how long they can continue to pull this show off in the long run. From what I've gleaned, the show is more or less going through one book per season and the 12th book is set to be released sometime next year. It appears as though HBO is interested in having this show on forever, but what of the actors, contract negotiations and budgetary concerns that tend to swell up over time? Looking at HBO's past, 5-6 seasons is generally the sweet spot for an HBO original scripted drama if it's lucky to get enough public and critical notice. I'm just trying to wrap my head around Stephen Moyer at age 49 in the 12th season of True Blood. My bet is that they're going to skip or amalgamate a few books, or go the Dexter route and splinter off into a drastically different canon (the most logical choice). It wouldn't hurt if they reduced the amount of filler subplots that tend to go on without leading anywhere. Any additional conjecture you'd like to add? — Gene
Matt Roush: The future of Torchwood, by all accounts, is in Russell T Davies' hands. (Sort of the way future seasons of HBO's Curb Your Enthusiasm always hinge on Larry David's own enthusiasm and drive.) If Davies comes up with another grand idea that catches Starz' fancy, there may well be more to the story, but it may not happen on a normal renewal timetable. Maybe a little time and distance would be the best thing for all involved, given how Miracle Day turned out. Regarding True Blood: For better or worse, this is a show about excess, and that includes an overabundance of characters to follow, not all of them earning the attention (Andy and Sam have been the two biggest offenders lately, at least for me). As long as True Blood sustains its popularity, I'm sure HBO will want to keep it around, but I don't see it lasting as long as the book series, in part because these actors and writers will all eventually want and need to move on. But now that they've told the story (from book 4) of Eric's amnesia and love tryst with Sookie — a high point for the book and TV franchise — I'm betting the series will begin veering even further away from the books than it has already. Given how forgettable some of the more recent novels have been, this can only be a good thing for the HBO cast and crew.
Get your votes in for the Scream awards, True Blood is nommed again, of course.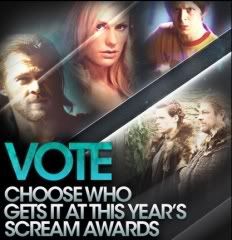 Screenrant has the Supes of True Blood listed and the caricatures are excellent-
The HBO series True Blood has a wide variety of supernatural characters that keep viewers returning to the series every week (well, among other things). The series regularly features new creatures who wield a various array of exotic powers – from the well-known vampires, witches and werewolves to new twists on classic creatures like "were-panthers." If you're new to the series (or even if you're not) – our friends over at Direct TV True Blood have created an infographic that breaks down all the different creature types on the show, along with their weaknesses, powers and how to become one within the context of the series.
[Via: Direct TV True Blood]
Fear.net has 5 supes they'd like to see next season on True Blood, including Leprechauns, ha!
They have freakin' fairies; why not leprechauns? Maybe throw in a few unicorns while you're at it.
Lindsay Pulsipher will replace Hilary Duff in the remake of Bonnie and Clyde-THR
Loads of photos from HBO's Emmys After Party At Socialite's Life
From True Blood News, The Nest, I see even spoilertv posted it-
Will Rev. Steve Newlin try to form a Fellowship of the Fang? Will the King be fighting with Bill and Eric or against them? Is the new formidable Vampirella Russell's maker or his child? Will it not suck?
Writer
Raelle Tucker
and Executive producer
Alan Ball
talk to

TV Guide

about True Blood's Season 4 finale and some hints about what will be happening in Bon Temps in Season 5.
Will
Tara (Rutina Wesley) Survive?
"I can't say whether she will be back in her present form, but we'll continue to tell Tara's story," says Tucker.
Are Bill (Stephen Moyer) and Eric (Alexander Skarsgård) marked men after killing Nan and her guards?
"They've been fighting witches all season, and now they will have to fight the power elite of their own kind," says Ball. Adds Tucker: "For once in their lives they need to rely on and trust each other. They team up to face a common enemy.
"
Is Russell Edgington (Denis O'Hare) really back?
Yes confirms Ball–and with "an interesting new alliance," teases Tucker.
Will Werewolf Alcide (Joe Manganiello) finally win Sookie's (Anna Paquin) heart?
"They have a deep friendship and chemistry that we'll continue to explore," Tucker says. "But Sookie will be trying to stand on her own two feet next season."
Will ghosts from Terry's (Todd Lowe) past threaten his wife, Arlene (Carrie Preston)?
"The ghosts will come back, and he and Arlene are going to be challenged by that," Tucker confirms. "Terry's PTSD comes from a particular incident we'll learn more about.
Scott Foley's
Patrick Devins has a huge part to play."
What kind of vampire will former fang-hater Steve Newlin (Michael McMillian) be?
"He will do what he believes is the righteous thing that God wants him to do, although it will be altered by his new condition," Tucker says.
Any exciting new characters coming up?
"There are a couple of new roles that will be very sexy," says Ball. One in particular is "a strong, mysterious female at the center of one of our main stories," Tucker says. "She's fierce, one of the strongest women we will have seen on the show, a force to be reckoned with."
Source
:

TV Guide Magazine, issue dated September 26-October 2, 2011