Welcome to our little corner of hell, where waiting does really suck, just ask our host, Uncle Karl.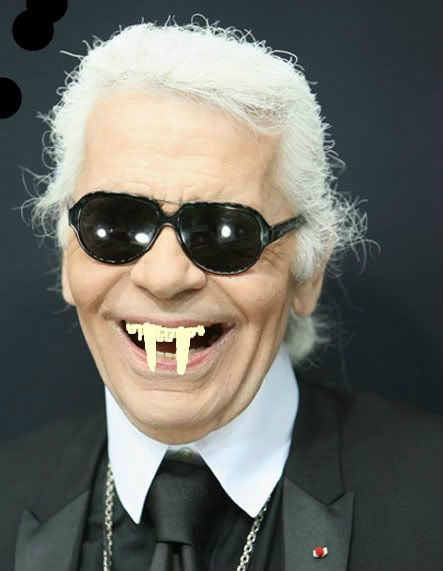 It's that time of year (again) when spoilers flow slow and we make our own fun. I'm just going to keep adding to this post until it's ridiculously long then make another and another etc..
Posted this back in August it's a casting call for S5, from Rhoswen7
TRUE BLOOD (New Series Regular)
Start Date: Mid-November
Location: L.A.
[NEW FEMALE VAMPIRE] 19 to 30s. A dangerous female seductress. Must be smoking hot! Nudity required.
That's right, peoples - it's the last Blood Work! of the season, which just happens to come right after the last episode of "True Blood" Season 4 (ain't that crazy?!). The finale episode has been a love-it-or-hate-it finale for many, and Andy and I are here to help you decide once and for all whether it was a trick or a treat.
In this vlog we discuss eggs over-Marnie, shotgun murder, Cajun ghosts, demons, Steve Newlin, the loss of our patron saint Banana Flanagan, half-assed Halloween costumes, and the Bon Temps Community Playhouse production of Our Town. We also announce the winner of the end-of-season giveaway, with a few surprises!
Question: OK Mikey (is it alright if I call you that?), now that True Blood has come to an end, please give us some dirt — even the tiniest amount — about next season! —Paige
Ausiello: Season 5 will pick up right where Season 4 left off — with Tara's brains splattered all over Sookie's kitchen floor. And to answer your first question, it's most definitely not alright, Paige.
TVFanatic condensed the EW interview with Raelle Tucker -
We'll meet "a very significant, strong, mysterious woman at the center of one of our main stories next year," Tucker saysTucker. "It may be someone you've heard of before."
The show will visit the fairy world again - a dropped storyline that angered us in the most recent True Blood Round Table - as the season "will explore more fairies, new fairies, fairies in a way you haven't really seen fairies."

The wolf that growled at Sam to conclude season four will be identified.

Russell Edgington? He'll return, Tucker confirmed:"It's safe to assume the king of Mississippi is not gone for good."

Sookie will remain single.
The consequences of Bill and Eric teaming up to kill Nan "are going to chase them for a while next year."
Anna Paquin with be a presenter on Sunday's Emmys, no word on Mr Moyer but it would be cute to see them both (cute? kill me now)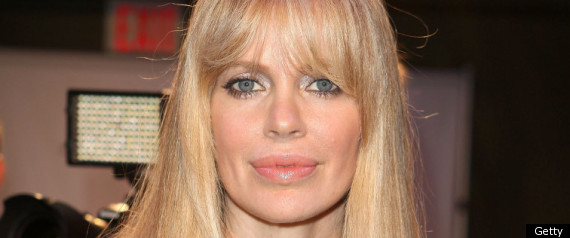 Huffpo talks to Kristin about the finale and what might be coming up in S5 for Pam.
In Sunday night's season four finale, the tension between Pam and her maker Eric reached a humorous boiling point when Pam, ever the dramatic, throws a bona fide vamp temper tantrum at Fangtasia, exclaiming, "I am so over Sookie and her precious fairy vagina and her stupid name." And while Pam's less-than-pleasant sentiments may have echoed the thoughts of millions of viewers, it didn't do much to detour Eric from Sookie's "precious fairy vagina"
"He really is the one rock in her life -- the one person she really loves and would do anything for," Bauer told The Huffington Post. "She would die for Eric. That's it for her. He's her maker. He really is her best friend, her daddy, and they just have such a complicated relationship. And she loves being his lieutenant. She doesn't want to be first-in-command, so when he's not there to be her rock, she doesn't like it. That will definitely come into play when we go into Pam and Eric's pasts next season."
But as an actress, Bauer points out, fans are just starting to understand Pam and all of her intricacies as a character -- "part vulnerable, part badass" -- and season five promises to explore Pam's origins even further.
"I loved seeing a vulnerable side to Pam this season, " said Bauer. "As an actor, you want to do something new every year and do something deeper, so it was incredibly fun for me to get to see who she was without Eric because he wasn't really there for her this season. And then you take away her looks -- her vanity -- and I had no idea how she would react. It's the same in real life too. When the sh-t hits the fan, you really discover yourself, and the fact that she becomes a warrior made me love her even more. She could have sat there and cried and felt sorry for herself, but that's not Pam." Read it all at the link above, it's always good if it's Kristin talking.
Rabid Doll has a recap that I can identify with, it's all at the link -
Finally, "True Blood" recaptured some of the magic of previous seasons with a season finale that was almost good enough to make viewers forget about the poor quality of episodes they had to endure this season. Almost. A great finale does not make a great season, and Season 4 was anything but great. Still, this was fun to watch.
The first character of the evening to join the body count was Jesus (Kevin Alejandro), who realizes too late that Marnie (Fiona Shaw) has possessed Lafayette (Nelsan Ellis). Somehow, without it being shown, he/she is able to capture Bill (Stephen Moyer) and Eric (Alexander Skarsgard), strip them naked, and tie them up to a stake to be burned. I am not sure how that was accomplished. It seems quite implausible, but who's complaining? Apparently the director couldn't figure out a way to make it believable either, so viewers just have to accept that it happened.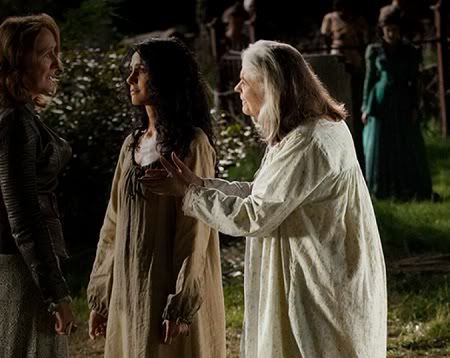 Who's up for breaking into Merlottes, getting bombed and egging the king's mansion?
Janina and Rutina talk S5
A vid I read about but didnt see-
some beefcake filler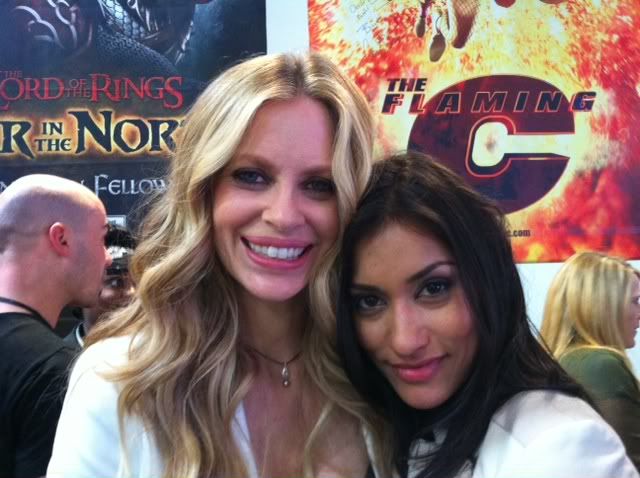 from SDCC, Shifters and Vamps together in perfect harmony
Silk suit, black tie, I don't need a reason why. They come running just as fast as they can.
Every girl is crazy 'bout a sharp dressed man.
Joe was so jealous of Askars and Moyer's matching robes he went and done got a gun AND a robe! From Twitter

What better time than hiatus to play with True Blood paperdolls by Andy Swist?
MMTV's HollywoodCrush talks to Askars about Straw Dogs and Season 5
It's been an interesting season for the frequently nude, ever evolving Eric on "True Blood." He lost himself for a while there, and while in an amnesiac state, fell for Sookie. And in turn, she kind of fell for him. (Side note: WHO COULD BLAME HER?!) And then, well, he regained his memory and he wasn't a hoodie-wearing Eric anymore and the bad boy was back.
Except as the charming Alexander Skarsgard told us at the New York premiere for "Straw Dogs," he may be as bad as ever, but he certainly isn't the same. "They're writing the season right now and there's a great opportunity here 'cause old Eric is back, but it's not the old Eric, 'cause he still remembers the love with Sookie and that changed him," he explained, as we swooned.
Charlaine Harris on the Geek's Guide to the Galaxy, via io9.com, download the MP3 HERE or listen on the site, here's what she discussed-Part 1: Interview with Charlaine Harris (1:22)
Topics covered: Synthetic blood, rules for vampires, appealing to mystery, fantasy, and romance readers, wrapping up a long-running series, Six Feet Under and Lost, viral marketing, biggest surprises watching True Blood, Anne Rice, vampire sex, Twilight, early influences, Jane Eyre and The Three Musketeers, favorite science fiction, Harper Connelly, lightning strike survivors, "An Evening with Al Gore," editing anthologies, fans invested in Sookie's love life, odd fan behavior, upcoming projects.
Meredith, who wrote the great Pros and Cons Recaps, wasn't too happy with the season and it's all HERE.
Horrible Villains
Why It Sucked: Hey, starting a season after introducing probably one of the best TV villains ever created (Russell Edgington) can't be easy. Plus right before the King of Mississippi there was the even more nefarious — and rife with political metaphor — character, Rev. Steve Newlin. Suffice to say the friendless witch, meth-faced were-panthers and the werewolf with short-man syndrome just didn't live up to their predecessors. They were downright terrible characters, weren't they? Thankfully, and unsurprisingly, everyone was killed off, so we can start anew with folks who are actually frightening.
How It Can Be Saved: It's already in motion, the cliffhangers for the season teased the return of both Edgington and Newlin. (yippee from me)
Carrie Preston is heading back to court
The True Blood star has been booked to reprise her role on CBS' The Good Wife, The Hollywood Reporter has learned exclusively.
Preston is slated to guest star as as Elsbeth Tascioni in Episode 307. Preston first checked in to the Juliana Margulies-Chris Noth starrer for two episodes during Season 1 as a member of Peter's legal team.
While Preston is confirmed to guest star in the episode, sources say there's a strong chance her time with Emmy-nominated drama will expand during its upcoming third season.