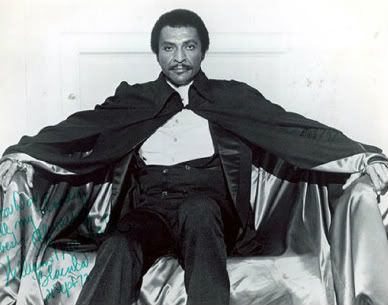 Well, Well, Well, look who is here all chill till his next kill, Count Blacula! Remember how he would get extra hairy when his fangs came out, never understood that part? Is it true once you go Blacula you never go backula? Ok, no more cornball crap, let's get on with this session of our TBHSG.
Rutina was on Good Day NY
Rutina Wesley: MyFoxNY.com
Ryan in Men's Health UK
Kwanten: Women love confidence
True Blood star Ryan Kwanten credits his sex symbol status to his character Jason Stackhouse being so confident.
The 34-year-old Australian actor admitted to Men's Health Magazine that his character is a bit of a 'knucklehead', but thinks women like his cockiness.
Ryan said: "With all the guys on the show there's a rawness to them. With Jason it's very unabashed. He's very comfortable in his skin. I think from a female perspective, that kind of audacity or confidence can be sexy.
"Although I don't think that a guy like that could be sexy all the time. It is a little too full on... but then again, I'm not a girl.
"Jason has been shot at, raped and danced around in his underwear wearing a Laura Bush mask. The fact that he is still standing there is kind of... intriguing."
The former Home and Away star confessed he's been blown away by the show's success, but tries not to let it go to his head.
"It continues to amaze me. I saw (True Blood creator) Alan Ball yesterday, and even he is overwhelmed by the way it continues to grow. It's exponential. It is rating above any other show HBO have ever had including The Sopranos.
"I try to live in a little bubble. It's an Australian and a British thing not to take things too seriously. It's fantastic that it's a success, but you need to keep a hunger and an ambition to have more, and want more."
The full Ryan Kwanten interview is published in Men's Health November issue - on sale Monday October 3.
Michael McMillan and Cat Deeley? Cute if true, it is from a tabloid.
For UK readers, Season 4 should start in January on FX then on Channel 4
From WetPaint, Joe on the set of his Magic Mike movie-
The 34-year-old True Blood hunk will be baring all, not really, as Big Dick Ritchie in the new movie, which just so happens to be based on Channing Tatum's real-life dancing days. Hey, we all gotta start somewhere!
Sam Trammell has a supporting role in a new movie according to Collider, The whole article at link.
Sam Trammell (True Blood) has joined the cast of Long Time Gone, the directorial debut of Precious producer Sarah Siegel-Magness. The story centers on "a broken family who must cope when Gordie Iris (Anthony LaPaglia) leaves his wife, Augusta (played by Virginia Madsen), for another woman." Zach Gilford (Friday Night Lights) and newcomer Graham Rogers play the two sons who have no idea how to comfort their despondent mother until Amanda Crew (Charlie St. Cloud) steps in.
Just Jared has pics from the set of "Disconnect", Askars newest movie, looking a lot like Bill Pullman,
lol. Why fight
the hot?
I'll remember you Dr Pecos, and all you've done to protect us from the undead.
On September 10, celebrities from film, music and television converged at First Point, Surfrider Beach in Malibu for the Surfrider Foundation's 6th Annual Celebrity Expression Session presented by Cali Bamboo. Sam Trammell does his thing this year again in Malibu.
From HBO's store French Quarter Issue #2
Askars Talks Melancholia with Keifer Sutherland