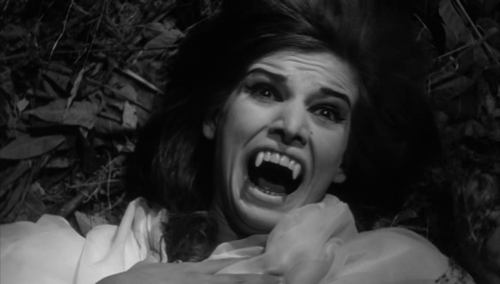 Even this vamp is thinking, Oy, five and a half more months till I can watch True Blood!
Happy Birthday (Feb. 8) to Jim Parrack!
Jim's Demo reel, has some scenes with Mariana Kleveno/Lorena too.
Filming has resumed on the next season of
True Blood
, and while we've heard plenty about new additions to the cast like Christopher Meloni, what of Denis O'Hare's villainous vampire Russell Edgington, who appeared to have escaped his concrete prison in the last episode? "I don't know what they have planned for me, but I'll probably be in most of the season, starting about midway," O'Hare told us last night at
Second Stage Theater's All-Star Bowling Classic
. But don't expect any spoilers on how Edgington got away: "If I told you that, they'd bury me again. All I can say is that he's got friends in unlikely places." Edgington brought his own bowling ball and bowling shoes to the event, but when it came to this week's
other
big game — the Super Bowl — he was less enthused.
"I don't hate football, I just don't care. I'd rather be at the opera," the out actor told us. "It's not about [being] gay or straight, it's a lot of hype. It's a lot of money, money that could be spent better somewhere else. I think we as a culture could do something better with our attention than worry about a bunch of men in tights running around hitting each other." Although when you put it that way, Denis ...
Interview with Denis from Queerty, after some political talk they asked about TB-
Anyway, that's enough politics. You're back on True Blood this summer—how the hell did Russell survive?!? Well, if I told you that, they'd bury me again. All I can say is that he's got friends in unlikely places.
How mysterious. You're also doing some theater in New York, right? Are you allowed to tell us about that? I'm doing An Iliad right now.
As in The Iliad? Yeah, it's a one-man show at the New York Theater Workshop. We start previews next week!
So it's about the Trojan War. I'm playing Homer.
I missed this interview with Janina, and y'all know how I love me Maila Nurmi, Vampira! I had no idea she was at her gravesite.Complex Mag.
Tale of the Body Thief is coming to the big screen, loved the book but who will they cast?
According to THR, Brian Grazer and Ron Howard's Imagine Entertainment has optioned the rights to Rice's
The Tale of the Body Thief
. Imagine used its partnership with India's Reliance Big Entertainment to fund the acquisition, and it is using the Imagine Reliance Writers Lab to work on the script. Lee Patterson, who wrote a well-regarded screenplay titled
Snatched
, is working on
Body Thief
.
Don't forget Andy Swist's V-Day cards to download.
Stupid question
Janina and Carrie more info on the project "I Am Afraid of Virginia Wolf at Shewired
Ryan talking about his New Girl appearance. From Eonline