IDW announced the "True Blood" ongoing series in late 2011
following three miniseries based on the television show: "True Blood: All Together Now," "True Blood: Tainted Love" and "True Blood: The French Quarter."
A new posting on the
HBO Online Store
for IDW Publishing's "True Blood" ongoing series has revealed the full creative team on "True Blood" Series 4. The ongoing will be written by "Green Arrow" writer Ann Nocenti
and "True Blood" actor Michael McMillian
with creative collaboration from "True Blood" producer Alan Ball and art by Michael Gaydos. IDW initially posted the pre-order link on its
Facebook Page
with a cover image of "True Blood" #1. At this time, IDW has not released specific details were posted about the direction of the series or how it will link to the critically acclaimed HBO television show. More info at Comic Book Resources and pre-order at the HBO Store.
Michael McMillian tweet
s-

I'm very excited to be back on the True Blood comics. I promise to kill Eric in every issue.

#

TrueBlood
New update on IMDB, as speculated by us on Bookies, Meloni is Roman
New Inside True Blood Blog goes to the toilet, at Fangtasia.
Where Are We?
Reminder, Jessica Tuck, aka Nan Flanagan can be seen again on Friday's Grimm at 9pm on NBC.
From The Aids Memorial Park Campaign Website, Denis OHare speaks for a good cause. In 2012 we still have Aids deaths and people aren't treated equally, yet a Kardashian can get married for publicity.
Denis O'Hare from AIDS Memorial Park on Vimeo.
True Blood Wiki's Ginger page for our favorite Fangtasia screaming waitress.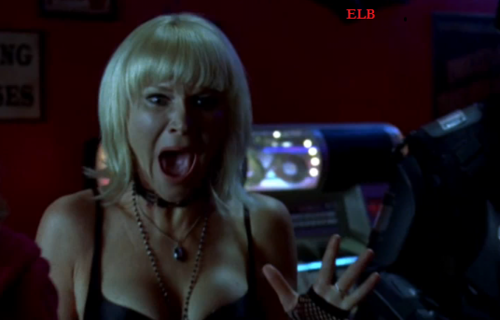 Kristin at the Golden Collar Awards, from the Folly FB Page, they designed her dress.
Hello, People of the Page, this is Anne's assistant, Becket, again. Here is one last video of Joe Manganiello. After surprising Anne and escorting her to the Wolf Gift signing, he kindly gave a brief message for you all.
Joe tweeted-
Still buzzing after meeting the incredible
@
AnneRiceAuthor
at the signing for her new book The Wolf Gift!
Look how red Joe gets, even his ears, how cute.
"Glock", written and produced and starring Michael McMillian, Tom Everett Scott (co-writer). You'll recognize Eddie (Steven Root) and Julius Caesar (Ciaran Hinds).
Brian from our fave horror site, Campblood, picks his favorite TV characters and Lala makes the cut, of course. He's #2 after the queen of all, Lucille Bluth.
2. Lafayette Reynolds (Nelsan Ellis), True Blood-
Sure, the show completely messed up his character this past season - but I'd argue that they messed up pretty much everything. From the start, Lafayette was a gay character unlike any we had ever seen on television before: smart, proud, flamboyant, and dangerous. He's the kind of queen who would cut you deep for skipping out on your Merlotte's tab ... and then bring you pie and street Valium in the ER. My kind of guy!
Favorite Moment
: The classic "AIDS burger" scene from Season 1.