This is what started my love of Udo Keir, hard to believe he was ever so pretty. Wirgins, Cheese and Gwapes! I'm posting in honor of Andy Warhol, gone 25 years.
The whole movie is on youtube, it is great. Poor Drac, in a world of Libertines,he can only survive on wirgin blood and that is hard to find.
Socialitelife caught up with Janina at the Toscars, we are Lunatics but she doesn't notice.
We also talked to
True Blood
star
Janina Garvankar
(who plays Luna Garza), who does not yet have a rabid fan base. "I wish! " she joked. "I'm like, 'where are the Lunatics?' I would be honored to have 'Lunatics.'" PS-this chick is a card. I was laughing my rear off the entire time we chatted. Garvankar, who brought her mother to the event, told us that all credit must go to the writers of the HBO series. "I can already see the grown in my character, and that's not coming from me," she said. "That's coming from the writers. I can't say enough about the writers."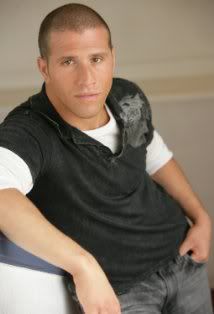 Kabookit says this is another newb for S5, I see it on Spoiler TV too-
JONATHAN KOWALSKY
Booked:
TRUE BLOOD
Episodes #504 "We'll Meet Again" & #505 "Boot N' Rally Ally"
Role:
TODD JEFFRIES
Represented By:
Acumen Entertainment / Affinity Artists Agency
Casting Director:
Junie Lowry Johnson, Libby Goldstein With Casting Associate: Lisa Soltau And Casting Assistant: Monica Kelly
Additional Notes:
Jonathan recurs on Justified. Other credits include BONES, NCIS:LA, 24, CSI:NY, DOLLHOUSE and DESPERATE HOUSEWIVES.
The original casting call for his character from Rhoswen7 on IMDB-
[TODD JEFFRIES] Seen in flashback to Iraq in 2003, this U.S. Marine joins his squad (which includes Patrick and Terry) on a trip to a small village, where their plans to party and wreak a little havoc go tragically awry. 5 lines, 1 scene.
Michael McMillian is adding to the TB world on Inside True Blood Blog
The process an actor undergoes to master speech techniques with prosthetic fangs. Typically applies to those actors playing vampires :

these fangs are making me lisp. I need fang practice!

Entry by Michael McMillian (STEVE NEWLIN)
"I love necklaces. So I wanted to design something and have it made so that I could have one. I don't wear rings and earrings as much, I just love necklaces"
From Kristin's Facebook.
Skarsgardfans has an interview with Charlaine Harris HERE.
Comic Book Resources has another interview with Michael McMillian and Ann Nocenti
for their thoughts on the "True Blood" ongoing, its place within the show's mythology, and what they have planned for the first arc and beyond.
McMillian said his acting role as Steve Newlin on "True Blood" does help in writing scenes and dialogue for the characters. "My biggest goal with the ongoing comic is to make it feel like the show in tone and character. I thought Marc and I did a pretty good job of it in 'Tainted Love,' but I want to take it even further with the ongoing," McMillian said. "We'll actually be stepping back from the larger ensemble a bit and focusing on fewer characters at a time within each story arc, which I think will really help spotlight each member of the cast. The comic really is an extension of the world Alan Ball and the writers and actors have created on the show, so imagining my co-stars speaking individual lines of dialogue Ann Nocenti and I write is essential to the process. If I can't 'hear' Alex Skarsgard delivering one of Eric's quips that we come up with, then it doesn't pass the test. In all honesty, I'm trying to write towards Alan's sensibilities at the end of the day. If he's happy with the script, then I'm happy. It's his world and his voice."
Co-writing the "True Blood" ongoing series with Nocenti offers a different dynamic from the previous mini, and McMillian said that so far it's working nicely. "Ann is this total pro and comics vet. I read her run on 'Daredevil' back in the '80s and loved it so it's a little embarrassing for me to come in as this actor and start elaborating on what I think we should do," McMillian said. "The truth is I'm just really passionate about 'True Blood.' I love working on the show, I love playing Steve Newlin, and I think that outlook could be overbearing for a new writer coming aboard. But she's been really cool with me taking the reins on the first arc and trying to establish that tone I was talking about. We've got our first year's worth of story-arcs planned out and she'll be helming our next major plot, so I think we'll passing the baton back and forth as we go".
Nocenti said she sees the comic as augmenting the television series by expanding what's possible in the "True Blood" universe. "I think the comic series can offer a wildness that you can't see on the TV show due to budget constraints. Michael just came up with an aerial vampire battle that would have added a small fortune to the budget. The great thing about comics is that anything can be drawn," she said. "If you want someone's head to explode, roll, pause to talk, no problem. And the skill of the content of the series will be to tell great tales, but also find moments that 'wow' fans, give them juicy tidbits between characters without giving away anything upcoming in the series. This will be more Michael's domain, as he is far more versed in the series than I am. I'd like to have our stories be provocative and clear enough so that new readers aren't lost. I would love to attract new readers from the comics world that have never even seen the show, who then go on to watch the show." More at the source.
From Forbes- Alan Ball isn't leaving the show
but will step down from running the writing staff. He will remain as Executive Producer.
Another pic of Sam from last week's Vanity Fair Party, more at Zimbio
True Blood' Star Nelson Ellis on How LA Cancer Fundraiser Hits Close to Home (Q&A) from THR (more at the link)The event, CureConstanceCampaign is March 4th
The Hollywood Reporter:
What got you into this?
Nelsan Ellis:
"My mom passed away from cancer last year. It was painful to watch and to have no assistance from the medical profession, other than morphine. There was nothing they could do. That was probably the most god-awful thing."
Ellis:
"My mother was diagnosed on a Tuesday and she died 7 days. This was like a drive-by shooting. And the only thing the doctors could tell us was they were sorry. She was solely on morphine."
THR:
What was the worst part?
Ellis:
"Not having hope. That was the most excruciating thing. In my mother's case, I know it wasn't her time. She was in a coma and her best friend came to her bed and said 'Peaches, get up out that bed. We got to go to a party.' And her eyes opened a bit and she literally tried to lift herself. Somewhere, she heard that."
THR:
What do you want to do?
Ellis:
"I'm just going to do whatever I can do – raise money, bring awareness. At this point, I abhor cancer. I hate cancer. I want to do whatever I can to give people hope and a sense that there's a chance."
Anyone have more info on THIS?
The first and second S5 teases from HBO
I asked Michael if Anna was showing up on S5 via twitter but (no surprise) I got no reply, now I see Jarrett Wieselman interviewed Ms. Camp and she sorta, maybe hinted she might. Longer interview at the link.
Insider: For me,
True Blood
is the first time I remember seeing you on-screen -- did you notice a collective consciousness shift with that role?
Anna: Oh my god, totally. It was the role that put me out there in a much bigger way. I had been doing theater in New York since I graduated. It was my first big job on a popular show. I thank Alan Ball every day for casting me. It was a turning point for me in my career. And I loved that character so much. I actually miss her a lot.
Insider: Well ... that was my next question! Steve Newlin came back at the end of last season, might Sarah join him?
Anna: She might! There might be some Sarah Newlin in season five! You'll just have to wait and see.
Insider: Well, since we didn't leave her in the best place, where do you think she is today?
Anna: I think Steve's left her and she is not happy about it. I think she's confused and lost and spiteful and wants to get revenge on everyone [laughs].
Insider:Is she a vampire?

Anna: I don't think so. I think she's telling the world her story and wants revenge on Jason, her husband and is out for blood. That's what I hope, at least.