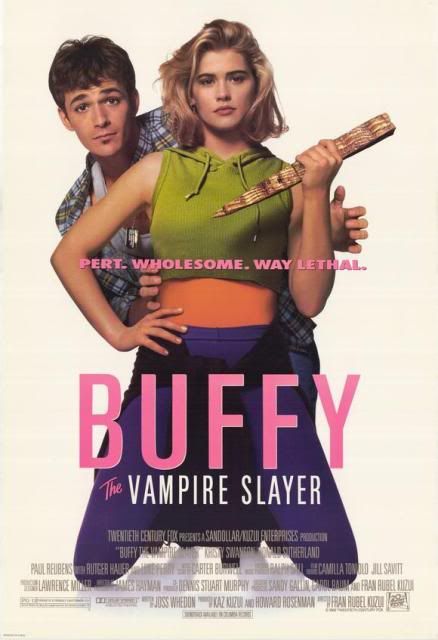 "Since the dawn of man, the vampires have walked among us, killing and feeding. The only one with the strength or skill to stop their heinous evil is the slayer, she who bears the birthmark, the mark of the coven. Trained by the watcher, one slayer dies and the next is chosen."
And so it began,our love affair with all things
Buffy the Vampire Slayer
. Joss Whedon might be known more for his series but he wrote this movie, which might surprise some since it was so different and all tongue in cheeky. To see this movie is to love it, Rutger Hauer, Kristy Swanson (what the hell happened to her?) Donald Sutherland, Luke Perry AND Paul Ruebens.
I begrudgingly put CupidRyan away till next year, so let's get on with our HiatusSupport Group!
Eileen in Brooklyn: Anything you can tease about True Blood, like who is Sookie going to choose, Bill or Eric?
How about…neither? "We call it season of the bromance," sexy star
Alexander Skarsgard
told us at a presser for his new movie
Battleship.
"We just started [filming] and we're on episode four of season five. I have a lot with Stephen
this year," he said, quipping, "Eric is very intrigued by Bill now." Honestly, we're Team Eric no matter whom he hooks up with (especially if he's nekkid)! TV's Top Couple round two, y'all?
Speaking of Vampire Slayers, and really arent they a topic daily? Kristin From Eonline has a new one coming to Bon Temps-
Gail in Canton, Ohio: Love all the True Blood spoilers you've been giving us! Any more?
Vampires will have something else to fear besides werewolves, the sun and silver in the upcoming season of
True Blood
. This new dude is way, way worse. He's…a redneck. And an anti-vampire one at that. This hunter will be a recurring character on
T.B.
's new season, so he'll likely be raising all kinds of hell, like killing vamps and taking others prisoner. Want to hear the best part? His name is…wait for it…Joe Bob. You're welcome.
Because we don't have enough hick stereotypes on TB, right? Why not a Van Helsing type or even like the Supernatural brothers? Are we done with the FOS as the vamp enemies in Louisiana?
The casting call: Caucasian, early 30's
, White trash. An anti-vampire terrorist wearing an Obama mask to hide his identity, he shoots one vampire with a hunting rifle and takes his victim prisoner. Recurring.
Sometimes, we journalists just have to go for the jugular. So, when we were given the opportunity to have a quick chat with actor Alexander Skarsgard and director Peter Berg as they checked out the Hasbro toys being released in time for their movie, "Battleship" we had to take it.
After discussing how the "True Blood" star and "Friday Night Lights" director got involved in a movie based on a board game (Berg approached the studio about his love of the Navy and wanting to do an event movie and Skarsgard was in
the Swedish Navy and wanted to work with Pete – see their full answer in the video below), we asked the thing on everyone's mind: Who would win in an epic battle, the aliens from "Battleship" or the vampires from "True Blood?"
Berg wanted to know the rules – could the vamps be armed? How strong is Eric Northman really? – while Skarsgard contemplated the possibilities.
"If you put one of those guys in a big destroyer, he'll beat the aliens, right?" Skarsgard offered.
"A vampire in a destroyer? That could be a cool sequel," Berg suggested before having an
epiphany
about the similarities between the vamps and the extraterrestrials.
The ultimate answer? The guys decide the vamps and the aliens have much in common and are perhaps a match made in heaven. Romance blossoms. Ships remain afloat.
Cast Update, it's for the child vamp Alexander from TrueBlood.net, they give no source. I do see it is listed on Jacob Hopkin's resume.
According to our source, Hopkins has signed on to play Alexander Drew, the vampire who was turned when he was just 9 years old. The angelic looking Alexander is a member of the Authority who loves smoking and razzing his fellow council members. He first appears in episode 5.02, "Authority Always Wins".
This is the original casting call-
[ALEXANDER] 9 years old. An impetuous young vampire who was turned at the age of 9, he's an Authority council member who loves cigarettes and razzing his fellow council members...RECURRING
Buy a prop replica of Merlotte's menu at Etsy
One photo from Skarsgardfans from last summer's IMATS Panel, many more at the link and a recap of the discussion. Here's one goody-
Yes even the third degree type burns that Denis O'Hare's character-Russell Edgington ga
ve the special effects crew a bit more of a challenge. The King was so blackened that when he would cough it seemed that he coughed up "ash" when in fact it was oreo cookie crumbs. When the special contacts were placed into Denis' eyes even he stated that they finally removed the last part of what was still "Denis" and the end result was the crispy critter King shown in the season 3 finale.
Socialitelife has some Ryan Piccies-
BEVERLY HILLS, CA - DECEMBER 06: Actor Ryan Kwanten attends the G-Star Rodeo Drive Store Opening on December 6, 2011 in Beverly Hills, California. (Photo by John Sciulli/Getty Images for G-Star)
Janina tweeted this-
Whenever I have a
#
TrueBlood
fitting I wander the stages.
#
trubies
, if you could see what I'm seeing right now!
They walk among us!
'
True Blood' Finds the Vampire Authority's Child Killer: Jacob Hopkins- from THR-
He may just be the creepiest member of
True Blood's
Vampire Authority -- because he looks harmless, but is quite the opposite. Jacob
Hopkins plays Alexander Drew, one of the Authority's chancellors who was turned to darkness at the age of 9-years-old. Alexander is described as an impetuous vamp who likes to taunt those around him. More at link above.
New Tweet from Carolyn Hennesy
-
I love my life everyday...and then there are days like today (True Blood) where it's pure bliss.